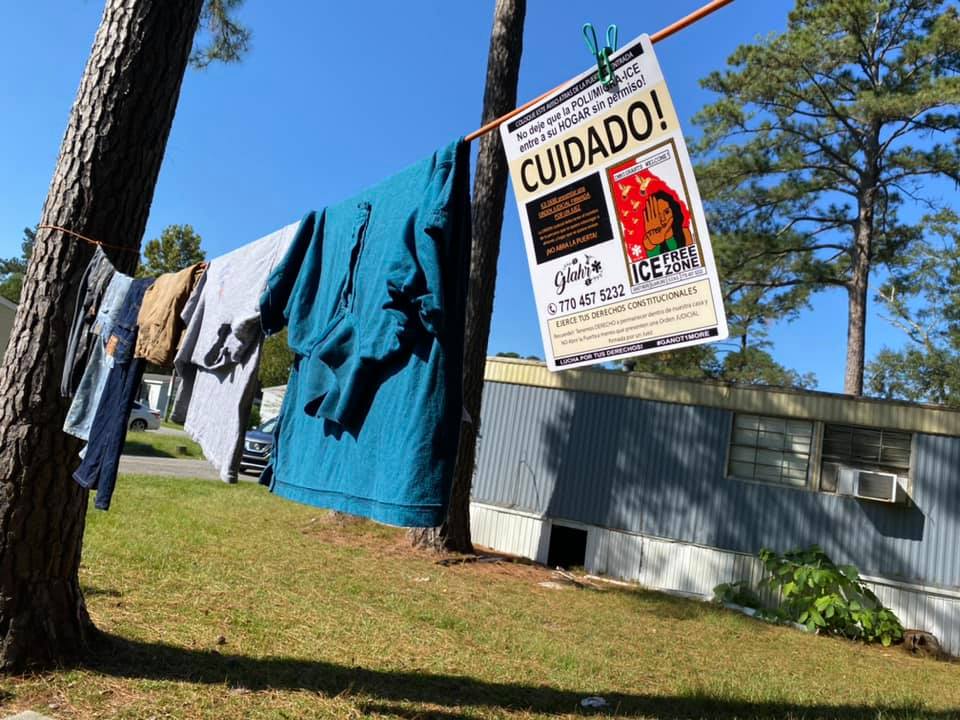 Dec 10, 2020
Boltsmag.org
Growing up in Gwinnett County, Georgia, in the northeastern Atlanta suburbs, Jonathan Zuñiga remembers the fear his parents felt driving to the grocery store.
In 2009, the Gwinnett County sheriff's office, under Sheriff Butch Conway, started turning over hundreds of Latinx immigrants in its custody to ICE—including many who only landed in jail after police arrested them for minor traffic violations. Zuñiga says his parents, who are undocumented immigrants from Mexico, had to leave their construction jobs for lower-paying factory jobs that required less driving. But running errands continued to pose a threat.
"Driving even small amounts of time was unsafe," Zuñiga said.
The county sheriff's office was making these transfers because it had joined ICE's 287(g) program, which allows local officers to directly enforce federal immigration policies, including screening immigration status and detaining residents until ICE takes custody. Gwinnett County operates one of the largest 287(g) programs in the country: this year, it ranks fourth in the nation for the number of ICE detainer requests, in which local jails hold people in custody longer in order to hand them over to federal agents. Detainers in Gwinnett peaked in 2012 and then steadily declined throughout Barack Obama's second term as president. But they soared again after Donald Trump took office in early 2017 with new enforcement priorities, including having ICE arrest noncitizens more frequently for minor crimes. A Mother Jones investigation found that between 2017 and July 2019, the primary charge for nearly half of the people held for ICE at the Gwinnett County Jail was for driving without a license or another minor traffic violation.
But in November, voters in Gwinnett and nearby suburban Cobb County chose Democratic sheriffs for the first time in decades, electing candidates who made campaign promises to end the 287(g) programs. A Democratic candidate who opposed 287(g) also won in Charleston County, South Carolina; altogether these wins mirror a string of progressive sheriff victoriesin 2018 that were driven by immigration issues.
Cobb County's longtime sheriff, Neil Warren, lost to challenger Craig Owens. In Gwinnett County, Sheriff-elect Keybo Taylor won with 57 percent of the vote against Republican candidate Lou Solis, the second-in-command to Conway, who didn't seek re-election. In 2016, by contrast, Conway ran unopposed and won 97 percent of the vote.
That upset, and the emphasis on 287(g) as a central campaign issue in both counties, resulted in large part from the work of local immigrants' rights organizers who have grown their operations under the Trump presidency and activated communities of color. Their organizing also contributed to Georgia electing a Democrat presidential candidate for the first time since 1992.
Leading up to the November elections, Zuñiga joined Georgia Latino Alliance for Human Rights (GLAHR) Action Network as a canvasser focused on the sheriff races in Gwinnett and Cobb counties. Working as part of the "Take Action, Get Power" coalition with Southerners on New Ground (SONG) Power, and Mijente, Zuñiga and other canvassers were able to reach more than 125,000 residences—primarily Latinx and Black voters—by door-knocking (with COVID-19 precautions), according to GLAHR. Their work paralleled groups like the Asian American Advocacy Fund, whose outreach helped to nearly double voter turnout among Asian American and Pacific Islander communities.
Zuñiga found that many residents were aware of 287(g) but not of how to change it. "They didn't know the formal name of that policy, but they knew what could happen if [you didn't have] a license," he said. "A lot of people thought it was something coming down from the federal level. They weren't aware that changing a sheriff could actually change that policy."
Founded nearly 15 years ago, GLAHR is the largest Latinx grassroots organization in the state. Under the Trump administration, GLAHR, SONG, and other long-established Georgia-based nonprofits have joined a nationwide trend of changing liberal activism by creating 501(c)(4) arms—organizations that are also exempt from federal income tax but can lobby and do political work—in order to be more aggressive political players, rather than solely focused on litigation, educational work, or providing services.
Kevin Joachin, an organizer with GLAHR Action Network, says the organization's priority has become "building the political consciousness of our community"—helping inform Latinx residents about specific policies and their ability to change them at a scale that has little precedence in Georgia, particularly for a down-ballot race. That organizing began early in the election cycle; GLAHR lead organizer Carlos Medina says that activating Latinx voters for the sheriff primaries helped push Democratic candidates in both counties leftward, leading to promises to end the 287(g) program.
Zuñiga says he found that many Latinx and Black voters in the suburbs—particularly in the more rural areas of Cobb and Gwinnett counties—never before had an interaction with a canvasser, despite the influx of political spending and organizing that's accompanied Georgia's demographic change in recent years. "We try to get that small, little conversation with people because we feel like that actually matters," Zuñiga said.
Although Hillary Clinton won Gwinnett County in the 2016 presidential election, and Joe Biden won the county and state this year, more than a third of Latinxes in Georgia voted for Trump, according to exit polls. Canvassers with Take Action Get Power found that some Latinx voters in Gwinnett supported Solis for sheriff partially because of his Latinx identity. Joachin says GLAHR Action Network's in-person approach was pivotal: Canvassers would see pro-Solis signs in some stores and talk to the owners or employees about Gwinnett's high rates of deportations. The next time canvassers drove by, Joachin said, the signs were gone. Compared to hyperpolarized debates about presidential candidates, Zuñiga says he was able to have "more in-touch conversations [about the sheriff's race] because it was something that was affecting their communities, and they could see that firsthand."
SONG volunteer coordinator Tayleece Paul says door-knocking yielded contact or conversations with 32 percent of residences, versus just 2 percent with phone banking. Paul grew up in Gwinnett County and remembers a friend's father who was deported through the 287(g) program. Many of the coalition's canvassers met people who had similar experiences with the program, she says. "Each person had their own unique story."
Joachin says that engaging the entire Latinx community—including those who cannot vote, like undocumented immigrants—is central to GLAHR Action Network's strategy of empowerment. "We're not always concerned if the person who we're looking for is at home, because maybe their family member who is undocumented will benefit from the conversation by being included," he said. "We're not telling them to vote—that's voter fraud—but what we're doing is creating a culture of voting."   More here.