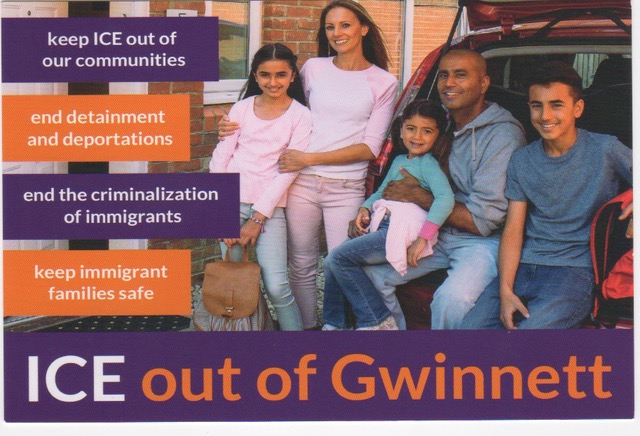 "End detainment and deportations." "ICE out of Gwinnett."
Stacey Abrams seems to have clarified her position on illegal immigration and enforcement. Her 'New Georgia Project' distributed pre-addressed, information-gathering post cards featuring the demand to "keep ICE out of our communities" at an anti-enforcement forum in Georgia's Gwinnett County last week.
In a state with more illegal aliens than green card holders and more than Arizona, Gwinnett County is home to about 71,000 illegal aliens, or about 8% of the metro-Atlanta county's total population according to stats from the Migration Policy Institute. The figures came with a depiction of the effects of immigration enforcement contained in a 2018 report from the leftist The Guardian.com.
The October 2 event was organized by several  militant extremist, anti-287(g) groups including the 'Georgia Latino Alliance for Human Rights' and the 'Project South Institute for the Elimination of Poverty and Genocide'  to create opposition to the decade-old 287(g) agreement Gwinnett County Sheriff Butch Conway has with ICE. Event organizers were surprised with the attendance and participation of pro-enforcement Americans after IAG and the Dustin Inman Society made the meeting in a public library known outside of the anti-enforcement circle. Several people on the pro-American side sent us photos and the post cards from Abram's New Georgia Project.
Abrams, runner-up in the 2018 Georgia governor's race,  has partnered with anti-borders groups ("communities in resistance") that use banners and t-shirts to disparage immigration enforcement officers with the foreign language slang term "chinga la migra"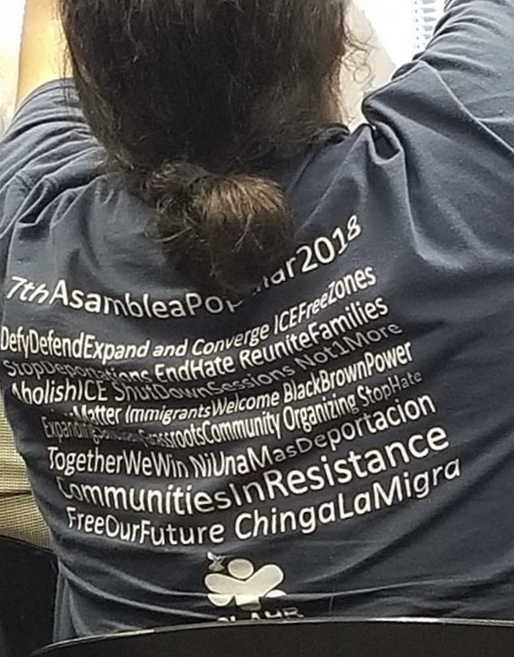 "Keep immigrant families safe"
As is now the default propaganda tool for the corporate-funded anti-borders mob and much of the media, use of the term "immigrants" is substituted for any reference to the fact that the support is aimed at and intended for illegal aliens.
Readers of all pronouns can see the reverse side of Abrams' New Georgia Project postcard below.