"Chinga La Migra" "Abolish ICE!" "ICE out of Georgia" "ICE free Georgia"
What you won't read in the liberal AJC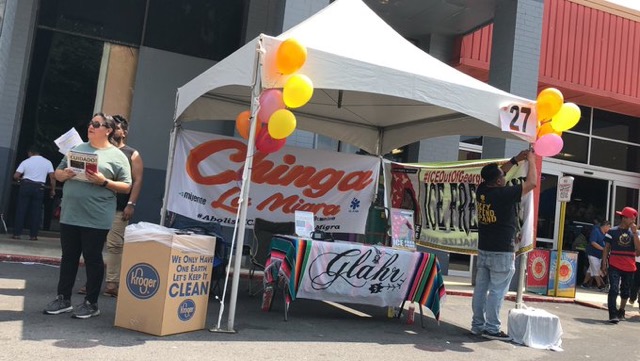 GLAHR, along with 'Project South Institute for Elimination of Poverty and Genocide' is one of several groups hosting a "community forum" against the lifesaving 287(g) program tomorrow in Gwinnett County. See my recent write up here.  We are watching to see if the Gwinnett Daily Post and the "compelling" AJC cover this coming anti-287(g) event put on by these illegal alien lobby groups.
The open borders GLAHR corporation is run by a Mexican-born communist named Adelina Nichols. The two groups were invited by Gwinnett County Commissioner Marlene Fosque to a two-sided forum in July but backed out when they learned I was a panelist. The Gwinnett paper and the AJC both covered that event.
Above is a recently posted photograph on the GLAHR Twitter page of their booth at an event last week. Look carefully.
See the banner in the back of the booth?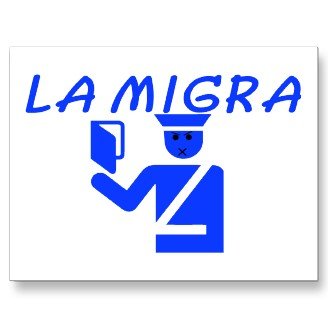 Don't know what "La Migra" means? It is a Spanish language slang term used to describe any law enforcement official who is authorized to enforce immigration law.
Here is an explanation from the Transpanish website
"A derivative of the Spanish term migración (migration) or related to migraciones – the offices dealing with immigration issues in Spanish-speaking countries – the term has become shorthand for both agencies and individuals that deal with immigrants and immigration. Both the U.S. Immigration and Customs Enforcement (ICE) and Border Patrol agencies can be referred to as La Migra, as well as the personnel who work for them, including immigration officers and agents who perform inspections of cars crossing the border or in search of illegal immigrants in places of business."

So, what does the illegal alien lobby mean when they say (they say it a lot) "Chinga La Migra?"

"Chinga" is a slang word in Spanish for the "F word" – and we don't mean firetruck.

You can see for yourself here and here.

GLAHR (2017 contributions and grants, $458,557) has been organizing illegal aliens in Georgia since 2001. From the GLAHR website, you can – and should –  see here for an example of how far along they are with their "Peoples Committees." Nichols has t-shirts and sweatshirts for her anti-borders followers, which read "GLAHR – DEFY, DEFEND, EXPAND" – here.
Pro-enforcement Americans should learn when to say "Viva La Migra!"
But be advised, they hate that.