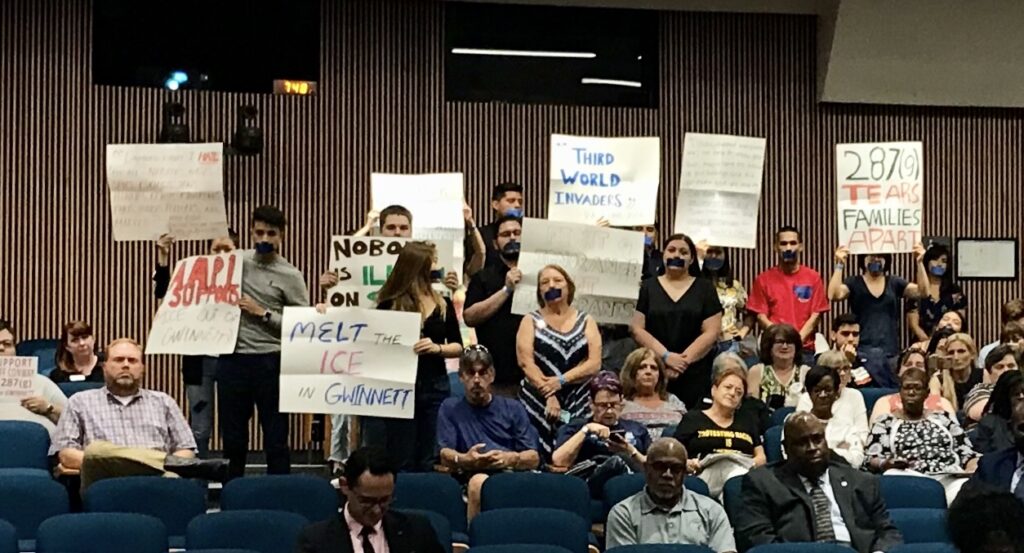 Organizers dropped out of a two-sided discussion in July – but sent screaming protestors
Where and when: Collins Hill  Branch of the Gwinnett Public Library, 455 Camp Perrin Rd. Wednesday, October 2, at 6:PM.
Call it a "do-over."
Several corporate-funded, anti-enforcement immigration groups have scheduled a "community forum" focused on the federal 287(g) program that allows local law enforcement to locate, report and hold illegal aliens in local jails. The program often leads to deportation.
The Georgia Latino Alliance for Human Rights (GLAHR), the Project South Institute for the Elimination of Poverty and Genocide, Women Watch Africa Inc. and BAJI – the Black Alliance for Just Immigration are listed in online fliers as organizers of the event.
GLAHR was co-founded in 2001 by former Mexican diplomat Teodoro Maus and Mexican-born Adelina Nichols. Nichols, who now runs the anti-borders company is a longtime activist against immigration enforcement and a proponent of drivers licenses for illegal aliens.  Legal & Advocacy Director for Project South is Iranian-born Azadeh Shahshahani who has worked with the ACLU and an off-shoot called 'Georgia Detention Watch' to end 287(g) agreements nationwide and to abolish detention of illegal aliens.
The event is intended to perpetuate false, race-baiting accusations against the 287(g) program and ICE and anyone who supports immigration enforcement.
Endless and shameless use of the term "immigrant' to describe illegal aliens should be expected.
These are the goals the organizers hoped to pursue for in a six-person July panel discussion held by Democrat Gwinnett County Commissioner Marlene Fosque that included pro-enforcement panelists from the Gwinnett County Sheriff's office, ICE and this writer from the Dustin Inman Society. Angry that the Dustin Inman Society was to be part of the event, Nichols, Shahshahani and the staffer from another open borders concern called 'Asian Americans Advancing Justice' dropped out at the last minute.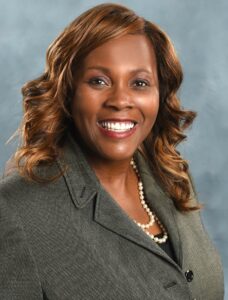 Fosque found three anti-287(g) stand-in panelists including a board member of the infamous and discredited GALEO , Democrat state legislator, Brenda Lopez Romero ,who is a candidate for congress in Georgia's Seventh District. The discussion went south when Romero, unable to offer factual arguments against using the 287(g) crime-fighting tool, decided to change the topic to attacking D.A. King (me) personally.
The fact that the radical groups dropped out of the panel did not prevent them from igniting and displaying the hate for immigration enforcement they have instilled in their young followers who disrupted the meeting multiple times with screams, jeers and a display of signs inside the Gwinnett County commission auditorium directed at the ICE Agent panelist and this writer. The liberal press wrote it up with a 'victims of borders vs oppression' angle complete with false descriptions of pro-enforcement Americans being "anti-immigrant and "anti-immigration."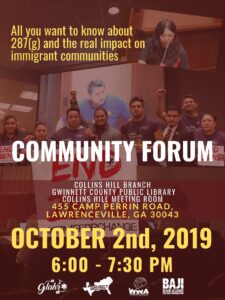 According to the illegal alien lobby's flyer, the anti-287(g) forum will be held at the taxpayer-funded, (open to the public) Collins Hill Branch of the Gwinnett Public Library, 455 Camp Perrin Rd. Wednesday, October 2, at 6:PM.
For Georgians who have not been exposed to the tax-exempt-trained and hate-fueled opposition to borders and immigration enforcement, the meeting is a 'don't miss. '
Note: It is unknown if there will be law enforcement present but having your camera at the ready is highly recommended.