ICE, ICE, ICE!! ABOLISH ICE! #AbolishICE pic.twitter.com/t0DW622dih

— GLAHR (@GLAHR_) November 20, 2019
It's a short video they posted.
Here are members of the Soros-funded ( see also Ford Foundation) open borders 'Georgia Latino Alliance for Human Rights' (GLAHR) screaming at cars in traffic to "Abolish ICE." This is one of the Marxist groups invited to a Gwinnett County (GA) July 31 panel discussion on 287(g) by Commissioner Marlene Fosque. They dropped out when they found out this pro-enforcement writer was on the panel.
GLAHR was founded by a now room-temp Mexican diplomat (Teodoro Maus) and Mexican-born Adelina Nichols, who has ties to the communist party. GLAHR is part of a larger group demanding that Atlanta officially become a sanctuary city.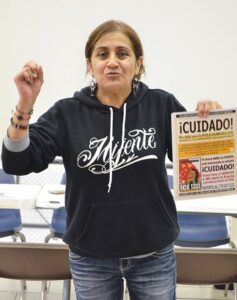 It's not only 287(g) they hate.
These are people who advocate to abolish the entire federal ICE agency and end any enforcement of human trafficking, immigration or borders.