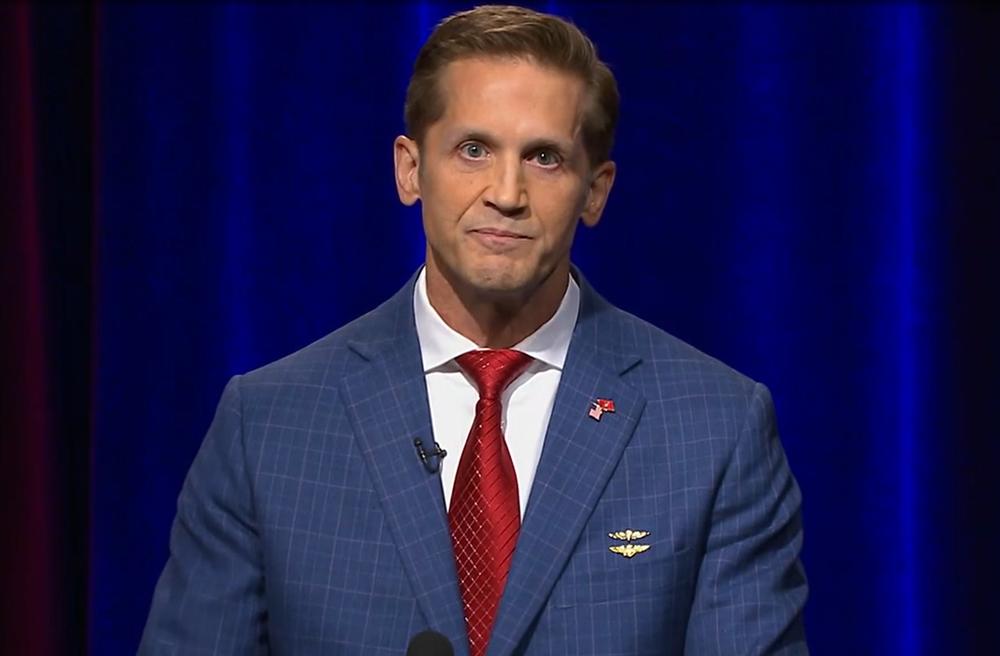 Updated, Jan 15, 4:50PM.
*Updated Jan 31, 8:54 AM
I confidently predict U.S. Rep Rich McCormick will vote for amnesty if he gets the opportunity.
"McCormick, who is a doctor specialising in emergency medicine, said that they "don't have the problems other people have when they come to the emergency room for overdoses, because these are the most productive and family-centred."
Absolutely zero surprise here. As a candidate, Rich McCormick, the new Republican for GA06 (my home district) usually evaded the immigration issue like it was illegal to talk about it. I was introduced to him several times as an authority on the topic. After a nod and a cautious-looking half-grin, he couldn't get away fast enough.
His first attempt at going to Congress was in the old GA07 and failed. Redistricting found him running again in the more Republican GA06 (McCormick lives in the 9th District). On his first campaign site he was firm that we should deport violent criminals and drug dealers…yada, yada.
Some Republican women I know went ga-ga over him from day one – then got plenty upset what I pointed out that "maybe we should deport all illegal aliens." I heard "well that's what he really means, D.A…" or "well, we should deport drug dealers, D.A." in response.
On immigration, this guy brings to mind Mitt Romney – maybe John Cornyn.
He ran on the fact that he is an MD and a former U.S.M.C pilot. I am not the only person here who reads him as a typical, pandering "yes man" for the special interests. Doubters, stay tuned.
It looks like his (successful) second try to get to Washington didn't include borders or illegal immigration – violent criminals or not – at all. You can take look to see if I am missing anything on his campaign website "priorities" page.
You can also help me find any mention of the raging border crisis or illegal immigration on his House website "issues" page. (I have a screen grab).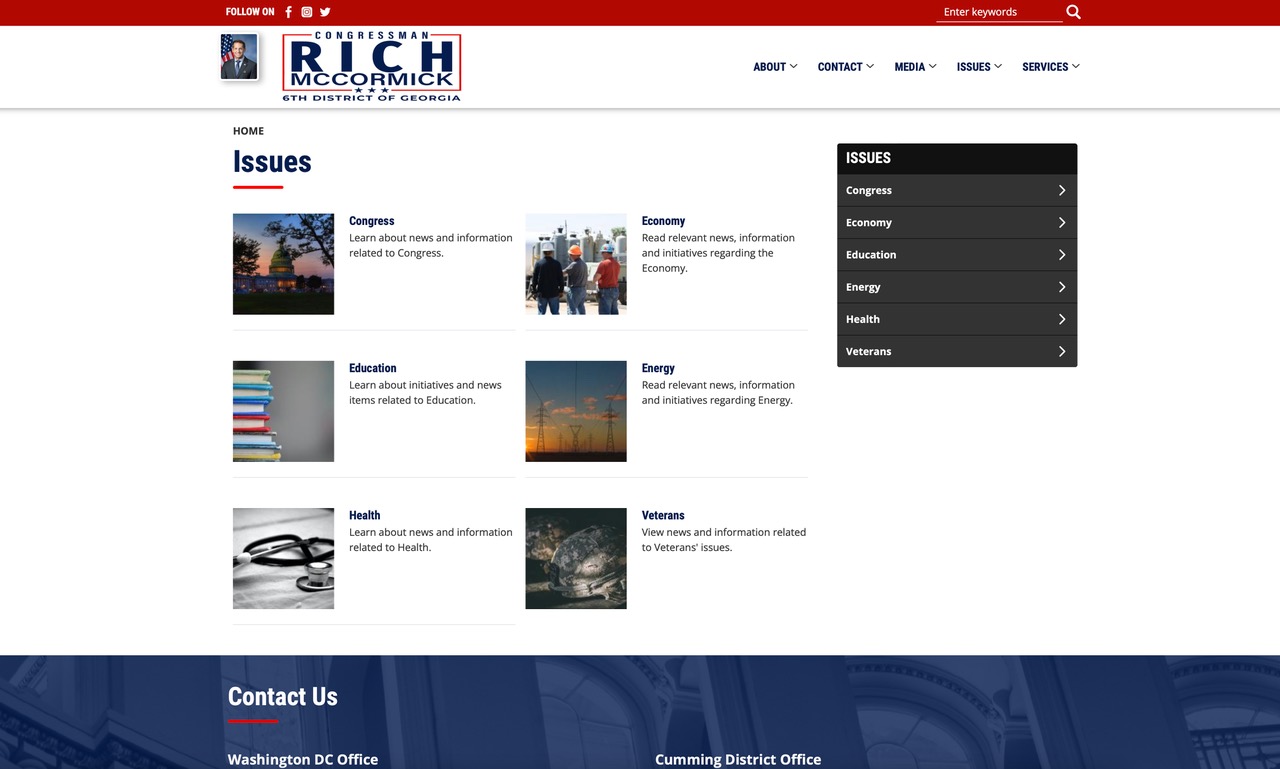 The Forsyth County News has a report on "What Rep. Rich McCormick says he wants to tackle in Congress" –  somebody double check because I see zero mention of borders or immigration (registration to read the report is free and quick).
If it helps make my point here, Georgia Gov. Brain Kemp happily endorsed McCormick.
Maybe somebody can ask Kemp why he would back a candidate for the House of Representatives in Georgia that avoids talk of immigration – in a state with more illegal aliens than Arizona.
You will need to wait for Kemp to return from Davos.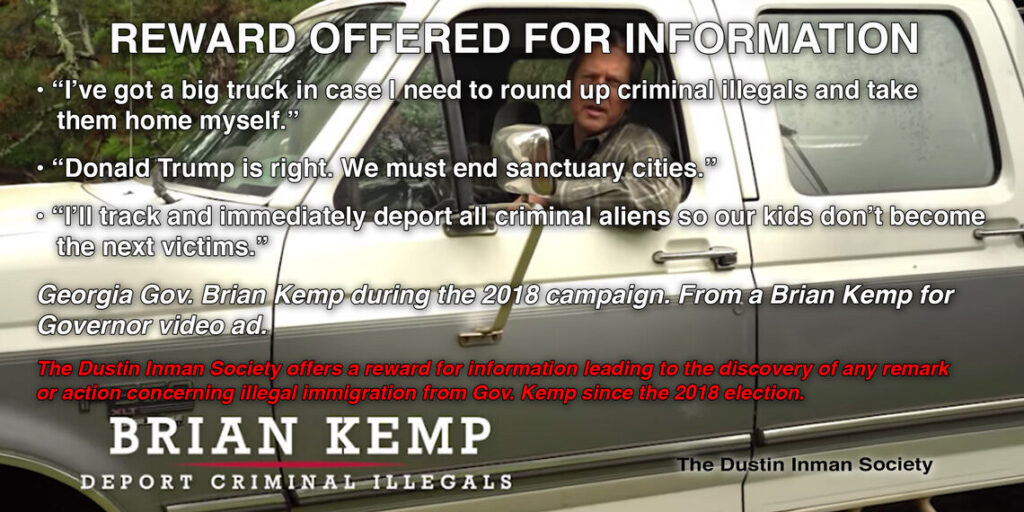 Here is a bit of insight: Kemp doesn't talk about illegal immigration in Georgia – ever. Georgia is a sanctuary state.
Evading immigration is not that difficult here – the liberal Atlanta Journal Constitution makes sure of it. Check out the grueling questions set out by the AJC on a 2020 "where do the candidates stand on the issues?" piece – (here).
Now, mid-way through his first month in office McCormick has decided to talk about immigration! As in "immigration reform." As in "streamline the process" and "we need more Indian immigrants…"
This from the January 14, 2023 Siasat Daily:
Making pitch for immigration reform, U.S. lawmaker says Indians pay 6 pc (percent) of taxes"

 New York: Making a pitch for immigration reforms, a Republican lawmaker has cited the contributions of Indian immigrants, who, he said, pay 6 per cent of taxes in the U.S.

 Saying that the US must "make sure we streamline the immigration process", Rich McCormick said that Indians "represent some of the best citizens we have in America".

 "They pay about 6 per cent of the taxes and (are) among the top producers," he said of the Asian Indians who number 4.5 million, making up 1.4 per cent of the total US population of 333 million.

 The Asian Indians, who number 137,000 in the Atlanta area of his state of Georgia, "do not cause problems and follow laws", he said.

 McCormick, who is a doctor specialising in emergency medicine, said that they "don't have the problems other people have when they come to the emergency room for overdoses, because these are the most productive and family-centred".

 McCormick represents a constituency that encompasses the suburbs of Atlanta, an area that has seen an influx of Asian Indians in recent years, fuelled impart by the growth of the science and technology sectors.

 With the long wait for permanent resident status for Indians, a legislation to make more green cards available for them died in the last Congress session.

 The legislation, which had the backing of members of both parties and President Joe Biden's administration, would have eliminated the limit of 20,000 green cards for each country with some exceptions.

 The matter is expected to come up again in the current session." Read it here.
Congressman Dr. Rich McCormick (and most GA GOP voters) needs to get out more. Or maybe not flee the scene when he has a chance to talk to a pro-enforcement authority on immigration. Or at least read The India Times "Illegal Immigration From India To US Doubled In 2022, US Government Data Shows."
And it would help if the Republican grassroots would find a spine and talk back to the candidates and elected officials who are now allowed to decide what "the issues" are – and it's seldom immigration enforcement.
Georgia is controlled by Chamber of Commerce Republicans – but not many people outside Georgia are watching the train wreck happening here (not many inside the state either).
I left the ballot on our congressional seat blank in the General Election.