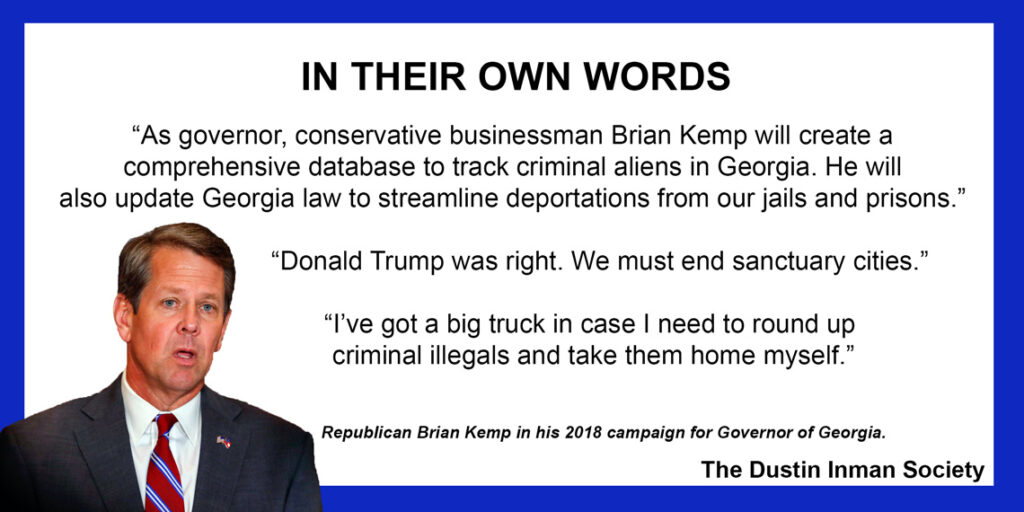 The below is reposted here from the St. Simons Island/Brunswick "The Islander" newspaper, Sept 19, 2022 edition
I'll wash your car if you remind Gov Kemp about illegal aliens in Georgia
D.A. King
With the "Brian Kemp Track and Deport Plan," then candidate for governor, Brian Kemp made a detailed 2018 promise to go after what he called "criminal illegals" in Georgia if he was elected. He went so far as to post detailed language of promised legislation on his campaign website that he said would create a public registry of the criminal aliens and end "sanctuary cities" in Georgia.
You can see an example of this pledge in a short video blurb from a May, 2018 Fox & Friends interview on the ImmigrationPolitcsGA.com website. There was no such legislation in Kemp's first term.
* Related: 2018 candidate for GA governor Brian Kemp's first TV campaign ad 
In an October 2021 news report ("Kemp's immigration policy could complicate bid for second term"), even the uber liberal Atlanta Journal Constitution took note of the Kemp's betrayal with "Gov. Brian Kemp promised to enact sweeping crackdowns on illegal immigration on the 2018 campaign trail, boasting that he would "round up criminal illegals" himself as he pledged to "track and immediately deport" unauthorized immigrants with criminal records. Those unfulfilled vows now complicate Kemp's campaign for a second term." Indeed.
This writer is brilliantly aware of the fact that pointing out Gov Brian Kemp's defiance on the many 2018 campaign promises he made regarding "undocumented workers" makes Republican voters uncomfortable. I have been told more than once to remain silent on the matter lest too many GOP voters remember too much from four years ago. I can't count the times I have heard various versions of "we don't want Stacey to win, D.A. – lay off Kemp until after the election!"
No.
For the record, I watched Stacey Abrams in the state legislature up close for many years and certainly don't want her to be governor either. But the fact is that the "criminal illegals" Brian Kemp ran on in 2018 are still killing, raping, and molesting innocents in Georgia while he remains silent and boasts of Georgia being "number one for business."
Other pro-enforcement Americans have taken note of Kemp's "big truck trick."
Tom Homan, former acting director of U.S. Immigration and Customs Enforcement (ICE) in the Trump administration, on Fox News in February, 2020: "I'm in Georgia today, I'm giving a speech in Atlanta. Governor Kemp, who ran on tough immigration enforcement, now he's in office, he's missing in action. Sanctuary jurisdictions are growing in Georgia. So, you know, again, it's the politicians who aren't living up to their word." Homan was in Georgia to be the keynote speaker at a forum on immigration this writer organized.
Closer to home for The Islander readers, we point out a letter to the editor published in the Brunswick News in March which read in part "by order of the powerful special interests that profit from black-market labor, the entire topic of the organized crime of illegal immigration has been carefully set aside here in the Peach State where we host more illegals than Arizona" wrote Mr. Robert Trent.
A resident of St. Mary's, Trent is a proud former immigration enforcement officer and former Border Patrol agent. Now retired, his final assignment was serving as the as Assistant Director, Enforcement Training, at the Federal Law Enforcement Training Center in Glynn County.
"I am one of the many pro-enforcement voters who can remember all the way back to 2018 when then candidate for Governor Brian Kemp made a long list of promises concerning "criminal illegals," his "big truck" and detailed legislation aimed at sanctuary cities and counties in Georgia. I am also old enough to see his arrogant refusal to so much as mention those promises since then" wrote Mr. Trent.
Solution
The solution to the Kemp betrayal on illegal immigration in Georgia does not involve ignoring it. In politics, silence is consent. Georgia Republicans should join Tom Homan and Bob Trent in making their voices heard by 2022 candidate for governor Brian Kemp about illegal immigration in Georgia.
I'll wash your car if you call his Capitol office in Atlanta and speak up. The phone number is 404-656-1776.
#