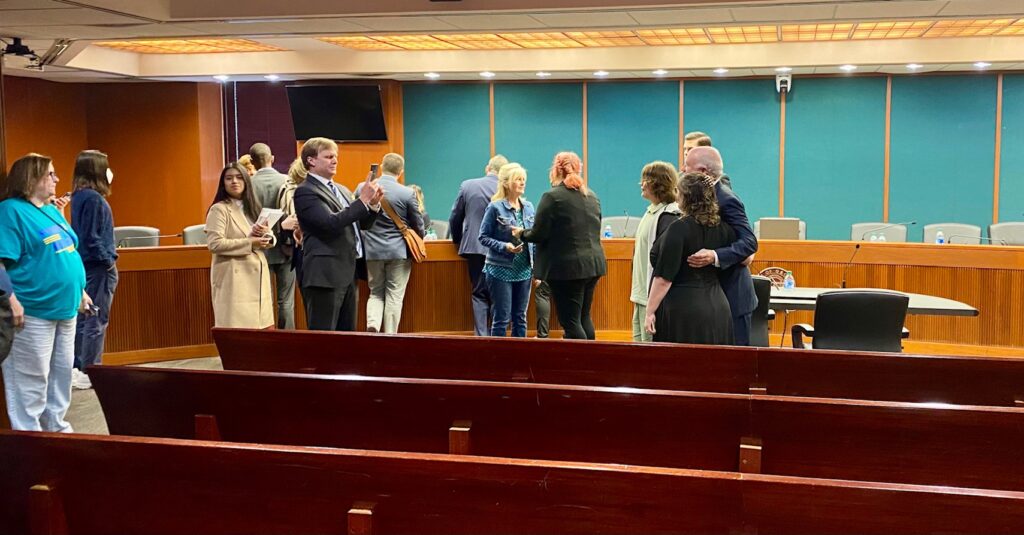 Ecstatic supporters of SB 601 pose with Sen Miller after his "school choice!" bill passes out of committee March 8, 2022.
Update:

 noon, March 16, 2022 – SB 601 failed to see final passage on the senate floor yesterday by a vote of 20-29. It's dead. Also of note: Sen Jason Anavitarte voted "YES do pass" in committee but then voted "NO" on the floor after we sent this column to the entire GOP Senate caucus. More here.

___________
 Update:

  A phone conversation with the Senate President Pro Tem's Chief of Staff, Steve Tippins

12:05 PM MARCH 9, 2022. I just got the promised call from Steve Tippins, Sen Butch Miller's Chief of Staff who said he is pretty comfy with the unworkable and poorly researched language (his, apparently) they concocted on almost excluding illegal alien students from SB 601. He did not want to talk about the illegal alien parents who would be involved in handling state money and could easily have oversight on the spending rules. Tippens told me he was getting calls from members who don't want to deal with the illegal immigration issue at all. For clarity, I asked him "you mean you are hearing from senate members who do not want to answer questions about excluding illegal aliens from Sen Miller's "school choice" bill?" – "yes," was his answer. It was very enlightening. But not surprising.
Tippins allowed that he would check with "lawyers here" to ask if they agreed with my recommended fix – which he judged far too involved even though he would not let me finish my short explanation of what needed to be done. I did not ask if he would be checking with the same lawyers who helped him create the unworkable "exclusion" wording in the bill now. I was assured that SB 601 is meant to become law and not a campaign ploy.
He told me he wanted any change on the illegal immigration topic in "school choice!" to be "as surgical as possible" – meaning he didn't want to draw attention to that matter in SB 6o1. There is more.
While I have only been involved in drafting numerous pieces of legislation (many of those bills are now law) and immigration politics under the Gold Dome since 2005, this was the most incredibly arrogant conversation I have ever had with any staffer – or legislator. It was very educational. SMH
dak
Text of SB 601 here.
_____
Update: My favorite exchange is when Sen Miller tells Sen. Jackson that the legislature may not a budget any money to the "school choice!" project that so many people think is going to allow all K-12 students in GA to access state funds for private schools.
"Senator Jackson: (04:47)
What's the estimated cost? this how much do you think this will…
Sen. Butch Miller, "Mr. Pro Tem": (04:50)
Well, it's just within appropriation. So it might be, I mean, they might not appropriate anything."
____
Our view is that providing taxpayer funded benefits not already mandated by federal law to illegal aliens does not represent conservative values.
____
SB 601 passed out of its senate committee about 10:00 AM this morning. I will post a transcript of the hearing and access to video soon.
Update: Video here then March 8, 2022 then 27:26 on the counter.
Update: Transcript cost to me: $57.50. Total time for all this: 15 hours.
Audio: at player below.
Related: American Federation for Children & Corey A. DeAngelis include illegal alien children and "parents" in model legislation for "school choice!" 
It is important to share the fact that many well-funded "conservative" groups in Georgia are pushing hard for "school choice!" and leaving out many of the realities of the actual legislation. Some do not care about illegal immigration. Others, many others, say about the inclusion of illegal aliens in private school benefits that "if we have to educate them, we may as well give them the best education we can…"
The sound you may hear is the stampede from the southern border into the increasingly welcoming Republican state of Georgia.
Unless the Georgia state senate leadership makes some easy changes to SB 601 (the 'Georgia Educational Freedom Act') the Republican-ruled upper chamber may be about to pass a bill that will include illegal alien students and "parents" in state-funded access to a private K-12 school education.
In his SB 601, Senator Butch Miller has adopted most of the model legislation language being pushed nationwide by the American Federation for Children that was contained in the now failed HB 999 and HB 60 from Rep Wes Cantrell. As we wrote yesterday, Miller's bill was dropped in the senate on Thursday, March 3, assigned to the senate Education and Youth Committee on Friday, March 4 and scheduled for an 8:00 AM hearing on Monday, March 7. Apparently time ran out on the Monday hearing and the bill was heard and quickly passed out 6-4 this morning in a 9:00 AM committee meeting. Although there were at least two pages of names on the sign-up sheet to speak on the bill, no public comment was allowed.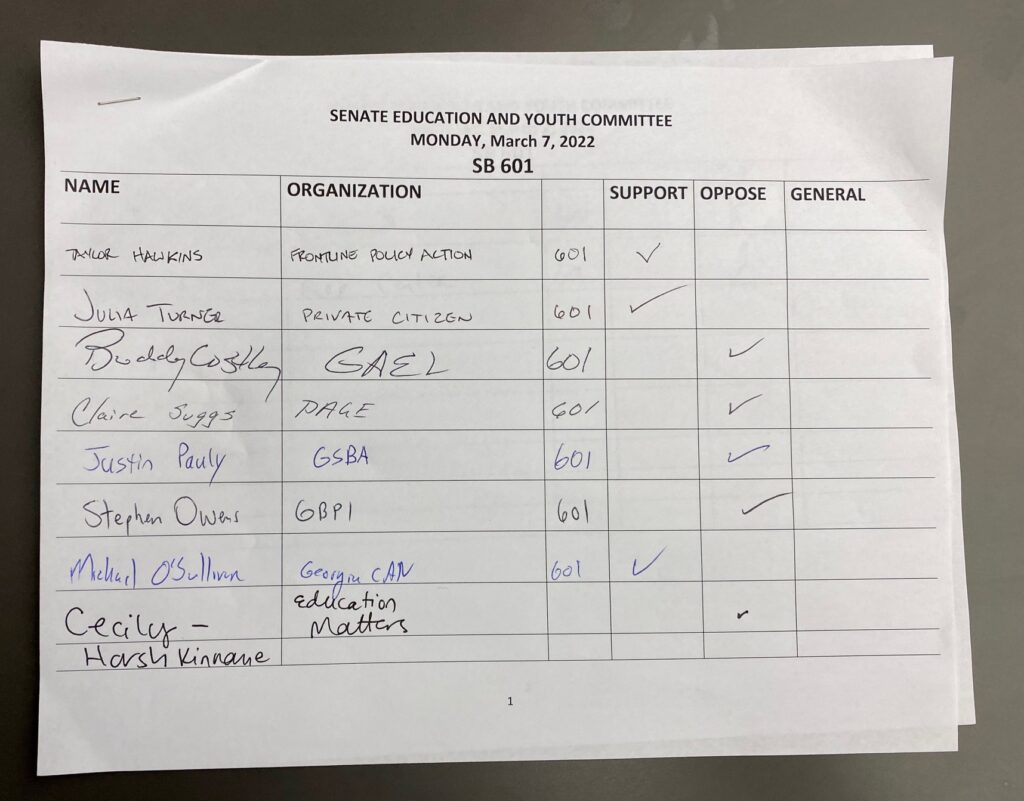 I was signed up (on page 2) to speak against passage of the bill in its current form and was ready to offer a real "fix"-  and alternate language. Again: SB 601 was passed out of Dalton Sen. Chuck Payne's Education and Youth committee without any public comment. This is an increasingly common occurrence in Republican committees under the Gold Dome.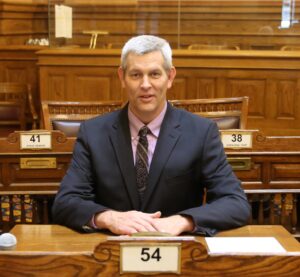 Fact: Many, if not most, supporters of the "school choice!" bill – including many legislators, do not know what is in it.
Below I list some of the points I intended to share with the committee and the public if I had been allowed to speak.
According to the U.S. Dept. of Homeland Security, Georgia is home to more illegal aliens than Arizona. And the leftist GBPI says we host more illegal aliens than green card holders.
 "The news" tells us that lots more are on their way here.
 Illegal immigration, like elections,  has consequences.
 This bill does not allow an unlimited number of K-12 students to access the $6000 scholarship to attend private school. The term "subject to appropriations…" is written in various places in the bill. This means the number of students who will receive the promised state funding to pay towards a private school education is limited to how much money is allocated from the budget by the legislature. Put another way, a lot of students are going to be left out of the promised taxpayer-funded private school benefits.
 The above fact is easily illustrated by the prescribed method of deciding who is chosen for benefits when funding runs out: See lines 220-224 for that method; It's a lottery.
Why would legislators vote to pass a bill that will surely put illegal aliens in front of Americans in the line for the touted "school choice" process?
Lines 71- 75 in the bill do not spell out a real exclusion in state scholarship benefits for illegal aliens. The language is poorly researched and written, incomplete and unworkable.
The 1982 Plyler v Doe SCOTUS decision says states must provide a K-12 education to all children regardless of immigration status in public schools. It does not in any way require that taxpayers fund a private school education for illegal aliens.
K-12 students are not the only concern in SB 601. According to the language of the bill, it is the "parents" ("biological parent, legal guardian, custodian," or other person with legal authority to act on behalf of a student") who have the power to handle and distribute the state funds deposited in an account for the student. "Parents" also make up the committee that would be authorized to have oversight power on the funding approval process for expense items.
There are 307 lines of text in the bill detailing every conceivable action and responsibility involved in the "school choice!" process. There are only 4 lines that allegedly deal with keeping illegal aliens out of the system. That is because the model legislation from Corey DeAnglelis and the American Federation for Children intentionally contains no section or text on excluding illegal aliens. Somebody in Georgia who doesn't know the immigration issue tried to create a "fix."
Because there its no real language that would exclude illegal aliens in the current version of the bill (LC 49 0911) it can and would likely happen that Georgia taxpayers watch as their money goes to put illegal alien students in private schools while Americans are left behind in public schools and while illegal alien "parents" distribute state funds and have official power over state money and the scholarship program.
UPDATE

, 8:10 PM: I forgot to include all of this: "To repeat: A landmark SCOTUS decision in 1982 (Plyler v Doe) requires states to offer K-12 education in public schools (not private schools) regardless of the student's immigration status. It also prevents legally asking a K-12 student about immigration status – same for the student's parents. You can read a summary or the syllabus.

I tried repeatedly to get a minute with the Lt. Governor's Chief of Staff Macy McFall to explain all this but never received the hoped for phone call after two visits to the LG's office today. I was successful in getting about a minute with Sen Miller and a staffer at an elevator to make it clear that his bill does not exclude illegal aliens. I have not yet received the promised follow-up phone call. Update, 8:43 AM March 9: I just called the Lt. Gov's office and tried to give a heads up on all this to CoS Macy McFall – I got the brush-off. I sent her and other staffers this page via email. Update, 10:40 AM, March 9: Ms. McFall has emailed me to say she is reviewing my write-up.

Thank you Senator Mike Dugan

I am grateful to Senate Majority Leader Mike Dugan for interrupting his lunch to speak to me in the hall so that I could give him and his CoS a heads up. My announced goal was to insure that there are no pleas of ignorance if the Republican senate passes SB 601 without major changes involving illegal immigration.

We have a real "fix"

While I am happy to send line-specific language, the general idea is that the scholarship should be made available to U.S. citizens and Lawful Permanent Residents only. The term "lawful presence" should be struck and there must be wording that requires the "parent (s)" of the eligible student to provide proof of the same status as the student.

I wrote it up here more than month ago.