About halfway through pecking out this post it occurred to me that Erick Erickson could well be on an appointed, long-term mission to set up acceptance of a "it's not amnesty!" future senate floor vote or a pro-legalization plank in a 2026 GOP Senate campaign for Georgia Gov. Brian Kemp. That's how things are done here. If so, we suspect that the occasional, softer, less direct points from Kemp ally Martha Zoller on her Georgia radio show are part of the same plan.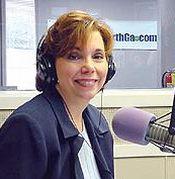 Legalization for illegal aliens is amnesty for illegal aliens.
__
Original audio and transcript below.
In a September 28, 2023 (hour 2) broadcast (access entire show podcast here), Republican radio talker Erick Erickson broached the topic of legalization for illegal aliens and said he would support it. For experienced amnesty opponents who remember the 1986 debacle and the talking points from the many attempts at a repeat since then, there wasn't much new in the Erick Erickson amnesty balloon.
Top of the list for Erickson amnesty are what the anti-enforcement mob has labeled "dreamers." He put a "whose parents dragged them here 30 years ago…" qualification on it to get the sympathy ball rolling. We assume the "why not support amnesty for the children when many of the millions of illegal border crossers are bringing dreamer replacement children over the border literally every day now?" push will come after the 2026 Senate election.
Next in line for Erickson amnesty it's (you may have seen this coming)…the parents. In Erickson's amnesty balloon the eligibility period of avoiding enforcement of immigration law for consideration is 40 years.
Essentially, Erickson is promoting the now worn and ridiculous concept that there are somehow illegal aliens in the U.S. who have not violated any other American laws other than "existing" here. And that amnesty for the illegals who have easily managed to be "undocumented workers" for a long period of time a viable solution to the problem.
Erickson threw in the worn and ridiculous concept that amnesty-again would be a demonstration of "humanity" if the border was secured and somehow "the number of illegal crossings go down to zero" (which is impossible – note to Erickson: run, don't walk to arrange a trip to the southern border with expert guidance). Again, the early eligibility period example in his amnesty float is for illegals who dodged enforcement for 40 years – and apparently who produced kids.
I suspect that Erickson promotes the idea of legalization without a path to citizenship being fully aware that about ten minutes after any such legalization legislation was signed into law the corporate-funded leftists would be back to screaming in the streets of the remains of the Republic carrying pre-printed placards demanding "citizenship for all!" yada-yada. But, omitting this idea does likely help serve to keep the fact that amnestied illegal aliens do not vote for Republicans and legalization does not produce many new GOP votes out of the equation for a while.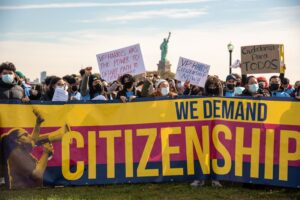 I would go on Erickson's show and offer a fact-filled, pro-enforcement response  but he has my phone number blocked and will not put me on the air when I do get through to his call screener using another number.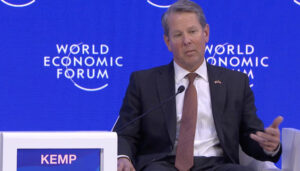 A few more pesky and very basic facts Erickson has so far kept from his easily-led Republican listeners – most of whom in Georgia are trusting and immigration-ignorant, "we'll follow you anywhere" Kemp Republicans. Note to new readers, this is not a complimentary term.
The "never-broke-the-law-except-for-immigration-law is an old hustle. It is mostly impossible for an "undocumented worker" to get and keep a job/employment in the U.S. without committing a crime because eventually, the employer will need a Social Security Number.
Use of a false Social Security Number is a felony.
Use of a stolen Social Security Number (Aggravated Identity Theft) is a felony.
See also: Fraud and False Statements (18 U.S.C. § 1001). It is common for illegal aliens to make false statements to the government or on official documents. An illegal alien violates this law when claiming to be a U.S. citizen on an I-9 Employment Eligibility form and faces a fine and up to five years imprisonment.
Even if it were within the realm of reality to cut illegal border crossings to zero, that alone would not end the organized crime of illegal immigration. Because Erickson doesn't do it, we note that until the Biden administration illegally opened the southern border, about half of all illegal aliens in the nation did not come over the border illegally. They came on temporary visas and then refused to leave. We have made this point to Erickson before.
Related: DHS Reports Record Number of Visa Overstays in 2022
Erickson's amnesty balloon is aimed at the most willingly ignorant amongst the Republicans and is apparently the beginning of the beginning of what we suspect is the long-haul effort to have Republicans (especially Kemp Republicans in Georgia) warmed up for a future amnesty push.
_____
The below transcript was done by Rev.com.
Original audio on the bottom.
Erick Erickson, Sept 28, 2023 on WSB radio in Atlanta (hour 2)
Erick Erickson:
"… for those of you who take that position, you need at an intellectually honest level to say, "What about the kids whose parents dragged them here 30 years ago when they were one or two years old and now they're in their thirties, do we deport them or do we find a way to keep them here?" That's one of the big immigration arguments. And I'm… I'm all about… Look, if you've been in this country for 30 years, your parents brought you here, and your parents themselves have not broken the law since they've been here other than by existing here, I'm okay letting you stay if you've been contributing, but… I mean i-if you're not a lawbreaker, but I don't want to give you citizenship.
On… I… I think before we can have those conversations though, you got to build a very high wall with a very big moat and fill it with alligators and… and… and stop the rest of… of the… the… the wave of illegal immigrants from coming over. I… I… I… I think we've got to secure our border.
And I actually am one of the people, [inaudible 00:00:51] optimistic in humanity, but I am one of those people that does believe if you secure the border and the number of illegals crossing goes down to zero, I think a lot of the people who were very reticent about deporting everybody might actually say, "Okay, since nobody else can get in here, let's… let's talk about the people who've been here for 40 years illegally." And I think they need to be treated [inaudible 00:01:20] the people who have been here for a year or two.
I… We… We have the ability to exercise some discretion. If you've been here for 40 years a-and you… y-you now have kids, some of whom were born here, they're American citizens and you haven't broken the law, maybe we don't give you citizenship, but we just let you stay. But if you're a criminal or you've only been here for the last five years or so, well, okay, you've got to go. Go home, get in line like everybody else, like the legal aliens who came here and took the time to do it, but…
Audio