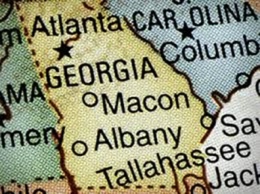 Big money lobby vows to try again next year on "Americans last" bills in Georgia

FWD.us "Immigration Director" in Georgia is an illegal alien – Refugee Services Coalition co-chair has powerful business partners, but pro-enforcement Americans prevail in Georgia 
Pro-American Georgians were successful in preventing the passage of several bills aimed at putting illegal aliens and refugees ahead of Americans in the 2022 session. We are proud to have provided information that resulted in the demise of the various bills. But nobody should relax. The corporate-funded "foreigners first" lobby has already made it clear that they will try again next year. We may start an informal pool on guesses for names of likely Republican sponsors. Odds on favorite? Dalton Rep Kasey Carpenter.
Related: For a complete list of 2022 legislation related to immigration with an explanation of the contents and the outcome, readers can see here.
Jaime Rangel, the illegal alien who lobbies for FWD.us under the Gold Dome and Darlene C. Lynch who co-chairs the Coalition of Refugee Service Agencies (CRSA) both put out "wait 'til next year" statements.  I post both below, Rangel from his Twitter feed and Lynch from an "action alert" newsletter.