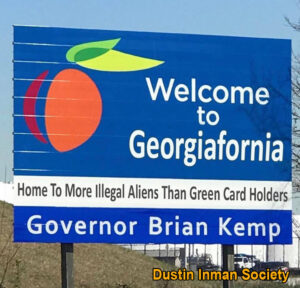 Both leading Republican candidates for Georgia's 2022 U.S. Senate race have supported immigration amnesty
A Washington friend asked me to outline what is happening in Georgia with the 2022 race for U.S. Senate related to immigration. I explained that reading the liberal Atlanta Journal Constitution would not give him a full picture.
_____
The story so far.
Elected in 2010, career Big Ag lobbyist and Georgia's current Commissioner of Agriculture, Gary Black, went to Washington in 2011 and recommended to a U.S. Senate panel that illegal alien farm labor be legalized. They should be required to remain in the farm industry to keep their renewable work permits, he said.
See here for a link to Black's Senate testimony.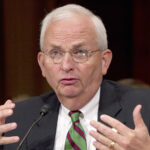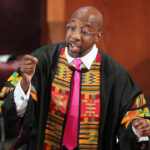 Gary Black is now a Republican candidate for U.S. Senate to replace pro amnesty Democrat Raphael Warnock.    
Agriculture is Georgia's largest industry. Republicans control the state Capitol – as much as the Georgia Chamber of Commerce and Big Ag allow.
Georgia media treats Black's amnesty and indentured servitude advocacy as a closely guarded secret. This includes the uber-liberal Atlanta Journal Constitution.  And some establishment Republican talk show hosts.
Black is the donor class choice for the 2022 Republican senate primary, which is illustrated by the fact that former Governor Nathan Deal has endorsed him. So have about seventy-five Georgia sheriffs and a long list of Republican state legislators – few of whom, we suspect, are aware of his past call for amnesty. We think it likely that few care.
Enter Trump-pushed senate hopeful and now front runner Georgia football icon Herschel Walker who finally announced his own candidacy in late August. Big on "unity," Walker was slow to put out a real campaign platform or position on "issues" until news broke this week about his past call for immigration amnesty.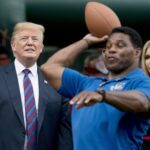 Yesterday the liberal AJC ran a story on Walker and a 2015 statement he made regarding amnesty.
"He told USA Today in August 2015 that he supports Trump's idea of building a wall along the U.S. border with Mexico but disagreed with his plan to deport millions of immigrants living in the country illegally. He also said then that he'd back a proposal that enables such immigrants to earn citizenship" goes the AJC report. Update: Walker on controlling the border and the economy to the UGA College Republicans – January 13, 2022 .
The next day (Oct 19) the AJC political blog ("The Jolt") reported that Gary Black created and is airing a radio ad hitting Walker for his immigration stance.
As of late October 19, the AJC still has not reported on Black's amnesty advocacy or the indentured servitude angle. I waited until the daily AJC political blog was posted this AM to put this up. No mention of Gary Black's call for amnesty. Some news is apparently more news than other news…
It's a good bet the liberal AJC plans on keeping Black's secret as long as they can. Meantime, pro-amnesty Democrat incumbent Warnock has (updated amount from "9 million") $17 million cash on hand.
The Herschel Walker camp has not disputed or backed away from his 2015 comments on amnesty but has put out a statement that includes the below moldy-oldie dodge:
"America is a nation of immigrants, and Herschel strongly supports those who follow the process to legally enter this country," said Walker campaign spokesperson Mallory Blount. "He has several dear friends who have done so. We have a humanitarian and illegal immigration crisis at our southern border that career politicians have created.
"When you have a leak, you fix it. Any conversations about immigration have to start with finally securing our southern border and Herschel will work to make that happen, unlike our current senators." – Capitol Beat News Service.
We don't think the advisors in Walker's campaign have a clue about visa overstays and that more than half of the illegal aliens in the U.S. today did not come over the border illegally. Voters either. It's not included in "the news" from the AJC.
Did we mention that Walker is in the race because Trump pushed his candidacy? It is good to see that Walker is urging people to actually vote in the coming election.
Also relevant is an October 4, 2021 AJC story finally breaking the news that some pro-enforcement Georgia Republicans are not happy with the betrayal by Gov Brian Kemp. A large metro-Atlanta area county GOP group censured the Republican Governor for, among other things, ignoring his detailed 2018 campaign promises on illegal immigration.
The agenda-driven AJC editors headline described Kemp's pledge to go after "criminal illegals" and sanctuary cities as being "anti-immigration." It helps outsiders understanding of "news" in Atlanta to know that the AJC served as dinner Chair for a MALDEF fundraiser here.
We are desperately seeking pro-enforcement candidates for the U.S. Senate and governor – and refer to our GOP-ruled state as 'Georgiafornia.'