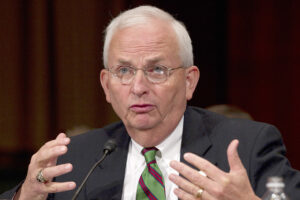 Gary Black – Photo: Politico
State GOP official jumps into Georgia Senate race
With agriculture being Georgia's biggest industry, it should be noted that many of the 1980's illegal farm workers fled the fields after they obtained legal status in the "one time" Reagan amnesty. Taking a better paying job in construction or an air-conditioned warehouse instead of sweating in a 100-degree onion field seems a logical move.
Georgia's Commissioner of Agriculture (and now announced candidate for U.S.senate) Gary Black, recommended a temporary solution for that scenario to a U.S. Senate subcommittee in 2011. Black told the senators:
"Regretfully, a large number of illegal immigrants are working in agriculture today. A penalty-based work authorization permit should be considered for offenders. Such a measure could require substantial monetary fines, an annually renewed biometric permit supported by fees that is restricted for agriculture and strict employer enforcement after implementation." (italics mine).
Georgians can watch to see if any current Peach State legislator supports what is accurately being referred to as the "indentured servant" section of "immigration reform." We'll also see if anyone remembers that Black forgot to obey Georgia's E-Verify laws when he took over the Ag Dept duties.
Before his election to Ag commissioner, Black was a career lobbysist for BigAg.
Bonus reading:
"The Georgia Agribusiness Council, where Gary Black served as President before becoming the state's Agricultural Commissioner, estimated that ("The Illegal Immigration Reform and Enforcement Act of 2011"), HB87 would result in losses of $300 million for Georgia farmers. Commissioner Black testified before the Senate in October 2011 that losses would be "somewhere in the neighborhood of $150 million." The survey actually found reported losses in 2011 to be $10 million. That works out to be three percent of the original figure released by agribusiness in order to scare lawmakers away from supporting HB87. Put into a broader context, $10 million represents 0.015 percent of the state's total agricultural output in 2009, and 0.0013 percent of the total state economy. No wonder when Commissioner Black was asked to respond to the survey findings he said, "We have to look at solutions," instead of getting "lost in this million versus that million." Talking about the actual results would expose his previous claims about HB87 as unfounded." Here – which is linked in here.
Updated 28  June 2021 with addition of link to Black's former career with Big Ag  lobby.