Newspaper continues to push rejected illegal alien-friendly legislation
The liberal AJC is still trying to sell the now all-but-dead HB 120 scam. The morning after Rep Kasey Carpenter's "instate tuition" bill formally expired due to an absence of Rules Committee attention, AJC reporter Greg Bluestein lamented the GOP had lost a chance to win over more immigrants and Latino voters. A real mensch, Bluestein is always very concerned about the Republican's well being.
In today's 'Capitol Recap'. AJC Premium Editor Jim Denery did a rerun of the Bluestein goop. Update: The AJC also printed the same "news" in the Sunday edition.
Neither of them seem to understand or care that Kasey Carpenter is a shameless huckster. Neither of them seem to understand simple immigration law and neither seem to be able to process news of federal court decisions reported in their own newspaper.
We have lost count of the number of news outlets that falsely reported that "DACA recipients" were the target of Carpenter's first two versions of HB 120 on instate tuition and that "DACA" was part of the bill language. Triple dog dare: Show us the numbers of the lines that contain "DACA."
The reality, easily verified by actually reading those bills, is that DACA was never mentioned in the language. We think the various reporters swallowed Carpenter's carnival barker, verbal presentation of the bill without reading the legislation. Either that or as often happens with the agenda-driven Atlanta Journal Constitution, staff and management were in on the hustle.
This writer pointed this "DACA" discrepancy out to House legislators in committee.
So did a retired federal immigration agent in a letter to legislators.
I also pointed out that the liberal AJC has reported the 11th circuit appellate court has ruled that illegal aliens with DACA are illegal aliens. How much "lawful presence" do they have? Zero.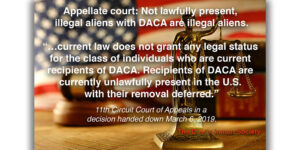 Carpenter finally did actually insert "DACA" language into his Orwellian, 'Hail Mary' latest version. In addition to the existing instate and out-of-state tuition fees, he also invented a new proposed tier of tuition rates: "Opportunity Tuition" – for illegal aliens who would be known as "Opportunity Students."
It wasn't "instate tuition" at all. Carpenter should feel cheated. He concocted this goofy Newspeak wording but the AJC ignored his work.
Americans and legal immigrants from most other states would not be allowed to pay the lower "Opportunity Tuition" rates. Only illegal aliens who landed in Georgia before 2013 (*or who move in with parents who say they were here in 2013) could get that special deal. At least until the next time these liberals couldn't bear the "unfairness" of borders and immigration laws. Then it would be back to the Gold Dome to change that 2013 date to 2021 or whatever year they decided represented "justice."
Georgia is home to more illegal aliens than green card holders according to the anti-enforcement Georgia Budget and Policy Institute.
The danger to pro-enforcement Georgians of the AJC's constant hard sell is that most Georgia legislators know more about Martian trigonometry than they do about immigration. In large part we blame this on reading and believing the AJC.
I left a voicemail for Denery late Friday afternoon. I don't expect a return call and I don't expect the AJC correction I asked his editors to run.
We created factual info (but with verification) on HB 120 here and here and here and here .
________
Updated 11:42 March 13 – corrected title on editor Jim Denery.
Updated 10:15 AM March 14 – addition of info on GBPI.
*Updated 6:04 PM March 14 – added detail of illegal aliens moving in with parents.