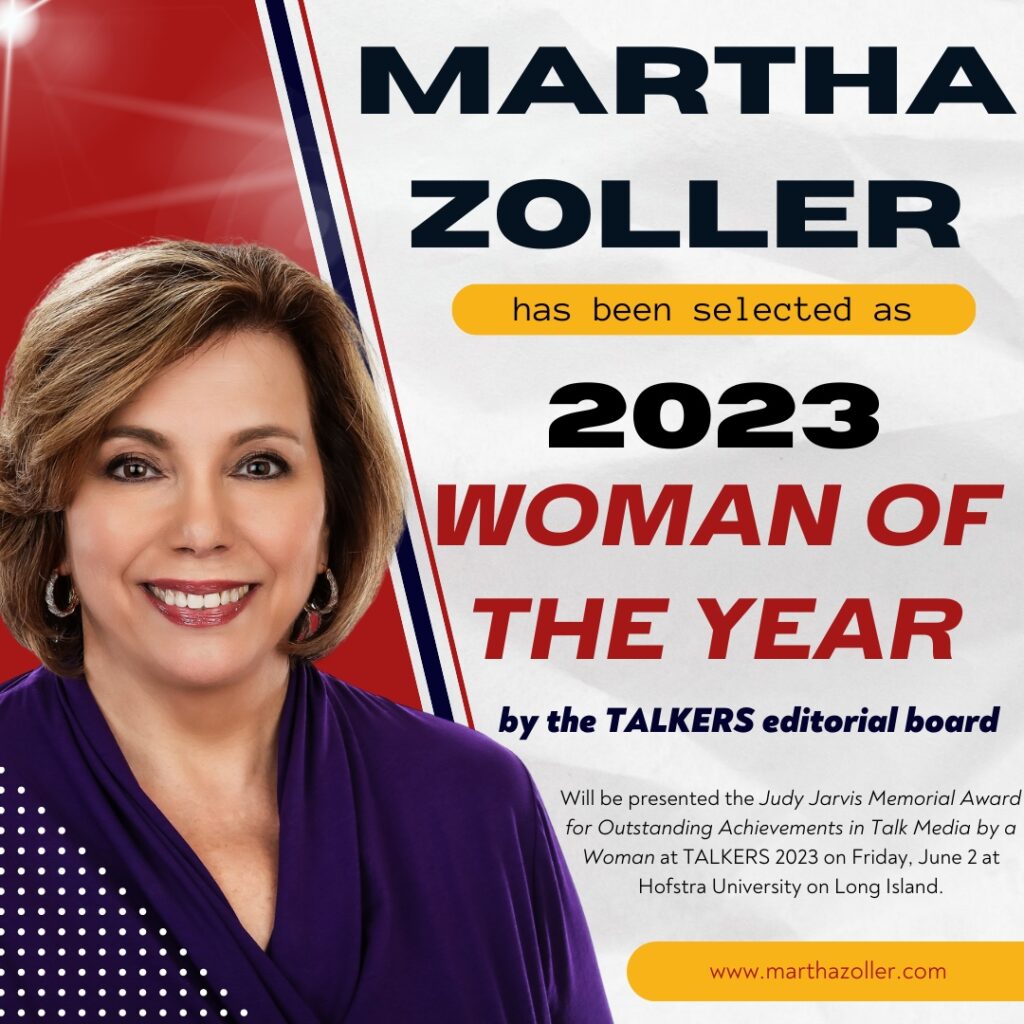 We note that in her amnesty push today, Martha failed to correct her inaccurate "facts" on temporary visa holders in an amnesty push from last week.
Many thanks to my pal E.R. for taping Martha's show today while I worked on the SPLC case. It seems Martha has turned a corner on any fear of a credibility problem.
I don't have time today to cover all of the falsehoods in her monologue, to restate all of the now blatently dishonest representations of Brian Kemp's 2018 campaign promises on "criminal illegals" or to comment on her comparison of pro-enforcement Americans like me to "bullies" (again) and to "pro-Palestinian activists."
And no time to comment on yet another version of her "it's-not-amnesty" amnesty push.
But I will soon. The Martha Zoller chapter is growing. Advice to Martha Zoller on holes and digging here.
Ick.
__
Related reading: Martha Zoller offers her opinion on the correct waiting period for amnesty eligibility.
Transcript by Rev.com. My cost, $22.00 and about 2 hours.
Audio below.
Beginning of The Martha Zoller Show,  9:00 AM Monday, Nov. 6, 2023
Announcer:
Hey, it's 5:50 at FM 102.9 WDUN, always here, always local.
Announcer:
George, voters are just plain frustrated across the board. 76% of adults in this all stated the country is headed in the wrong direction. Only 23% less than a quarter of the country say that we're headed on the right track. And the issues that are animating voter's frustration, i- it's almost unspeakably vast and broad, economy 74% of Americans say it's very important to them personally, 69% say the same about inflation. Those are issues in our poll that tend to favor Republicans. Voters say they trust Republicans more than Democrats on those issues.
Republican radio show host Martha Zoller:
It is The Martha Zoller Show, so it's been a fun weekend, uh, it really has. So I… It was really funny because I, uh, went and got my annual physical before I came in here and, of course, so it's been, like, I've been dressed and undressed I can't tell you how many times this morning, uh, since I got here getting ready for all of that. But everything's good. There's always, you know, the one or two things they want you to work on, but it's annual physical time, what can I say. So it was great all week, I appreciate Dr. Sherry [inaudible 00:01:09], um, it's great to have a old-school primary care doctor that still has paper charts that looks you in the eye, and, um, you know, takes care of you. So it's really great.
You can join us on the phones at 770-535-2911.
Look, this is the last time that I'm going to, uh, talk about, uh, this particular issue. Maybe not the last time ever, but the last time. Um, I have a situation where, um, uh, my, uh… a guy I've known for years named D.A. King, for some reason has d- has latched onto me on social media as being like the person who can control, um, you know, what happens, you know, anytime anywhere as far as immigration is concerned. And I'm not really 100% why, sure why that's the case.
Look, nobody's really looking at these posts that he's putting out, uh, uh, about me, and I don't generally interact, but I'm just gonna say this, and, 'cause I know he listens. Anytime he wants to come in and talk about his immigration policies, he is welcome to do so. He has been a person that is involved in this, uh, issue for many years, and I have helped him with many of his causes. We are mostly on the same side. And this really couches a bigger problem that Republicans and Democrats have is that, uh, if you're not with me 100% of the time, then you're my enemy, okay?
So in this particular situation, where he and I have, um, parted ways, if you will, is over Governor Kemp's, uh, handling of illegal immigration. If everybody remembers back to the 2018 election, there was that ad in the primary of Governor Kemp in his pickup truck and he said, if he was, if he had to he'd go around in his pickup truck and round up all the illegals. I didn't like that ad, I was part of the group of people that was helping to pick ads. I did not pick that ad. I did pick the one of him sittin' on the porch with the gun talking to Jake. I thought that was hysterical, a guy with three daughters, I thought it was really funny.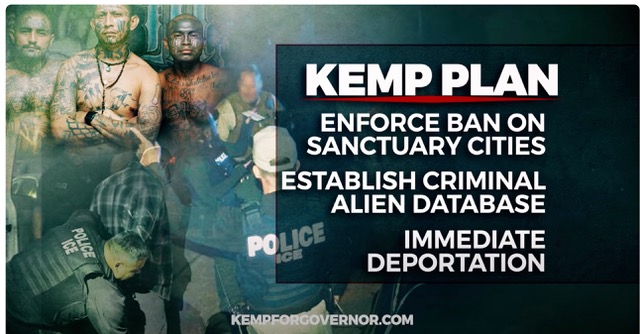 Um, so, um, he believes, DA King believes that Governor Kemp has not kept his promises related to illegal immigrants. But I don't think anybody could have anticipated what would happen when Joe Biden took over, okay. And he opened up the borders. We didn't have open borders in 2018 when Governor Kemp was elected the first time. We had, you know, immigrants coming back and forth but it wasn't like it's been for the last three and a half years. And what I said in defense of Governor Kemp was the situation changed and what Governor Kemp did was give Georgia National Guard to Texas to be able to help on the border, have worked with the Attorney General's Office in other places to help with the problems that illegal immigration has caused because of this flow that nobody could've anticipated over the last three years.
And, and DA, because it is not a rounding up and deporting of all illegal immigrants in Georgia, he says Governor Kemp didn't keep his promise. What I'm saying is that the pr- what had to be done to keep the promise changed because of the situation. Now, he also goes on to say that, you know, I'm for amnesty, which I am not. Uh, but I do think there are different levels of immigration problems that have been exacerbated by the fact we had two million a year comin' in for the last three years, okay.
So here's the thing of what we need to, there are, there's legal immigration problems we need to fix and there are illegal immigration problems we need to fix, okay. So the legal immigration problems, I believe, can be fixed by the RAISE Act, which was introduced by Tom Cotton and David Purdue, that would lower the number of green cards that are given on an annual basis of by about four or 500,000. Take those four or 500,000 green cards and clear the backlog of legitimate immigrants that have followed the rules that are waiting for green cards. They're waiting for an inordinate amount of time. Clean up the legal side of the immigration system and create a merit-based system much like what we do in, what they do in Canada where it's merit-based, okay.
So, so clean up the legal immigration, stop having 14 categories for fiances, stop having all the kinds of problems we have related to this, and fix the legal immigration problem by clearing the backlog of, of green cards for H1B and H2-2A visa holders, okay. That would, you know, there's a lot more to it than that, but in general, that's what you need to do to fix the legal immigration problem.
Then on the illegal immigration problem, there are three categories, I believe, of illegal immigrants. There are the ones that's coming in the last three years that are not asylum seekers, they're just seeking better economic policies. And even though my good friend, Chand-Chandelle Summer thinks that's a good enough reason to come here illegally, I do not. Those folks, supposedly, we got an app for that. And we know who they are and where they are and where they ended up, okay. We should be able to, to use the term round up, we should be able to get those people together fairly easily and get them out of here, send them back to their home countries, okay.
Secondly, you have illegal immigrants that are here for whatever reason in the most recent past. And then thirdly, you have people that have been livin' here 20 years or so, and I don't know what the number is, we gotta have that discussion, that of, of those folks they have gotten tax ID numbers, they're filing taxes, they're trying to do things the right way and I do think it matters if they were sold a b-bill of goods and fake paperwork thinking they were coming here legally, I think that matters, okay?
So I'm sorry that I'm not as cut and dry as DA would like me to be, but I believe that this is a complicated issue that has to be dealt with it in a compassionate and legal way, okay. So if that's amnesty, then I'll take that la-label, but I don't think that makes me an amnesty seeker, I don't think that makes me moderate, I don't think that makes me any of these things that people want to put labels on me. I think what it makes me is a person who's pragmatic looking at the situation and how are we gonna fix it.
And just talking about it and picking on people that are on the same side as you are doesn't help, okay. I know a lot of elect officials do not have the-the guts to actually talk about the nuances of this situation because they're afraid of the activists, but that is bullying, okay. It's no different than the activists, the pro Palestinian activists that are trying to bully the Democratic party right now. And here's the thing, the mainstream media is not covering this. They're starting to cover it because they have to but they're not covering it much because all they've been talking about is the narrative of Republicans fighting with each other, which this is a good example, me and D.A. King, okay?
But, there's a lot of Democrats fighting with each other too. And there's a big realignment, and the Democrats are terrified about the-the, um, polls that they're seeing saying that black and Hispanic voters are considering voting Republican and that traditional Democratic numbers. But look, look this has been going on for a while. Wealthy people used to be Republican, now all the wealthy people are Democrat. This shift is happening. The problem is the average American is tired of somebody saying, you know, pattin' them on the head and saying, "I know better than you do."
There's a woman, we're going to play her audio later, where she basically says that the reason why black people are considering, and she's a black legislator, the reason why black people are considering voting for Republicans is they just can't understand that they're going with their feelings, not with the truth. So thei-what-what is she actually saying when she says that? We'll think about all that, we'll talk about all of that, you'll join us on the phones at 770-535-2911. We'll be back….
End of opening monologue and Martha's 'spin' on amnesty and Kemp's campaign promises.