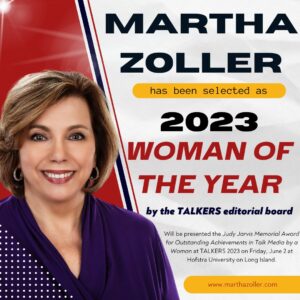 There she goes again.
As I seldom listen and she does not offer a podcast of her full show (it's limited to "show clips") I have no way of knowing how often Republican radio show host Martha Zoller promotes amnesty for illegal aliens. But every so often I still tune in to her morning show to see what she is telling her loyal listeners. Even if it's only for a few minutes.
Yesterday (Oct. 24, 2023) was one of those mornings. I listened for less than fifteen minutes. In that time I heard Martha tell a listener (I think it was a response to a text message) that she was opposed to amnesty for illegal aliens who had arrived in the U.S. in the last three years. Martha said twenty years was closer to her preferred waiting period for illegals to be eligible for being allowed "to stay" in the U.S.
My assumption is that this "let them stay" concept would include a path to citizenship.
Maybe Martha will offer up an estimate of how many potential Democrat voters would be created by an official 21st century amnesty.
Reagan's (failed)"one-time" amnesty of 1986 didn't seem to produce many GOP voters in the Hispanic community. A promise of increasing the number of Hispanic Republican voters is one of the talking points in the periodic "yes to immigration reform" spiel from the Chamber of Commerce wing of the GOP.
Below is a pasted version of a 2017 post from the original DIS website on that matter:
After the "one time" Reagan amnesty of 1986, Hispanics rewarded Republican George H.W. Bush with 30% of their vote – Trump got 29% in 2016.
Clinton finished the San Diego border fence in 1994 and still got 72% of the Hispanic vote in 1996. It doesn't look like capitulation pays off for Republicans or that enforcement costs Democrats.
Stats from LatinoVoteMatters.org :"If one hopes to analyze current trends and anticipate where we're going, one must understand where we've been. Below, you'll find the Hispanic voter breakdown for presidential elections from 1980 to present."
1980 Jimmy Carter, 56% Ronald Reagan, 35% +21
1984 Walter Mondale, 61% Ronald Reagan, 37% +24
1988 Michael Dukakis, 69% George H.W. Bush, 30% +39
1992 Bill Clinton, 61% George H.W. Bush, 25% +36
1996 Bill Clinton, 72% Bob Dole, 21% +51
2000 Al Gore, 62% George W. Bush, 35% +27
2004 John Kerry, 58% George W. Bush, 40% +18
2008 Barack Obama, 67% John McCain, 31% +36
2012 Barack Obama, 71% Mitt Romney, 27% +44
*2016 Hillary Clinton, 65% Donald Trump, 29% +36
*According to widely accepted estimates in the liberal Atlanta Journal Constitution and the conservative National Review.
And doesn't this mean that Amnesty-en-Espanol John McCain and "Build the Wall" Donald Trump had the same spread?
Huh…