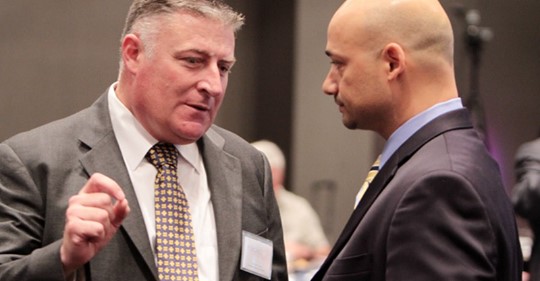 Con Ed – Georgia political history
Part two of a GALEO/Jerry Gonzalez profile in The Islander newspaper coming next Monday
In 2011, GALEO's Jerry Gonzalez went after a female Republican legislator, Renee Unterman, inside the Georgia Capitol. I was in the building when Capitol Police confronted Gonzalez. It is notable that this is the same time frame in which Jerry shouted at another female GOP Georgia legislator, 110 (ish)-pound Katie Dempsey, while chasing her around a Rome, GA  event designed to explain the E-Verify system and the corresponding state law requiring its use. We will save that one for later, but the Rome News-Tribune did a good job of the short story here.
We have been so busy here in Georgia lately struggling to stop pandering Republicans from advancing the far left anti-enforcement agenda that we haven't had time to educate Georgians on the anti-borders Marxists in the corporate-funded illegal alien lobby. Here is a small view of one of these hateful leftists, GALEO's CEO, Jerry Gonzalez. One problem with exposing the far left crazies is that lots of normal folks who only get their news from "the news" have difficulty accepting or believing  stories explaining how truly hateful the crazies really are.
We think many Georgians will be surprised to learn who helps GALEO with fundraising and operations.
I am halfway through a two-part profile of Jerry and GALEO for The Islander newspaper in SSI/Brunswick and mentioned this gem in part one. I'll post them  here after the second part is published.
Related: Readers write: AJC letter to the editor published October, 2020 – "Anti-enforcement GALEO is not a "civil rights group."
Anyway, I stumbled across a page from GALEO's website from 2011 on which Gonzalez is still seething about a speech then Senator Unterman made from the Well on the floor of the state Senate. It's vintage Jerry. I link it below with link to the entire GALEO newsletter page.
First, a short explanation that cannot be repeated too many times: The anti-borders lobby (including most of the liberal media) is trained to always use the term "immigrants" when topic is illegal aliens – in the endless effort to make resistance and opposition to illegal immigration into "anti-immigrant." Senator Unterman was addressing the topic of illegal aliens in Georgia during the process of debate on that year's HB 87, the Illegal Immigration Reform and Enforcement Act of 2011.
Here is a link to the surviving GALEO newsletter page from 2011.
Below is the pasted image of Angry Jerry's narration and illustration of his inner anger and hissy fit.