Rising rents in South Georgia are leading to more eviction filings, according to WALB. (Hat tip, Georgia Pundit)
"Experts say nationally, rent hit sharp increases in the last year — up to 40% in some cities. This is making it hard for some to be able to keep a healthy living.
Many families in Valdosta will soon be thrown out of their homes. That's because funding from the Georgia Rural Assistance Program is ending soon.
South Georgia's Partnership To End Homelessness Director Dr. Ronnie Mathis said his office is overwhelmed with applications from 18 different counties needing rental assistance.
Mathis said the state's rental assistance program does in fact work. But, the concern is how long the process takes. The office got a grant for $30,000 but that money was dispersed within 45 days.
"Time is of the essence with this. We really need Georgia rental assistance to speed up the process and if South Georgia's Partnership is going to be one of the partnerships with them, we want them to be more involved with us," Robinson said…"
___
Update, June 3, 2020 10:30 AM: The federal law creating the Emergency Rental Assistance Program does not have immigration status limitations. Shorter: Yes, illegal aliens can and have accessed taxpayer-funded rental assistance.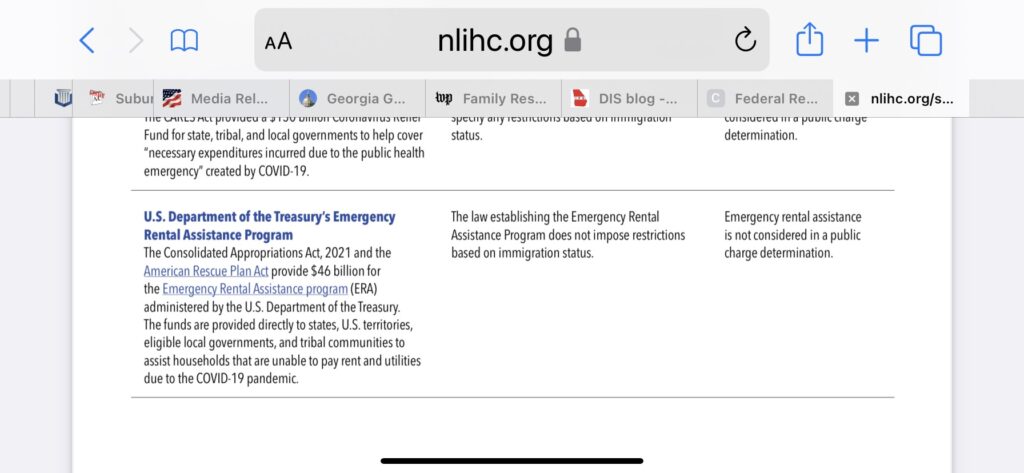 We are in the process of confirming that DCA does not ask about citizenship or immigration status.
OCGA 50-36-1 requires verification of "lawful presence" for public benefits, including rent assistance and housing grants.
CHAPTER 36 – VERIFICATION OF LAWFUL PRESENCE WITHIN UNITED STATES
§ 50-36-1 – Verification requirements, procedures, and conditions; exceptions; regulations; criminal and other penalties for violations
__________
Department of Community Affairs "we're here to help"  link.
The 11th Circuit Court of Appeals and the GA AG tell us DACA recipients have no "lawful presence" or legal status .
But, I see no question that asks for information on or proof of legal immigration status.
Part of application for benefits: