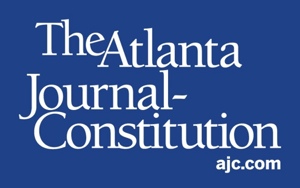 A former reporter at the liberal Atlanta Journal Constitution newspaper known for multiple, unapologetic accuracy blunders is apparently now a "Communications Associate" at the Georgia Municipal Association (GMA). GMA is the powerful lobbying entity for Georgia's more than five hundred cities and towns. We hear the job change was effective January 1, 2021.
We were happy to take the time to post two requests for correction sent to the AJC editors last year stories created by Coyne and approved by her editors. Maybe it paid off?
Last February Coyne reported on a silly, but simple bill from anti-enforcement Democrats (apologies for the repetition) in the Georgia House that was virtue signaling against use of the term "illegal alien" (also "alien" and "illegal") that we were proud to have helped install in multiple state laws. Through Coyne, the AJC reported that under the legislation, "illegal alien" would be replaced with the term "unauthorized immigrant". One problem with the story was that "unauthorized immigrant" was not anywhere in the text of the bill. Apparently Coyne wished it or just made it up. Her yarn left out the changes to the other icky words – "illegal" and "alien."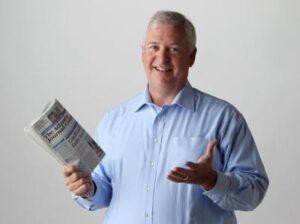 As we noted in our post last year (AJC inventing "facts" on state legislation again – HB960 and "illegal alien"), as so often happens, "Georgia's flagship newspaper" was not credible or compelling much less complete, which is kind of their, you know…slogan.
____________
In November 2020, another Amanda Coyne story on the application process for poll workers in Gwinnett caught our eye. Coyne and her editors managed to muck it up by telling readers that the I-9 form is a "tax form." It's not.
From our Immigration Politics GA post then (AJC gets it wrong again: Correction should not be expected on Form I-9 yarn)
The yarn, headlined "Application process stymies 200 + plus would-be poll workers in Gwinnett" explains at length that people who wanted to work at Gwinnett County polls have not been contacted after completing an application. The Gwinnett application is online and requires an easy and quick registration if you want to see it.

Amanda Coyne. Photo: MuckRuck

From the liberal AJC via reporter Amanda Coyne:

"Gwinnett County's human resources department requires potential poll workers to submit an I-9 form before their application is moved over to the elections department. The I-9 is a tax form that allows the county to pay poll workers. Applicants are supposed to get an automated email after submitting their application with instructions on how to submit the tax form, country spokesman Joe Sorenson said. Nothing in the job posting or application indicates the I-9 is necessary to move forward."

The United States Citizenship and Immigration Services, the people who administer the I-9 form describe it as the 'employment verification' form that it has been since 1986.

From the USCIS I-9 website:

Use Form I-9 to verify the identity and employment authorization of individuals hired for employment in the United States. All U.S. employers must properly complete Form I-9 for each individual they hire for employment in the United States. This includes citizens and noncitizens. Both employees and employers (or authorized representatives of the employer) must complete the form."
Alas, as is usually the case with the agenda-driven editors at the AJC, they did not run a notice of correction as requested. But after our post, they did change the online copy to reflect the actual purpose of the I-9 form, but again, as usual, there was no note of the correction. This is a near daily practice for the AJC staff for whom the internet seems to mean never having to say you're sorry…
We see from Linkedin that Amanda Coyne, the new communications associate at GMA, was editor-in-chief of University of South Carolina's The Daily Gamecock and earned a bachelor's degree in political science with a minor in women's and gender studies.
Good luck with that, GMA.