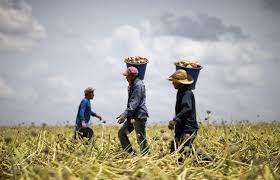 H-2A Program for Temporary Agricultural Workers
What is the H-2A visa?
The H-2A visa is a nonimmigrant visa program that allows US employers to bring foreign nationals to the US to fill low-skill, temporary or seasonal agricultural jobs for which US workers are not available.
For how long can a worker stay in the US on an H-2A visa?
Generally, US. Citizenship and Immigration Services (USCIS) grants H-2A classification for 10 months or less, at which time the worker returns to his or her home country. If the employer would like the worker to return for work the following year, the employer can request that USCIS renew the visa. It also possible for a worker to change H-2A employers while still in the US and have the original visa term extended for a temporary period.
Is there a cap on the number of H-2A visas issued?
There is no cap on the number of H-2A visas issued annually for any particular country or for the program overall. In fiscal year (FY) 2011, a total of 55,384 H-2A visas were issued to all eligible countries.
More here from the Center for Global Development