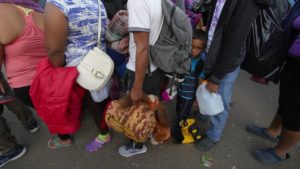 San Diego Tribune
November 27, 2018
Gustavo Solis
Money, resources running out for Tijuana migrant shelter
Sounding an alarm, Tijuana's mayor said the city has only enough resources to support the Central American migrant caravan for two more days and beyond that, there is no guarantee of support.
"We will decide what to do when we get there," Mayor Juan Manuel Gastelum said during a press conference Tuesday morning.
Gastelum vowed not to divert tax dollars away from city services while asking Mexico's federal government to send more money and support. The outgoing administration of Enrique Peña Nieto leaves office Friday while incoming President Andrés Manual López Obrador starts Saturday.
"We won't compromise the resources of the residents of Tijuana," Gastelum said. "We won't raise taxes tomorrow to pay for today's problem."
Tijuana's Treasurer, Ricardo Chavarria, said the city spends about 600,000 pesos a day supporting the migrant caravan or roughly $30,000.
Money is tight right now because the city is near the end of the fiscal year and their top priority is not to cut municipal services, Chavarria said.
Baja California officials said Tuesday that there were about 8,000 members of the Central American caravan in the state, roughly 6,800 in Tijuana and 1,200 in Mexicali. Read the entire story here.