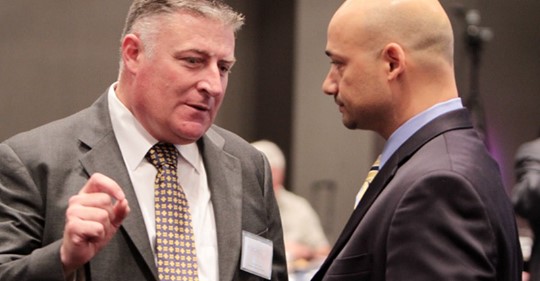 Retired Immigration Agent's angry letter to Gov Kemp on his pick for Insurance Commissioner
 GALEO is a clear enemy of enforcement. John King is an active friend of GALEO. My own opinion of you as governor has been greatly and permanently diminished."
A follow up to our recent column (Georgia Governor Appoints Replacement Insurance Commissioner With Ties to Anti-Enforcement Immigration Lobbying Group)  alerting readers to Governor Brian "I have a big truck" Kemp's choice for his appointment to state wide office as Insurance Commissioner.
We explained that the appointee, John King, is a friend of the notorious GALEO Corp. and speaker for least one fundraiser for that anti-enforcement group. The fact that Doraville Police Chief John King was helping GALEO while GALEO was smearing King's fellow law enforcement officers – including several county sheriffs – with false accusations of "racial profiling" because they assisted in immigration enforcement seems to have been lost on Gov. Kemp.
In 2014 GALEO – with the help and friendship of Police Chief John King – boasted on it's website of their role in convincing Fulton County to end cooperation with federal ICE agents on holding criminal illegal aliens. GALEO Executive Director Jerry Gonzalez put out a press release with the following statement:
On behalf of GALEO, I would like to commend Fulton County Commissioners' leadership and resolution urging the Fulton County Sheriff to stop honoring the ICE hold requests in order to keep families together but to also enhance public safety. We urge the Fulton County Sheriff to move forward quickly and implement the recommendation.

Since Fulton County is the first jurisdiction in the state with such a recommendation, GALEO would also like to encourage other jurisdictions in the state to adopt similar policies and stop honoring the hold requests from ICE."

The entire media release can be read here.
We think it is educational to share a few letters from Georgians that have been sent to Gov Kemp regarding his "historic" appointment of GALEO's John King to constitutional office.
Here is a recent letter from Mr. Robert Trent, a retired federal immigration agent, to Kemp:
 "June 17, 2019

Governor Kemp,

I am Robert M. Trent, Senior Special Agent, USINS (Ret.). My final assignment was at the U.S. Immigration Officers Academy, Federal Law Enforcement Training Center, Glynco, GA. . I served as the Assistant Director for Enforcement Training.

 Having spent most of my life fighting for public safety through enforcement of our immigration laws, I am shocked and extremely disappointed to learn that in your recent appointment of John King to Insurance Commissioner, you have chosen to elevate a friend of the notorious GALEO organization to a position of power in our state government. John King has served as a valuable assistant in GALEO's fundraising.

 GALEO's Executive Director, Jerry Gonzalez is giddy in his excitement over King's appointment and boasting of the friendship and connection with your choice for an appointment to constitutional office. Like most conservatives, we expected to see this happen only after the Democrats gained control of our state government.

 I have also just learned that you have lent your own prestige to a GALEO fundraiser with your attendance in the past.

GALEO is shamelessly dedicated to stopping enforcement of the immigration laws I swore to uphold and has a verified history of opposition to literally every tenant of commonsense policy that conservatives elected you to implement. If you have even mentioned illegal immigration since you took office it hasn't filtered down to our attention here in South Georgia.

 Like many of my friends and colleagues, I am outraged beyond the words I send you today. This appointment and your association with GALEO is a memorable mistake on your part and it is obviously far away from your campaign promises on illegal immigration in Georgia.

GALEO is a clear enemy of enforcement. John King is an active friend of GALEO. My own opinion of you as governor has been greatly and permanently diminished.

 Robert M. Trent

Saint Mary's, GA 31558″
 Other letters to Kemp on the appointment, including from legal immigrants who do not share GALEO's anti-borders views on immigration and enforcement can be seen on the Dustin Inman Society blog page here.
##