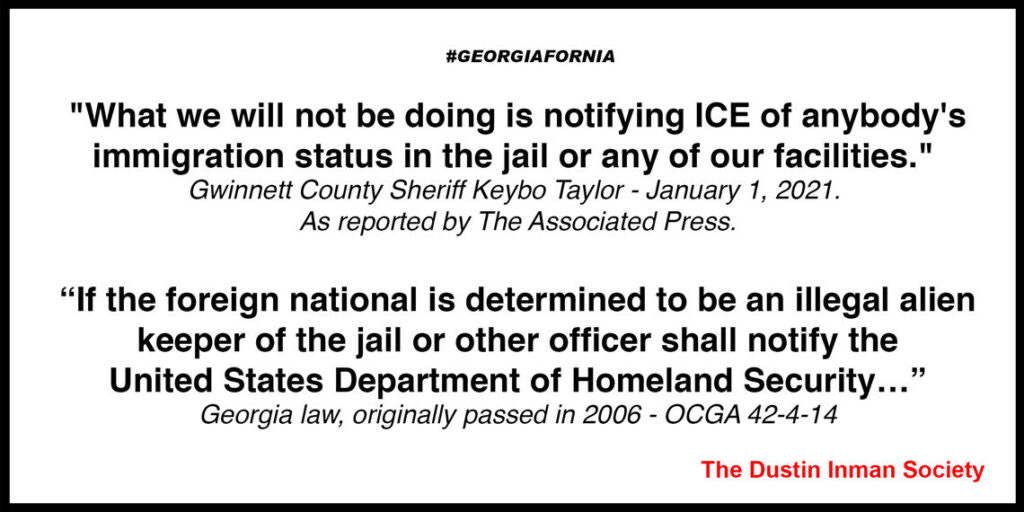 2 February 2023
Mr. John H. Cranford
District Attorney
Coweta Judicial District
Request to forward my complaint to the GBI and Attorney General
Mr. Cranford,
As you know, private citizens are unable to initiate an investigation into violation of state law by the GBI or the Attorney General's office. According to the GBI "in most cases requests for assistance from the GBI must come from a criminal justice official such as the Sheriff, Chief of Police, District Attorney or Superior Court Judge.' I am informed that policy applies to the Attorney General's office as well.
This letter is my request that you use the power and authority of your office to forward my below complaint and media-distributed evidence to the above offices. Thank you for your assistance in my 2022 complaint against the Carroll County Board of Commissioners for the violations to which members of that body and county attorneys admitted.
Complaint:
I allege that Gwinnett County Sheriff Keybo Taylor is in defiant violation of OCGA 42-4-14 and OCGA 36-80-23 and has been since taking office on January 1, 2021. On that date Sheriff Taylor announced to the media that his office would not share information on immigration status of prisoners in his jail or other facilities with ICE. According to an Associated Press report Sheriff Tylor's exact quote was "What we will not be doing is notifying ICE of anybody's immigration status in the jail or any of our facilities…"
I assert that public statement represents a statement of official policy from Tylor and is an admission to violation of state law. It seems reasonable that it is also sufficient cause for a full investigation in the interest of public safety.
It is apparently true that Taylor went on to qualify his remarks by saying that did not mean he would not cooperate with ICE…".  But that qualification does not change the fact that Taylor's stated policy is in clear violation of the law.
I have spent considerable time and effort using open records requests to attempt to get information from the Gwinnett jail on the process involved in use of reasonable effort to discern the immigration status of incoming foreign-born prisoners. I have educated reason to believe the requirements laid out in state law and detailed in the guidelines set forth by the Sheriff's Association are routinely ignored.
Further, I have reason to believe that there are many other jailers and law enforcement officials in violation of the laws I mention here.
Due to his illegal policies Gwinnett County Sheriff Keybo Taylor represents a threat to the public safety of all Georgians. Illegal immigration and the absence of enforcement of existing law is killing innocent Americans in our state. The misery caused by "criminal illegals" and anti-enforcement government officials is fully preventable.
I would be grateful for a reply.
Respectfully,
D.A. King –
Marietta  404-…….
____
Reply received 12:00 PM Feb 4, 2023
Mr. King,
I have read the letter you sent me. While I may share the concerns you raised in the letter, because this matter involves Gwinnett County, which is not in my jurisdiction, I think it would be improper for me to consider your request that I forward this information to the GBI and Attorney General.
I suggest requesting the same of elected officials in Gwinnett County.
Sincerely,
Herb Cranford
District Attorney
Coweta Judicial Circuit
Coweta County Justice Center
72 Greenville St.