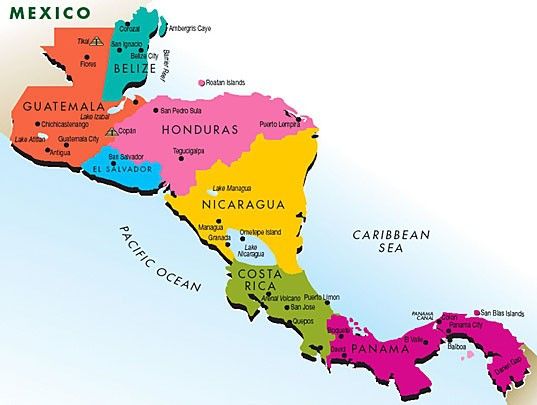 From the Center for Immigration Studies
"It was a great problem for the town to have, hundreds of U.S.-bound immigrants a day: Haitians, Cubans, South Americans, Africans of all stripes, Russians, Uzbeks, Bangladeshis, and Arabs from Iraq and Syria. Everyone's finally becoming financially whole again, Luis said. He thinks at least 10,000 have come through town since the American election and he's quite the optimist."
A United Nations of Mass Illegal Immigration, Part 1
Nicaraguan soldiers about to accept three Haitian immigrants brought by a human smuggler named "Felix". The Haitians and many other nationalities from around the world similarly enter Nicaragua bound for the U.S. southern border. Photo by Todd Bensman.
NEAR LOS CHILES, COSTA RICA — Two Nicaraguan soldiers carrying AK-47s motored up on a single scooter and dismounted on their side of the border, a mud road and a downed barbed-wire fence. The sergeant eyed the three young Haitian men and their smuggler, a purple-shirted Nicaraguan named "Felix" who had brought them and a Center for Immigration Studies (CIS) analyst. The camouflage-uniformed soldiers were hardly interested in border security; the Haitians were going to pay them to enter, Felix explained just before their arrival.
"This is the entrance where we have the illegal crossings. Here in Nicaragua, the boys from the Army should be somewhere around here in hiding or in specific places such as this one waiting for the foreigners to cross so that they can get some coinear [money]," he said. "Don't be scared because nobody's going to fire on us or anything similar."
The Nicaraguan soldiers were there as arranged to cash in on a vast new bonanza passing through along an underground railroad that runs from South America, through Panama, and now Costa Rica on up through Mexico. It's congested now with Haitians and people from around the world — a United Nations of illegal immigration — all heading for the American southern border to enjoy its new openness under the administration of President Joe Biden, many immigrants and several smugglers around here say.
After polite introductions, the Nicaraguan army sergeant refused all comment, wagging a finger, and demanded that CIS put down the camera. The young private moved off to one side and readjusted his weapon. After exchanging quiet words with Felix, the smuggler announced that it was now time for everyone to leave. Except for the Haitian men, of course, and the money in their pockets.
For probably $150 each — a full month's pay for privates — the soldiers would bring up motor bikes for them and then escort them five miles inside Nicaragua to the San Juan River, where civilian confederates of Felix's would float them over to a highway and deliver them to confederate drivers who would get them up to Honduras, for yet more money.
As a waystation, the Los Chiles borderland region of far northern Costa Rica presents an illustrative microcosm of the wider development along the intercontinental trail connecting the world to the U.S. southern border. By all indications, the world route is more congested than at any time in recent memory, with people from Bangladesh, Uzbekistan, Russia, Burkina Faso, Mauritania, Syria, Iraq, Pakistan, Somalia, and dozens of other countries. As will be explained below, this aspect of the U.S. mass migration crisis carries persistently ignored burdens and concerns for the American public, policy-makers, and homeland security agencies that are very distinct from those posed by Central Americans and Mexicans, who occupy center stage.
Escalating Numbers "Since Trump Was Not in Office"
Tallying exactly how many extra-continental immigrants are coming through presents a challenge. Governments at key bottlenecks along the way — Panama, Costa Rica, and Nicaragua, for instance — either ignore the traffic so long as it keeps moving to the next country north or miss much of it since smuggling is an often-successful art of evasion. Some countries may feel a need to undercount their statistics. But a good place to start is with U.S. Customs and Border Protection (CBP) immigrant encounter statistics.
CBP statistics kept for the last 12 years through 2019 (but apparently no longer reported at this level of detail) show that illegal immigrants in this category hail from more than 140 different countries. Migrants in the long-distance flow have always made up a relatively small piece of total illegal immigrant encounters at the southern border, which reached a 25-year apex in May of 180,000.
But that piece has suddenly sprouted high as Central American nations have started to lift pandemic border closure orders and Trump left office, releasing a pent-up wave. The latest CBP encounter statistics released in June show the agency's encounters of non-Mexican, non-Central American immigrants skyrocketed from 1,308 in May 2020 to more than 40,000 in May 2021. That's more than 30 times as many, albeit Trump had fully instituted deterring push-back policies in May 2020.
This May's more than 40,000 non-Central American and non-Mexican illegal immigrants add to a tally of 137,000 for FY 2021 so far.
While the numbers tell much, so do the human smugglers, hoteliers, and business people in the Los Chiles area. They are perhaps as good a barometer of what is happening to the American border as any other measure of trail traffic because they are prospering from it. They also show no inclination toward discretion since international media has bypassed this area and Costa Rica immigration and law enforcement told CIS their interest and resources are limited to occasionally busting significant smugglers.
One not-so-big human smuggler/driver named Luis, who CIS found on a public street trying to sell passage to three Senegalese, said everyone in town had been suffering from the effects of Trump's deterrence-based border policies, especially the pandemic-related ones where all immigrants were returned to Mexico. This, he said, heavily damaged the local economy. But everyone has been catching up on the money-making "since this president [Joe Biden], and since Trump was not in office," he said.
"Since Trump left, we started seeing this large horde of people," Luis explained. "They tell me they're giving out papers to everyone … Venezuelans, Cubans — everyone! They say they're going to the U.S. to work. The border was too tight before."
"Once there was a time when they collapsed the whole town. There was not one single room here available," Luis continued. "They were sleeping even at the bus stops, and they even had to take them to the churches."
It was a great problem for the town to have, hundreds of U.S.-bound immigrants a day: Haitians, Cubans, South Americans, Africans of all stripes, Russians, Uzbeks, Bangladeshis, and Arabs from Iraq and Syria. Everyone's finally becoming financially whole again, Luis said. He thinks at least 10,000 have come through town since the American election and he's quite the optimist.
There is more to the report here.