Editor's note: The below column was sent here yesterday from Senator McKoon and we post it with several links to further educate the reader. Full disclosure: Senator McKoon is a personal friend.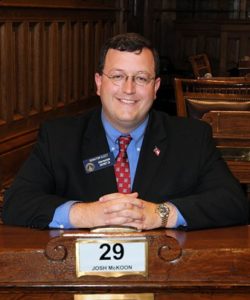 By Josh McKoon
As I wind up my eight years of service in the Georgia State Senate I cannot leave without commenting on the resistance of the administrative state to conservatives, even when requesting basic information.
In February of 2018 I made a basic request of the Georgia Department of Drivers Services for information relating to the types of driver's licenses and official ID Cards they issue. I asked DDS for images of every format of drivers license and ID Card.
Almost one year later my request continues to be ignored.
Thankfully, due to the efforts of citizen activist D.A. King, we finally have that information. Why is it important?  Because for years, Georgia has been issuing these credentials to individuals the United States Citizenship and Immigration Services tells us are illegal aliens.
This, while DDS gave partial information on the issue and only assured the public and legislators that only non-citizens with "legal status" could obtain a drivers license or ID Card. DDS refused to educate legislators on the entire issue or reveal that under the REAL ID Act, illegal aliens with special deferrals in deportation are granted "evidence of legal status" along with their deportation delays – for purposes of drivers licenses and ID Cards only. They are nonetheless illegal aliens.
DDS was careful to never offer inquisitive lawmakers the full story on the fact that USCIS says these aliens have no legal status or lawful presence.
My goal was to create a new design for the drivers licenses and ID Cards we are issuing to officially document these "undocumented" immigrants, including vertical orientation to set them apart from legal immigrant's IDs and licenses.
Those who opposed my idea claimed that DDS did not issue licenses or ID Cards that are vertically oriented or printed with other distinguishable features other than the documents given to legal immigrants. We were told it would "be cost prohibitive" to design a special and unique license for the people that USCIS says lack legal status.
DDS prints all sorts of specialty drivers licenses and ID Cards that do include vertical orientation, including for American citizens under age twenty-one. In all, DDS issues about twenty-four different drivers licenses and ID Cards. Some are specially marked for inmates in state correctional facilities. Even CDL inmate drivers licenses.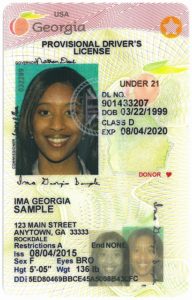 This is information DDS refused to disclose to a duly elected representative of 175,000 Georgians and information we only now have because of Mr. King's efforts under the Georgia Open Records Act.
Who exactly is in charge of our government? Is it the legislators you elect to represent you or unelected and anonymous bureaucrats who simply deny, delay, and wait out the elected officials who come and go?
Sadly this pernicious resistance to a policy maker attempting to acquire information relevant to formulating public policy isn't limited to DDS.
I have requested and been told twice that the Board of Regents would send me information regarding policies on reduced tuition rates for illegal aliens in our state colleges and universities. But here we are with one week left in my term and they still have failed completely to turn over this information which is vitally important to understand what public benefits are being conferred on illegal aliens while the children of Georgia residents and U.S. citizens are subjected to ever higher tuition rates and fees.
If they can ignore these requests from me, it can happen to any elected official. I am making this public now as a last resort after patiently waiting for months for these requests to be fulfilled.  While I have no expectation that these bureaucrats who sought to frustrate my efforts to obtain basic information at every turn will finally comply instead of waiting for my term to expire, I do hope this starts a conversation on how much longer the people of Georgia will put up with bureaucrats who comprise an administrative state largely hostile to the aims of common sense conservatives.
Republican Josh McKoon represents District 29 in the state senate and was first elected in 2010.