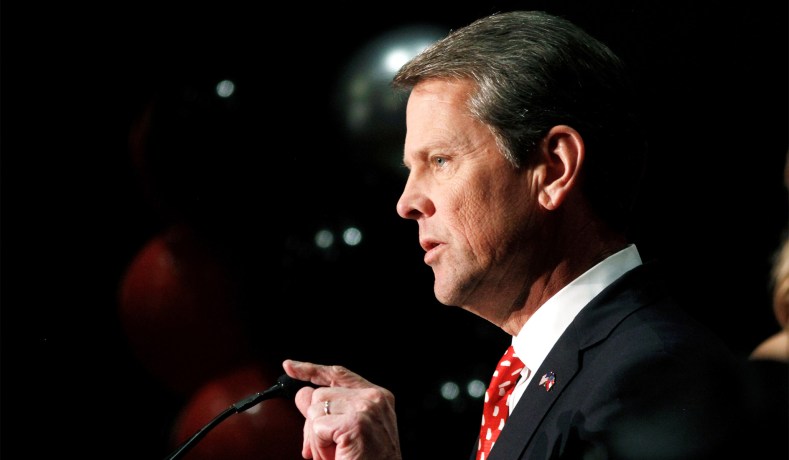 *UPDATED: 12:55PM – We are already getting emails from now extremely angry conservative voters who are calling the 404-656-1776 phone number at the governor's office and being told to ix-nay on the phone calls. "Use the contact form."
Here is one of many: "Thanks, D.A. I just called and got the same line ("In order for your comment to be documented, . . . go to the web site."). I pointed out that he is distancing himself from the voter and got the same reply. With this, on top of everything else he either has or hasn't done, he has lost my vote." DH – Atlanta.
Another one from Jan 27: "When you call the number, the live person who answers (they don't take messages) will give you a website to contact and leave your Message. I couldn't find where I could leave a message." Martha Steele Brett, from Facebook.
David M "Governor Kemp is obviously destroying his re-election and you can forget that number nobody is going to answer your questions I've tried and tried and tried…D.A.  when I finally did get an answer they directed me to their damn website which is useless still got no answers. This is been going on for months." "You know I had faith in our governor I knocked on doors for him I was spit on me and my family and a lot of my friends we were called racist my life threatened. By him not answering his constituents it's just not right. I'm afraid he's going to pay for this in November…"From Facebook, today, Jan 27.
**Updated January 27 – My mistake: There is no voice mail on the governor's 404-656-1776 phone line at the Georgia Capitol as of yesterday (Sunday). 
Having been a reluctant and active denizen of Georgia's state Capitol since 2004, I can assure those who aren't that the number one activity that gets the immediate and full attention of the elected officials there is an organized group of voters who actually drive to Atlanta and go into the Gold-Domed beehive during legislative session.
The number two most effective way to get their attention is to ring their telephones – this includes phones in the governor's office, where the phone number is and has been 404-656-1776.
 Constantly ringing phones with voters on the other end is a signal that something has become "an issue" that must be managed, if not actually dealt with.
We are hearing from multiple Georgians that staffers in Governor Kemp's administration are attempting to discourage citizen telephone calls to his office. I have been checking the official contact page for a couple months and noted that the phone number (404-656-1776) into Kemp's office had been removed sometime after he was sworn in. It had been posted there since 2003 that I am aware of, likely long before that.
Almost identical versions of "the receptionist told me we have to mail outside letter or fill out online form.  They are not taking messages nor tallying calls" is what I was being told by miffed constituents.
The Governor is apparently being blasted with calls concerning the refugee decision to be made by Friday (tomorrow).
(Related: Here is an Action Alert received here from the discredited hate-mongers at the SPLC urging phone calls to Gov. Kemp in favor of more refugees "because it makes our communities stronger." They already knew the phone number. So should Georgians paying attention)
Two days ago I called the 404-656-1776 number and asked the nice young lady who answered to check the contact page to see if I had overlooked the phone number. She agreed with me that it wasn't there, took my name and phone number and went out of her way to assure me that she would double check with her superiors and have somebody call me back.
Later in the day another staffer called to tell me that the page was being updated  and that an 800 number would be added. I made him tell me I was correct, the 404-656-1776 number was indeed absent.
No phone number version
Thanks to the magic of the WayBackMachine internet archive , here is a link from the recent past – Dec 5, 2019 – that illustrates the chief executive's online contact page without the phone number. Here is a link to the contact page from March 31, 2019 – no phone number.
It's back!
Today I checked the Governor's website, went to the contact page and was happy to see that something had caused the 404-656-1776 number to reappear. But I see no 800 number…
Funny how things work.
We also note that there was a period of time last year when there was no voice mail on the 404-656-1776 lines. If you didn't call during business hours, you were unable to leave a message to the governor's office.Updated January 27 – My mistake: There is no voice mail on the governor's 404-656-1776 phone line at the Georgia Capitol as of yesterday (Sunday). 
We suggest that Georgians not only call the governor, but, if you are able, also send an email behind your call. And rest assured, they do track the quantity of calls they get on every issue. But, without the push of the mostly liberal media, it's only "an issue" if voters make it an issue.
Example? When is the last time you heard Governor "Big Truck" Brian Kemp mention illegal immigration or his campaign promises on that topic? Right now, it's not an issue.
*Added 12:10 PM Apparently not an issue, even in the State of the State Address today.
The phone number to Georgia's governor is 404-656-1776.