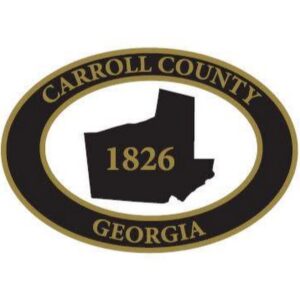 Carroll County government still in violation of state law aimed at illegal immigration
Below is my reply to the email sent to me by Ms. Stacey Blackmon which is pasted below with a screen shot of the affidavit in question. Here is a link (again) to what we think is the correct affidavit form.
Related: Previously posted information on Carroll County
____
Ms. Blackmon,
Thank you for your reply and added information. I am assuming there was a mistake in the response to my original open records request.
Please be advised that the affidavit form you sent me and derived from Ga Comp. R. & Regs. 300-10-1-.07 is modeled on language from the 2006 SB 529 and the first version of OCGA 13-10-91. That statute was changed four times after the original 2006 passage. I worked on the original legislation and on each change. Please see the "history" at the bottom of the Lexis Nexis page for OCGA 13-10-91.
If this is the affidavit form you have been using for Carroll County public contractor bids relative to the law since 2016 as stated in your email, Carroll County is in clear violation and has been since at least 2013. As you can see noted on the bottom of the page from the outside source of your version, the affidavit you report using is from 2007.
Current language (since 2013) requires the following:
(b)
(1) A public employer shall not enter into a contract for the physical performance of services unless the contractor registers and participates in the federal work authorization program. Before a bid for any such service is considered by a public employer, the bid shall include a signed, notarized affidavit from the contractor attesting to the following:
(A) The affiant has registered with, is authorized to use, and uses the federal work authorization program;
(B) The user identification number and date of authorization for the affiant;
(C) The affiant will continue to use the federal work authorization program throughout the contract period; and
(D) The affiant will contract for the physical performance of services in satisfaction of such contract only with subcontractors who present an affidavit to the contractor with the same information required by subparagraphs (A), (B), and (C) of this paragraph.
_
As I wrote in my latest column with a link to the lawful affidavit (one that requires contractors to swear to all requirements to bid on a contract for services) the correct affidavit form looks like this. As is, it seems Carroll County is in violation and has no apparent legal recourse to sanction contractors who violate the law because Carroll County doesn't require them to swear to all of the bid requirements stated in the law.
Please let me know if you disagree as I will be writing about this situation again in December.
Respectfully,
D.A. King
Cc: Carroll County Sheriff and legislative officials
_______
Hi Mr. King,
The County has been using the form at least since mid-2016 when I was appointed as County Attorney.
Best regards,
Stacey Blackmon
From: D.A. King <
Sent: Wednesday, November 16, 2022 11:21 AM
To: Stacey Blackmon <SBlackmon@tisi
Cc: Terry Langley <TLangley@carrollsheriff.com>
Subject: Re: E-Verify Affidavit – Carroll County.DOCX
Thank you. Please send me the date the County began using this form/affidavit in compliance with OCGA 13-10-91?
dak
On Nov 16, 2022, at 10:44 AM, Stacey Blackmon <SBlackmo> wrote:
Hi Mr. King,
I have attached a copy of the affidavit the County uses for purposes of OCGA 13-10-91, which is the form set forth in Ga Comp. R. & Regs. 300-10-1-.07.  Please let me know if you have any other questions.
Please note that Janet Hyde is out of the office on extended leave.   Please send all future open records requests to openrecords@carrollcountyga.com to ensure they are replied to in a timely manner.
Thank you,
Stacey Blackmon
Carroll County Attorney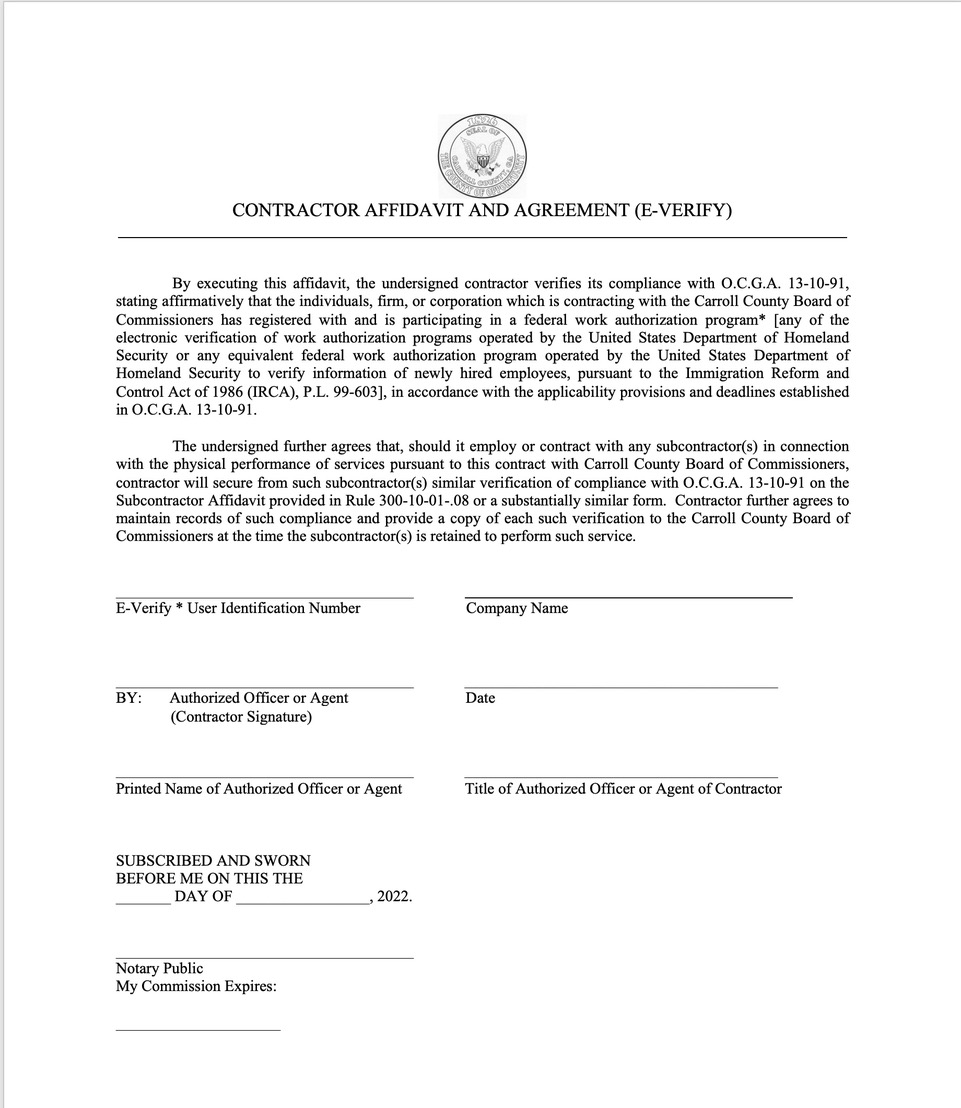 <image001.jpg>

Stacey L. Blackmon

Attorney at Law

100 Wagon Yard Plaza

Carrollton, GA 30117

Direct: 770-214-5107

sblackmon@tis | vcard | www.tisiom