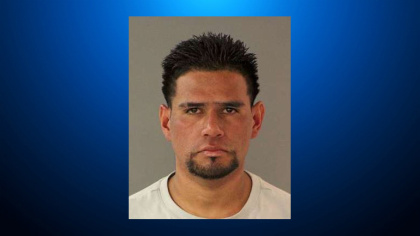 ICE Acting Field Office Director Erik Bonnar said his agency has had nearly a dozen detainer requests for Arevalo-Carranza that have gone unanswered. They filed a 10th detainer on his on Tuesday after his arrest
Bambi Larson Murder Suspect In U.S. Illegally With Lengthy Criminal Record
KPIX TV San Fransisco
SAN JOSE (CBS SF) – A transient arrested in the murder of Bambi Larson was in the United States illegally and had a lengthy history of arrests in the South Bay and Los Angeles, authorities said Tuesday.
San Jose Police Chief Eddie Garcia said Carlos Eduardo Arevalo Carranza "stalked" Larson's neighborhood before allegedly killing her with a knife and blunt force trauma.
"Carlos Eduardo Arevalo Carranza stalked this San Jose neighborhood and his victim," said San Jose Police Chief Eddie Garcia. "He is a self-admitted gang member."
Garcia then detailed his lengthy criminal record.
"His criminal history convictions consist of in Feb. 2013 he was detained by the Department of Homeland Security at the border near McAllen, Texas, and deported."
"In 2015, he was arrested for drug paraphernalia. In 2015 he was convicted of burglary in San Jose. In 2016, battery of an officer, resisting arrest and entering a property. In 2016, he was arrested for battery in Los Angeles. In 2017, he was arrested and convicted of false imprisonment in San Jose. On April of 2018, arrested for paraphernalia again. In May, he was arrested for possession of methamphetamine."
"In August of 2018, he was arrested for prowling. On October 2018, he was arrested for false identification and paraphernalia once again."
Garcia said Carranza was currently on probation for the possession of methamphetamine, paraphernalia, false imprisonment and burglary.
"Unfortunately, ICE (Immigration and Customs Enforcement) placed detainers on this individual six separate times. Two in the Los Angeles area and four in the County of Santa Clara," he said.
ICE detainers are requests to hold people suspected of being in the country illegally for longer than their jail terms until they can be questioned by federal immigration authorities.
Garcia was critical of the sanctuary city, county and state policies that prevented Carranza from being turned over to immigration officials.
"Those undocumented citizens who are not violent or serious criminals should not fear the police," he said. "But when we have violent or serious offenders that are preying on our community we must have the ability to protect our residents. We will go to the ends of the earth to find a predator like this. We put the case together, put them in jail and then it is up to the rest of the system to determine what happens next."
"The City of San Jose and our police department has no control over how the county interacts with federal immigration enforcement in the deportation of violent or serious felons like Carlos Arevalo Carranza."
Paul Kelly, president of the San Jose Police Officers Association, said the crime should have never happened.
"Not in a million years. We have to change the laws that protect monsters like this suspect," said Kelly.
"If you have dreamers that are just trying to survive and make a better life for themselves, that's not what we're talking about here. We're talking about changing the laws that protect criminals that will violently attack women."
ICE Acting Field Office Director Erik Bonnar said his agency has had nearly a dozen detainer requests for Arevalo-Carranza that have gone unanswered. They filed a 10th detainer on his on Tuesday after his arrest…. Read the rest here.