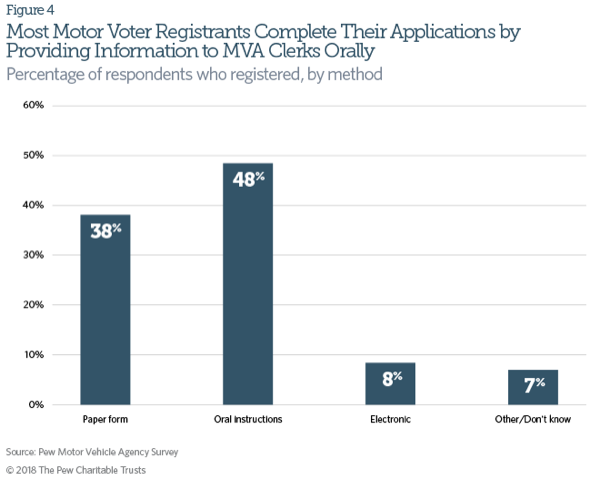 Washington Times
By Stephen Dinan – The Washington Times – Tuesday, April 25, 2023
More than 200 self-acknowledged noncitizens have managed to register to vote in Arizona's Maricopa County and at least nine of them have cast ballots in federal elections, according to a report that questions the federal law that pushes states to register more voters.
The study is the first in a series of reports by the Public Interest Legal Foundation to coincide with the 30th anniversary of the Motor Voter law, which requires states to allow people to register to vote at their local motor vehicle bureau offices.
The law has increased registration but also has led to messy voter rolls. The Public Interest Legal Foundation says a striking number of noncitizens are illegally gaining access to the ballot box.
In Maricopa County, which is the fourth most-populous county in the nation and is home to Phoenix, 222 people have alerted officials since 2015 that they were on the rolls but did not hold citizenship. Of those, nine cast ballots in federal elections before acknowledging that they should have been excluded, the foundation said.
"This is just more evidence that there is a problem that is not being adequately addressed," said J. Christian Adams, president of the Public Interest Legal Foundation and a former lawyer in the Justice Department's voting rights section.
Motor Voter, officially the National Voter Registration Act, enlisted local officials to get more people to register to vote. It required state motor vehicle bureaus to ask customers whether they wanted to register. It also required other state agencies to make registration forms available, but motor vehicle bureaus have become the dominant actor in registrations.
---
SEE ALSO: Millions set aside for border wall headed for Mayorkas waste bin
---
The problem is that some states have offered registration to everyone — even noncitizens who, under federal law, are not eligible to vote in national elections.
Among the most significant hiccups was Pennsylvania, where officials discovered that the motor vehicle system was allowing noncitizens to vote.
The state said in 2019 that it found more than 11,000 noncitizens who had sneaked onto voter lists.
In North Carolina, voter registration forms were sent to motor vehicle bureaus with the "citizen" box already checked. A 2017 audit found that 41 noncitizens cast ballots in 2016. All of them were legal immigrants.
Federal prosecutors brought charges against several dozen noncitizens over the North Carolina voting irregularities.
The 222 names in Maricopa County are of people who self-reported as noncitizens. Mr. Adams said immigrants seeking citizenship often come forward and acknowledge that they are on the rolls because one of the questions on the naturalization form is whether they ever were illegally registered. Lying on that form can quickly earn deportation.
"There's an incentive built into the naturalization process to tell the truth about registering to vote," he said.
Mr. Adams said there is no guessing about how many others haven't come forward.
His report was released a couple of weeks before Maricopa County Supervisor Bill Gates is slated to speak at the Summit on American Democracy, a project of the Center for Election Innovation & Research.
Mr. Gates' office didn't respond to a request for comment for this report. Neither did Maricopa County's elections office.
The country's noncitizen voter number isn't huge and doesn't back the claims of some figures on the right who say waves of noncitizens are casting ballots and swaying elections — but the number isn't zero.
Mr. Adams said even low numbers should be concerning.
"When you have a failure in the system, whether or not it's rampant doesn't matter when it involves foreigners voting in American elections," he said.
Mr. Adams said part of the problem with the Motor Voter law dates back to its creation when lawmakers debated how to handle voter registration applications with the citizenship box unchecked.
Democrats wanted a blank box to be an attestation of citizenship. Republicans saw it differently. The law was enacted with no resolution on the matter, Mr. Adams said. Blue-leaning states generally interpret it the way Democrats wanted, and red-leaning states see it the way Republicans wanted.
Mr. Adams said Congress should step in and provide clarity by authorizing states to validate citizenship claims. Courts have generally ruled against state attempts to check citizenship beyond what applicants write on the registration forms.
The Motor Voter law also required states to clean up their rolls, or what is known as list maintenance.
That applies to names of voters who have moved or are deceased. Mr. Adams said Congress should add citizenship verification to list maintenance duties, but he is not optimistic.
"If this problem had been detected 10 years ago, or maybe 15 years ago, I think there would have been a quick bipartisan fix in Congress," he said. "But the Democrats have become so radicalized now about every voting issue in Congress."
Motor Voter was supposed to boost what was seen as embarrassing voter turnout in the world's premier democracy.
Some on the left also hoped it would cut into the higher participation rates of White, more affluent Americans.
Data suggested the effects were small.
A 2009 study in State Politics & Policy Quarterly found that the law did increase registration but didn't dramatically alter the demographics of voters. The researchers said it had only a "marginal influence."
In 2014, The Pew Charitable Trusts tried to review how states were doing with the motor vehicle part of the law specifically but found the data too erratic to draw any conclusions…. please read the rest here.