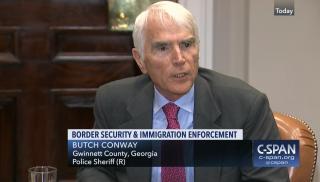 The below release was sent here by the Gwinnett County Sheriffs' office today.
For immediate release:
 Sheriff Butch Conway brought the 287(g) program to Gwinnett County in an effort to promote public safety and help reduce the jail population to save taxpayers money.  The program accomplishes both and Sheriff Conway's commitment to continue the program is unwavering.
Sheriff Conway has been clear on his intention to sign the Memoranda of Agreement (MOA) with U.S. Immigration and Customs Enforcement to continue the 287(g) program in Gwinnett when the MOA is up for renewal in June.
He recently received notice that the new MOA is undergoing revision and ICE offered him the option to extend our current MOA until June 30, 2020.  Sheriff Conway approved the extension and the paperwork has been signed and returned to the federal government as instructed.
"The 287(g) program is an effective tool that helps reduce crime and save money.  I see the continued benefits of having this program in our county and will continue to support it as long as I'm in office," says Sheriff Butch Conway.
###