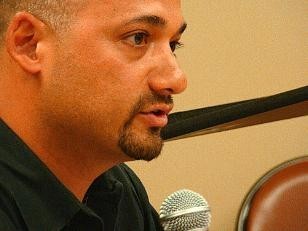 Coca-Cola and Georgia Power regular GALEO supporters
Longtime enemy of immigration enforcement, Jerry Gonzalez, was quoted by Capitol-Beat News Service remarking on public safety legislation introduced yesterday by state Rep Phillip Singleton (R- Sharpsburg). Singleton's bill is aimed at "sanctuary" policies for illegal aliens by local governments in Georgia.
From the report:
"Local Latino advocates panned the bill Wednesday, calling it a threat Georgia's huge immigrant workforce that drives the state's poultry, carpet and hospitality industries.

Jerry Gonzalez, executive director of the nonprofit Georgia Association of Latino Elected Officials (GALEO), said the measure would make Georgia less safe. "Georgia does not need this legislation, and it is simply aimed as a distraction and fear mongering during an election year," Gonzalez said.
The entire Capitol-Beat story is available here.
Gonzalez is a former MALDEF lobbyist and Democrat fundraiser known to verbally attack female legislators who take a pro-enforcement position on immigration.
MALDEF was co-founded by anti-borders activist Mario Guerra Obledo who was best known for his 1998, on-air quote concerning California's political future. "California is going to become a Hispanic state and if anyone doesn't like it they should leave. They ought to go back to Europe," said Mario Guerra Obledo, co-founder of MALDEF, on the Tom Likus radio show.
GALEO counts Georgia Power, Coca-Cola and Telemundo as financial supporters.
IPG will keep readers informed on Rep Singleton's immigration enforcement bill.
Read the initial version of HB915 here.