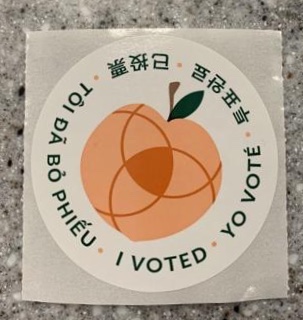 Left: Sticker available to in-person voters after they cast their 2022 ballots in metro-Atlanta's Gwinnett County.
It is not clear yet if these are the only stickers passed out by Gwinnett County poll officials. Below is another photo of the sticker sent to us by a friend who votes in Gwinnett. We have checked and confirmed that the wording on this sticker was on the one given to him by poll workers after he voted.
We post the photo he sent us photo further down.
Gwinnett began dual language voting and giving out "I voted" stickers in two languages in 2018.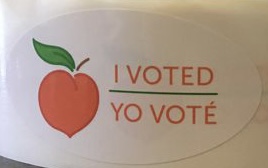 Related: Saporta Report – Sept. 2012, Gwinnett County's dramatic demographic shift illustrates question: "Who are We?"
We think this story is relevant as well: "Gwinnett County hiring bilingual poll workers to match growth in diverse voters" (here) "The county is looking for people who speak Spanish, Korean, Mandarin, Cantonese and Vietnamese."