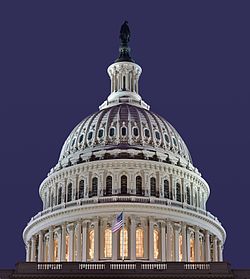 NumbersUSA
February 15, 2019
Spending bill amnesty: Here are the Republicans who voted to gut interior enforcement…
The House and Senate passed H.J.Res. 31 on Thursday to fund roughly 25% of the federal government, including the Department of Homeland Security, through Sept. 30. In addition to allowing DHS to increase the number of low-skilled guest workers through the H-2B visa program, the bill also reduces the number of detention beds used by ICE to detain criminal aliens and recent illegal border crossers and protects sponsors of child smuggling from deportation.
The bill passed by an 83-to-16 margin in the Senate with Republicans and Democrats in equal support of the bill. The official roll call can be found here.
Eleven Republicans voted against the legislation, including Sens. Jim Inhofe of Oklahoma, Pat Toomey of Pennsylvania, Tim Scott of South Carolina, Marco Rubio of Florida, Rand Paul of Kentucky, Mike Lee of Utah, Tom Cotton of Arkansas, Ted Cruz of Texas, Ben Sasse of Nebraska, Mike Braun of Indiana, and Joshua Hawley of Missouri.
Here are the SENATE REPUBLICANS who voted to weaken interior enforcement: Read the entire article here.
| | |
| --- | --- |
| Sen. Lamar Alexander (TN) | Sen. Bill Cassidy (LA) |
| Sen. Susan Collins (ME) | Sen. James Risch (ID) |
| Sen. John Cornyn (TX) | Sen. Cory Gardner (CO) |
| Sen. Michael Crapo (ID) | Sen. Todd Young (IN) |
| Sen. Michael Enzi (WY) | Sen. James Lankford (OK) |
| Sen. Lindsey Graham (SC) | Sen. John Hoeven (ND) |
| Sen. Chuck Grassley (IA) | Sen. Ron Johnson (WI) |
| Sen. Mitch McConnell (KY) | Sen. Steve Daines (MT) |
| Sen. Lisa Murkowski (AK) | Sen. Kevin Cramer (ND) |
| Sen. Pat Roberts (KS) | Sen. Deb Fischer (NE) |
| Sen. Richard Shelby (AL) | Sen. Martha McSally (AZ) |
| Sen. Marsha Blackburn (TN) | Sen. Dan Sullivan (AK) |
| Sen. Roy Blunt (MO) | Sen. David Perdue (GA) |
| Sen. John Boozman (AR) | Sen. Joni Ernst (IA) |
| Sen. Shelley Capito (WV) | Sen. Thom Tillis (NC) |
| Sen. Johnny Isakson (GA) | Sen. Mike Rounds (SD) |
| Sen. Jerry Moran (KS) | Sen. John Kennedy (LA) |
| Sen. Rob Portman (OH) | Sen. Cindy Hyde-Smith (MS) |
| Sen. Roger Wicker (MS) | Sen. Rick Scott (FL) |
| Sen. John Thune (SD) | Sen. Mitt Romney (UT) |
| Sen. John Barrasso (WY) | |