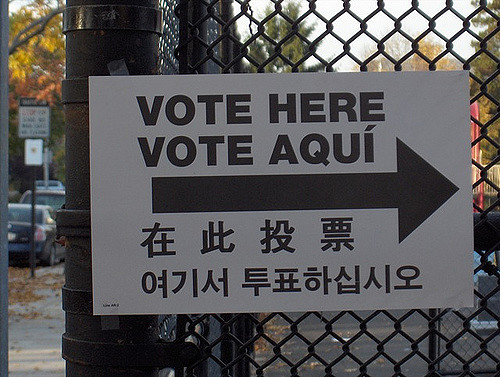 Gold Dome Republicans will not allow voters to decide on constitutional official English
The liberal Gainesville Times is reporting today that the Hall County elections board is again investigating the possibility of foreign language ballots.
Section 203 of the Voting Rights Act requires that counties with large enough populations of minority groups provide election materials in their population's native languages. Voters who are not proficient in English have the option to bring a translator with them to the polls.

Hall's elections board voted last year to reverse plans to provide ballots in Spanish, but now that the busy election season is over, board members said Tuesday that they wanted to devote some time to studying how the county could offer ballots in Spanish.
The corporate-funded anti-English Georgia Association of Latino Elected Officials (GALEO) in Atlanta has long lobbied against English as Georgia's constitutional official language of government and has led the attack on English in the voting process. The Republican-ruled Georgia House killed legislation in 2016 to allow Georgia voters to answer a ballot question on amending the state constitution to make English the state's official language of government.
The ability to read, write, and speak basic English is a requirement for naturalization.
Gwinnett County is already using foreign language ballots.
"GALEO is very glad about the designation by the U.S. Census Bureau and the requirement to provide much needed Spanish language assistance to Latino voters in Gwinnett County,"  Jerry Gonzalez, executive director of the Georgia Association of Latino Elected Officials, said in a news release Monday afternoon.

"Voting is an important right we have as U.S. citizens, regardless of English language proficiency. As we had mentioned over one year ago, the need for Spanish language assistance and information is certainly a reality," GALEO Executive Director Jerry Gonzalez told the liberal AJC.
Metro-Atlanta's DeKalb County School system alone deals with 140 languages
The Times' story on Hall County and foreign language ballots can be read here.