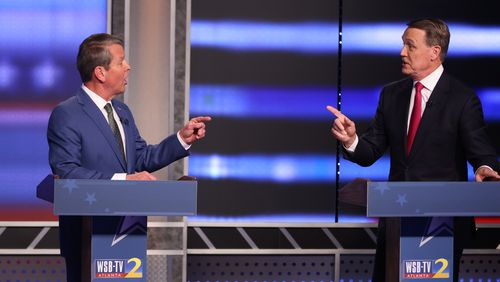 Gwinnett County Sheriff's public defiance of state law on checking immigration status of foreign-born prisoners should be "an issue"
Watch tonight's debate here.
With time running out before the Republican Primary, ending the pretense on Governor Kemp and the ludicrous premise that he has fulfilled all his 2018 campaign promises is long past due. He hasn't. We point to Kemp's detailed but narrow 2018 campaign promises on illegal immigration in Georgia.
Likewise, since primary challenger and former U.S. Senator Perdue has finally brought up Kemp's "Big Truck Trick" as related to removing illegal aliens in last Sunday's debate, it is past time for Perdue to let voters know if he would do anything as governor regarding the organized crime that is illegal immigration – in Georgia. If so, what, exactly?
This writer is one of many pro-enforcement Independents whose vote in 2022 does not depend on what yarn we hear from either side about what happened in the 2020 election debacle. We are laser-focused on illegal immigration in Georgia and the needless dangers and miseries it imposes on Georgians.
While vying for the 2018 GOP candidacy, Kemp did not promise to send Georgia's National Guard to the border. As Mark Krikorian at the Center for Immigration Studies noted on NRO at the time, neither did he mention addressing the root cause of illegal immigration (spoiler: it's  illegal employment).
But candidate Kemp did repeatedly pledge to go after "criminal illegals." He promised to create a public registry of criminal illegal aliens. He put out a detailed outline of legislation he promised to send to the General Assembly entitled "Brian Kemp's Track and Deport Plan."
"As governor, conservative businessman Brian Kemp will create a comprehensive database to track criminal aliens in Georgia. He will also update Georgia law to streamline deportations from our jails and prisons" went the detailed assurance Kemp made on his 2018 campaign website.
None of it ever happened.
Related: Illegal immigration issue absent in eight-page, January 2022 Kemp campaign mailer
As this writer lamented last June ('Kemp risks defeat by ignoring promises on illegal immigration action'), Kemp has alienated a significant number of voters by ignoring illegal immigration in Georgia. More so when he emphatically boasts that he has kept all his promises but responds to questions about his lack of action on criminal aliens in Georgia with "but the border…" as if all conservative voters are too dim to recognize the obfuscation.
Perhaps the most glaring example of executive abuse is Kemp's refusal to direct his Attorney General to investigate and prosecute Georgia jailers who are in proud and public violation of a hard-fought public safety law regarding…criminal illegals.
The 2006 Georgia Security and Immigration Compliance Act (SB 529) created a state mandate that jailers check immigration status of foreigners in their jails and report illegal aliens to the feds. We invite all concerned to read the very short OCGA 42-4-14.
Then a state legislator, Kemp was Chairman of the Senate Public Safety and Homeland Security Committee that passed out the measure creating this regulation. "Many Georgians are "fed up" with illegal immigration," he told the liberal AJC at the time. He voted in favor of final passage.
Compare the above-mentioned state law with the defiant public pledge made by Gwinnett County Sheriff Keybo Taylor– a jailer – at his swearing-in event on January 1, 2021: "What we will not be doing is notifying ICE of anybody's immigration status in the jail or in any of our facilities."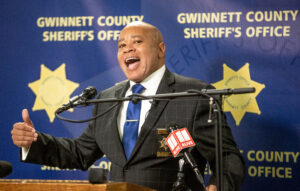 The Cobb Sheriff has taken a similar stance that was noted here last year – 'Ga. Law: Jailers must report incarcerated illegal aliens to feds.'
Media silence
Over the course of 2021 this writer sent a "news tip" to virtually every news outlet in Atlanta on this matter. To our knowledge, the only news story on the topic came from the liberal AJC in the form of a celebratory item noting the one-year anniversary of the end of 287(g) in Cobb and Gwinnett counties.
"With 287(g) no longer in force, local jail officials have stopped systemically checking the immigration status of individuals arrested for a variety of crimes – including minor traffic violations – and sharing that information with immigration officials to initiate deportation proceedings" is how the editors at the "watchdog" AJC described the obvious defiance by Gwinnett Sheriff Keybo Taylor and others who ignore this law. The AJC headline was 'There's less fear': Metro Atlanta immigrants feel safer with new sheriffs.'
Kemp's first TV campaign ad in 2018 was all about ending "sanctuary" polices.
Perdue late to the obvious issue
Candidate Perdue has only very recently resorted to pointing to candidate Kemp's failure to honor 2018 illegal immigration promises – and has not scratched the surface of this key issue. He's late but it's not too late. We say again: Many pro-enforcement voters are straining to hear some educated, detailed, and workable solutions to illegal immigration in Georgia from Perdue.
There is plenty of evidence that offended voters leave some choices blank on the ballot – or stay home.
Perdue can always resort to promising to enforce the many laws already on the books in Georgia aimed at making us less attractive to illegal immigration.
Let's start with the Gwinnett County sheriff.
____
A version of this essay originally ran on the subscription outlet Insider Advantage on April 27, 2020
D.A. King is president of the Dustin Inman Society and proprietor of ImmigrationPoliticsGA.com He has assisted state lawmakers with legislation since 2005.