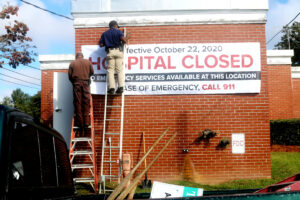 Florida hospitals have until May 23 to turn over the information to the Agency for Health Care Administration
How many Georgia hospitals have closed because of the cost of providing no-cost services to "undocumented workers?"
FloridaPolitics.com
May 5, 2022
Gov. Ron DeSantis is calling on Florida's hospitals to compile information on how much money they are spending to treat immigrants who have entered the country illegally.
Agency for Health Care Administration Secretary Simone Marstiller sent a letter on Thursday to Florida Hospital Association President and CEO Mary Mayhewpointing out that regulators earlier this week asked all licensed hospitals to figure all costs and expenditures and "report any uncollected debt calculations related to the health care of illegal aliens."
Marstiller said AHCA was undertaking the effort to comply with an executive order from DeSantis from last September that asked the agency to find out the amount of taxpayer money spent on "illegal aliens in the state of Florida."
You can read the rest here.
Below we again remind voters of the campaign promises made by "I got a big truck" Kemp in 2018.