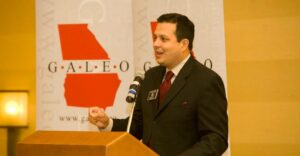 A partial list of reminders of when Dax Lopez did not resign from GALEO  *Updated with short audio
Conservative, pro-enforcement voters in Georgia should have an interest in understanding that Governor Kemp rejected DeKalb state court judge Dax Lopez for an appointment to higher court last week – May 31st – and who supported the appointment.
Lopez was on a short list with two other judges for a gubernatorial appointment for a promotion to a Stone Mountain Circuit Superior Court seat. On Friday, Kemp announced that Shondeana Morris, a former deputy district attorney in Fulton County and former assistant solicitor for the City of Atlanta was chosen for the position. Morris has been a State Court judge since 2017. Lopez was appointed to state court on 2010 by Republican Governor Sonny Perdue.
This was not the first time Dax Lopez has run into trouble. After intense public pressure, in 2016 Lopez was rejected by Georgia Senator David Perdue after then President Barack Obama nominated him for a lifetime seat on the federal bench in Georgia. Lopez also withdrew his name from consideration for Georgia Supreme Court when letters of objection poured into then Governor Deals' office asking that Lopez be dropped from consideration.
Republican strategist and former Chief of Staff to Senator Johnny Isakson, Heath Garrett, reminded us that he and Senator Isakson backed Lopez for federal judge and expressed support for appointing Lopez to Superior Court on the May 13 edition of the liberal GPB radio show 'Political Rewind. ' Garrett explained that Dax Lopez was not only a friend but someone who Garrett has worked with. An excerpt from the radio dialogue on Lopez and the possibility of his advancement: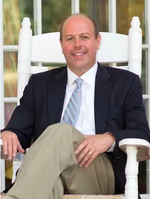 Heath Garrett: "And, look, full disclosure, Dax is a good friend. He's worked with me on a number of campaigns. Uh, Senator Isakson and our organization has promoted him for that federal judgeship and backed him, uh, to the, uh, 'til the moment that he withdrew. Uh, we support him in this, as well. This is exactly the type of individual that Republicans ought to be supporting into these types of positions. And then to have others within the party come and attack him, I think is bad policy."
Update: Audio.
 Garrett was joined in support of Lopez by the pro-amnesty corporation fund by open borders billionaires, FWD.us after GALEO leader Jerry Gonzalez sent out an action alert for supporters to contact Governor Kemp and directing them to the FWD.us page to sign on to a letter to Kemp.
Garrett is described as an "influencer" by Ballotpedia. *A favorite Heath Garrett story here.
 Why has Dax Lopez had so much trouble with advancement?
For eleven years Dax Lopez served as board member, treasurer, tactician and fundraiser for the corporate-funded, anti-enforcement immigration activist group the Georgia Association of Latino Elected Officials (GALEO). He resigned from GALEO only after the Obama nomination for federal bench and the massive objections from the public, elected officials and law enforcement officers poured into the senate offices.
We think it is important to understand that Dax Lopez did not resign from GALEO when Executive Director, Jerry Gonzalez, was race-baiting and smearing legislators for passing legislation aimed at protecting Georgians from illegal immigration. And smearing rule of law activists for taking a pro-enforcement position on immigration  – and attacking law enforcement officials for daring to use the federal  287(g) tool to safeguard public safety by locating and reporting to ICE criminal illegal aliens who were arrested for additional crimes and landed in the county jails.
According to the left-leaning Georgia Budget and Policy Institute, Georgia is home to more illegal aliens than green card holders.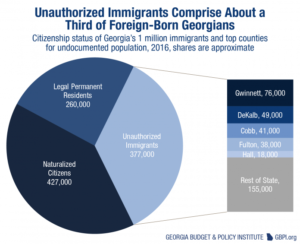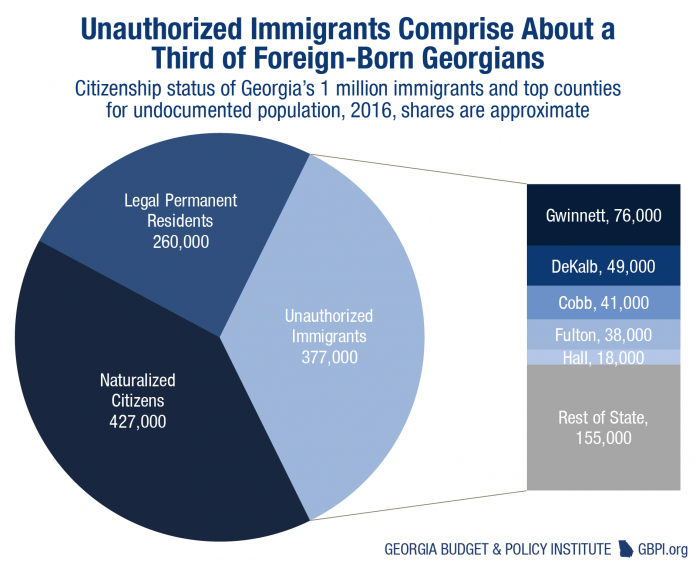 Dax Lopez has made it clear that he supports the GALEO agenda.
An abbreviated list of the GALEO agenda items pursued with corporate funding during the time Dax Lopez served on the GALEO board include:
Leading and participating in protest marches against any immigration enforcement
Lobbying city and county officials against honoring ICE detainer requests in local jails
Transporting and escorting admitted illegal aliens into the senate chambers in the state Capitol
Lobbying against voter ID
Lobbying against increased penalties for driving without ever having been licensed
Lobbying state legislators against use of federal tools to insure public benefits only go to eligible applicants
Lobbying against implementation of the no-cost E-Verify system to protect jobs for legal residents
Lobbying against legislation to make English the constitutional official language of government in Georgia
Lobbying against state penalties for ID fraud for the purpose of illegally obtaining employment on the pretense that all of this would somehow be "anti-immigrant" and/or "anti-Hispanic."
Not only did Dax Lopez not resign from the board of GALEO when all this was happening, but as a sitting state court Judge Dax Lopez assisted with GALEO fundraising by serving as keynote speaker at a 2011 GALEO breakfast fundraiser.
Also according to the Charlotte Observer Lopez was personally and directly active against state immigration enforcement-related legislation in a very direct manner (2008). Lopez wrote then-Gov. Sonny Perdue, requesting a gubernatorial veto of two pieces of legislation, House Bill 978 and Senate Bill 350. Both measures were judged by GALEO to adversely affect Georgia's growing illegal alien community.
"Gov. Perdue did veto HB 978, which authorized the impounding of vehicles from operators who had no valid driver's licenses. But he signed Senate Bill 350 into law, making a fourth conviction for driving without a license a felony.
The measure also requires police to determine the nationality of anyone jailed after being convicted for driving without a license. The Latino officials association opposed the measure, saying it would create tension between immigrants and law enforcement while making crime victims and witnesses less likely to contact police" the newspaper reported.
We think Governor Kemp did the right thing to listen to pro-enforcement Georgians and to ignore the voices of Establishment Republicans like Heath Garrett when he passed over GALEO's Dax Lopez.
Full disclosure: The Dustin Inman Society, of which this writer is president, proudly organized opposition to state court judge Dax Lopez for federal court, for state supreme court and the most recent attempt to advance to superior court.