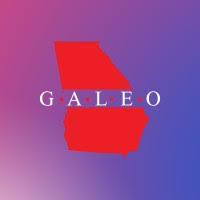 GALEO – a partial history as published in The Islander newspaper in Glynn Co., GA.
Part 1
The Islander
October 17, 2022
The illegal alien lobby in GA: An introduction to GALEO
"California is going to become a Hispanic state and if anyone doesn't like it they should leave. They ought to go back to Europe." — Mario Guerra Obledo, co-founder of MALDEF, on the Tom Likus radio show, 1998
To provide some insider insight into how our state government really works, here is an abbreviated outline of just one of the many corporate-funded, far left non-profits that have staff and lobbyists working against immigration enforcement around the state and in the Georgia Capitol. Space does not allow more than a partial storyline. But I cannot give readers an honest view of the innocuously named Georgia Association of Latino Elected Officials, known as 'GALEO,' without the above quote from a founder of the Mexican American Legal Defense and Educational Fund (MALDEF), Mario Obledo.
The CEO of the Atlanta-based GALEO is former Democrat Party fund raiser, community organizer and Biden supporter Jerry (Gerardo E.) Gonzalez. Before he was awarded with the leadership of GALEO, he was also a MALDEF lobbyist under the Gold Dome where he is known for his vitriolic outbursts at Republican legislators in committee hearings and hallways. Gonzalez and his anti-enforcement corporation have actively fought every immigration enforcement bill in the state legislature since 2003.
Gonzalez once brought the leader of the Socialist Workers party into Georgia to fight for driver's licenses for illegal aliens.
Gonzalez boasts on the GALEO website that American luminary Jane Fonda was a GALEO "founding friend." A leader in Atlanta's LGBTQ community, Gonzalez is also noted for his antics at a 2011 business luncheon at the Coosa County Country Club focused on use of E-Verify to detect newly hired illegal aliens by private employers in Georgia. Gonzalez had angrily shouted at Rome's diminutive Republican state Representative Katie Dempsey from the audience after the event and was escorted off the property by local police according to the Rome News Tribune.
I was in the state Capitol in 2011 when Capitol Police warned Gonzalez that he would be removed if he continued his hallway-screaming at GOP state Senator Renee Unterman after she spoke in favor of immigration enforcement. Jerry is not what most would call "tolerant."
A condensed list of Gonzalez's accomplishments running GALEO Inc. include fearlessly marching in the streets of Atlanta demanding amnesty for illegals and escorting a busload of illegal aliens into the state Senate Chamber. GALEO has actively opposed voter ID (it's "anti-Hispanic"), English as the official language of government in Georgia ("it would be an insult to "our culture"), ICE holds for criminal illegals in Georgia jails ("…bad for communities") and in 2011 joined the ACLU and the SPLC in a federal lawsuit to stop state implementation of HB 87, the "Illegal Immigration Reform and Enforcement Act of 2011" – apparently enforcement of immigration law is "anti-immigrant."
After this writer and several other pro-enforcement citizens spoke in favor of HB 202 in the House Public Safety and Homeland Security committee in 2019, we watched as GALEO lobbyists joined the SPLC and the Hamas-linked Council on American-Islamic Relations (CAIR) lobbyists in testifying against advancement of the bill. HB 202 would have required the Georgia Department of Corrections to publish a public, quarterly report on the number of foreigners in the state prison system, the number of that group who already are subjects of ICE detainers, their home nations and crimes committed along with the percentage of the entire prison population these aliens represent.
I write "would have" because the Republican-dominated House Rules Committee killed the bill.
Sponsors at GALEO fund raisers have included the Coca Cola Co., Telemundo, Western Union, Cox Communications (parent company of the liberal Atlanta Journal Constitution newspaper), Georgia Power, State Farm Ins. Co., Univision, Atlanta's Kilpatrick Townsend law firm and Southwest airlines.
I watched in person sometime about 2005 as Gonzalez marched in protest of then-CNN newsman Lou Dobbs with a large group of fellow travelers carrying signs calling Dobbs a "racist" with other placards reading "THIS IS OUR CONTINENT- GO BACK TO EUROPE!" I asked some of the group with Gonzalez to where my black friends who opposed illegal immigration should return. "Africa" was the quick, loud, and defiant reply.
I am out of space for now but not close to the end of the story. Please save this edition and see here next time for more recent information on how deeply GALEO is involved in Georgia politics and how our state government really works. You won't get this from "the news."
Part 2.
The Islander
October 31, 2022
More on the illegal alien lobby in Georgia – GALEO Inc. and our government
In my previous column here, we began an insider's account and history of the corporate-funded GALEO Inc. as related to our government. As promised, here is some additional information. It's worth the reader's time to check out the October 17, 2022 edition of The Islander if you missed part one.
The innocuously named Georgia Association of Latino and Elected Officials Corp. (GALEO) is run by former MALDEF lobbyist and Biden-supporter Jerry (Gerardo E.) Gonzalez, who is known for badgering female Republican state legislators and escorting admitted illegal aliens into the state Senate Chamber. Gonzalez has been widely quoted in liberal news media as part of the effort to erase the obvious difference between illegal aliens and real immigrants – like this writer's adopted sister. Gonzalez says use of the word "illegal" in the term illegal immigrant/alien is akin to use of "the N-word."
It is imperative that readers understand a large part of the names of far-left groups are intended to provide a basis for mindless marginalization of critics. Example: "You don't agree with us? You must be "anti-Latino." "You oppose illegal immigration? – you are against Hispanics, and you are clearly "anti-immigrant." Those of us who have been fighting for enforcement and sanity on immigration for decades were being attacked with the shameless race-baiting and name calling long before the Democrats and the liberal media took the practice mainstream and nationwide.
A 2015 press release from community organizer Gonzalez provides important insight into part of GALEO's dangerous agenda: "On behalf of GALEO, I would like to commend Fulton County Commissioners' leadership and resolution urging the Fulton County Sheriff to stop honoring the ICE hold requests in order to keep families together but to also enhance public safety. We urge the Fulton County Sheriff to move forward quickly and implement the recommendation."
The liberal Atlanta Journal Constitution newspaper refers to GALEO as a "civil rights group."
GALEO's Institute for Leadership ("a nationally recognized Latinx leadership program") conducts classes every year to train future leftist community organizers – in partnership with UGA's J.W. Fanning Institute. Really.
In 2015 then President Barack Obama nominated GALEO board member, tactician, and fundraiser Dax Lopez for a lifetime seat on the federal bench in the Northern District of Georgia. Lopez was also a DeKalb County state court judge at the time. Happily, the confirmation process was stopped by then U.S. Senator David Perdue after Perdue was presented with irrefutable facts about GALEO by the Dustin Inman Society. Thank you, Senator Perdue.
Fast forward to 2022 Georgia: Dax Lopez was appointed to the prestigious and powerful state Judicial Qualifications Commission in June. The JQC educates Georgia judges about their ethical duties and conducts investigations and hearings regarding judges' misconduct. Really.
Readers may have assumed that Georgia politicians, especially Republican elected officials who present themselves as conservatives would avoid all things GALEO Inc.
Consider this: GALEO board member and current Democrat candidate for state senate Jason Esteves (District 6, Fulton County area) is a favorite to win the seat Nov 8th. Current Republican state Senator Jason Anavitarte (Paulding Co) was a GALEO board member about the time he ran for the state House – as a Democrat. In June 2019, Gov Brian Kemp appointed then Doraville police chief John King as Georgia's Insurance and Safety Fire Commissioner. An ecstatic Jerry Gonzalez boasted to the media that "several years ago, Chief John King served as a keynote speaker for one of GALEO's Power Breakfasts, one of our annual fundraising events…we look forward to working alongside his leadership," Gonzalez gushed.
In 2015 then Secretary of State Brian Kemp and Attorney General Sam Olens, Republicans both, attended the 12th annual GALEO "Power Breakfast." Then Gov. Nathan Deal (R) was scheduled to attend but changed plans at the last minute. Another notable attendee that year was AJC political reporter and blogger Greg Bluestein who was captured in a GALEO promo photo wearing a name tag provided by one of the corporate sponsors – not the press ID that normally hangs from working reporter's necks.
It is a sad truism that most people have no idea how their government really works. We have done a bare outline of just one corporate-funded leftist group here. Unless you already visit our websites, follow us on Facebook or me on Twitter (@DAKDIS), we are guessing you read it here first.
end