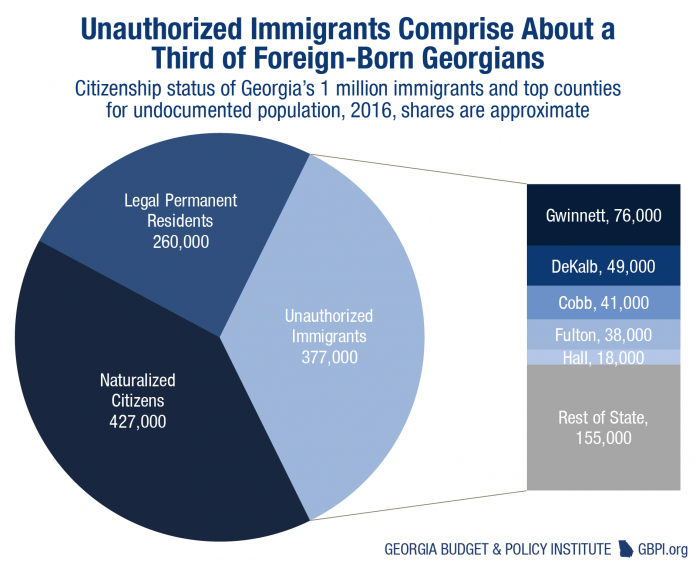 I originally wrote this for Insider Advantage Georgia – it contains a pie chart from the anti-enforcement GBPI showing that Georgia is home to more illegal aliens than LPRs (green card holders). Posted here December 22, 2018
Insider Advantage Georgia
August 1, 2018
GA Budget and Policy Institute: 'Immigration enforcement not worth expense'
D.A. King
"The concept that I should stop a program that deports illegal aliens who have committed crimes in our community defies logic." – Gwinnett Sheriff Butch Conway responding to critics who say local immigration enforcement is too expensive.
The most recently released Georgia Budget and Policy Institute "study" aimed at an end to voluntary local government cooperation with federal immigration authorities should move GBPI from a "left-leaning on immigration" description to solidly "anti-enforcement." And it should be long remembered.
Wesley Tharpe, author of the GBPI's 'Voluntary Immigration Enforcement a Costly Choice for Georgia Communities'  presents a rather bizarre and anti-American argument that locating, holding and turning over illegal aliens to ICE – after they have already been captured for suspicion of other crimes – is too costly. And is bad for children. And that removing illegal aliens from Georgia communities has a negative effect on public safety.
We can't help but note that the GBPI opposition to honoring ICE detainers and to 287(g) agreements is based on the usual mindless talking points that are endlessly put forth by the usual anti-borders suspects on the far left, including GALEO, the Democratic Socialists of America and the discredited Alinsky-ites at the SPLC.
While the report acknowledges in a graphic that estimates show Georgia is home to more illegal aliens than Lawful Permanent Residents ("green card" holders) – GBPI overlooked informing readers that according to DHS, we also have more illegal aliens than border-state Arizona. Read the rest here.