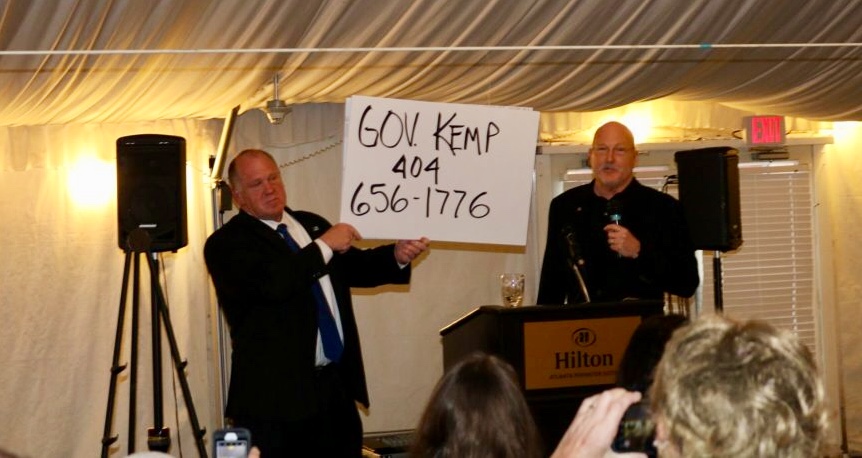 Homan Re: Kemp: "Georgia's the next California. You've got a governor over here that made promises to his constituents, whose been missing in action on that issue," Homan told the room. "Keep your word and do the right thing."
The below news piece is from February, 2020 and covered the Dustin Inman Society's event "Honoring Immigrants: An Expert, Pro-enforcement Conversation on Immigration" in which Mr. Homan was the Keynote Speaker. We repost here as a reminder to all concerned.
FetchYourNews.com
–>February 12, 2020
ATLANTA, Ga – Gov. Brian Kemp received the proverbial earful from former ICE Director Tom Homan over his broken campaign promise to deal with illegal immigration in Georgia.
Homan was the keynote speaker at an event held by the Dustin Inman Society, titled "Honoring Immigrants: An Expert, Pro-Enforcement Conversation on Immigration."
"Georgia's the next California. You've got a governor over here that made promises to his constituents, whose been missing in action on that issue," Homan told the room. "Keep your word and do the right thing. We're not asking you to do anything out of the ordinary. We're asking you to support the enforcement of the nation's laws."
Homan told the room he spoke with a special agent about Kemp, who agreed that Georgia's governor isn't following through with his promise to curb illegal immigration.
Kemp's campaign platform took a tough stance on immigration. He even released a "Track and Deport Plan," where he promised to "create a comprehensive database to track criminal aliens in Georgia. He will also update Georgia law to streamline deportations from our jails and prisons."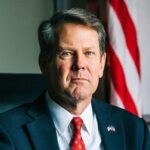 In 2019, Kemp dissolved a controversial Immigration Enforcement Review Board, which civil rights groups viewed as a harassment tool for anti-immigration groups.
"They talk the talk during the campaign, but they won't walk the walk," claimed Homan about most politicians. The only exception being President Donald Trump, who has taken decisive action to prevent illegal immigration in the states.
Homan encouraged attendees to call the governor and hold him accountable for his campaign promises.
Border crossings by the numbers
Trump declared a national emergency at the Southern Border on Feb. 15, 2019, because close to 1 million illegal crossings were occurring.
"72 percent of the crossings were either family units or children by themselves. Children under the age of 18 because of that humanitarian crisis, 50 to 60 percent of border patrol agents were no longer on the lines. They were changing diapers, making formula, making hospital runs," said Homan.
According to the former ICE Director, the lack of agents on the border contributed to the 68,000 opioid deaths of Americans.
"Border is unprotected; drugs are going to flow. Many investigations clearly show criminal cartels in Mexico manage the entire northern Mexican border…They will get 100 to 150 family units, push them through one sector at one time and tie up all the border patrol assets in that area. Meanwhile, they're moving the bad guys. The guys that don't want to turn themselves in and claim asylum. [The cartels are] moving MS13 members and drugs over here," Homan stated.
Doctors Without Borders reported that 31 percent of women crossing the border experienced some form of sexual assault during their journey.
"Children are dying. The cartel is making millions of dollars a year," asserted Homan.
He also mentioned the decrease in illegal crossings, which are down 72 percent from the high in May 2019. Homan attributes this reduction directly to Trump and the actions that he has taken, including forcing Mexico to enforce its laws.
14,00 children were in American government custody because a criminal organization haul smuggled them across the border. 2,500 families have been separated. Also, the border patrol has saved 4,000 immigrant lives.
Mexico has reportedly removed 86,000 Central Americans this year.
U.S. Customs and Border Patrol published online records pertaining to illegal immigration.
"In Fiscal Year (FY) 2020 To Date (TD), during the month of January, a total of 29,200 individuals were apprehended between ports of entry on our Southwest Border, compared to 32,857 in December and 33,514 in November. In FY19, a total of 851,508 individuals were apprehended between ports of entry on [the] Southwest Border."
Current numbers for 2020.
ICE Effectiveness
In an effort to clear up misunderstandings about ICE's role in immigration and arrests, Homan said, "no one ripped a child out of their mother's arms. It was zero tolerance, not family separation."
ICE wanted to prosecute people who broke the law, and with zero tolerance, numbers dropped 26 percent in two weeks in the Rio Grande Valley. However, the president stopped the policy after receiving political push back.
Zero Tolerance did result in the separation of families because a child can't go to the U.S. Marshall if the parent committed a crime.
Homan brought up sanctuary cities and how the policies put ICE agents in danger due to a false narrative that they arrest victims and witnesses.
"89.8 percent of ICE arrests were illegal in the United States and had a criminal conviction or pending criminal charges when arrested because they were locked up in a jail cell," Homan asserted. "Victims and witnesses shouldn't be afraid because we're not looking for them, and we're not arresting them. Criminal aliens are going to re-offend in the very community in which they live. The immigrant community." Read the rest here.