Chris Carr, Attorney General for Georgia. January 18 2016. Photo: Law.com

The below story is from WABE News. Link at he bottom.

"As Attorney General, I take seriously my duty to defend the Constitution of the United States and the Constitution and laws of the state of Georgia. We have continuously and clearly taken the position in ongoing legal cases that DACA does not confer legal status," Carr said. "It is important to remember that it is properly the role of Congress to address immigration issues from a legislative perspective. I am aware that this is a complex and emotional issue, and I would prefer to give the new Administration — which has been vocal about this issue — appropriate time to consider any additional actions that should be taken."
Georgians React To Uncertain Future Of DACA Program
ELLY YU • JUL 17, 2017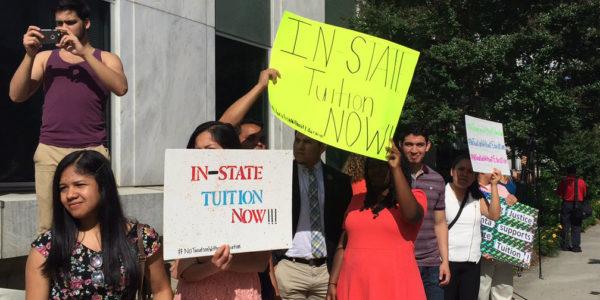 The future of the Deferred Action for Childhood Arrivals program is uncertain.
CREDIT ELLY YU / WABE
The future of a program that protects young immigrants from deportation is uncertain. Last week, Homeland Security Secretary John Kelly told a group of lawmakers that the Deferred Action for Childhood Arrivals program, or DACA, will likely not stand up in the courts.
That has Jessica Colotl concerned about what's next.
Earlier this year, Coltol, 29, briefly lost her deportation protection status. She later won in court and got her DACA reinstated, but the program itself is up in the air.
The program was created by President Barack Obama through executive action in 2012. If DACA ends, she worries she and others could face deportation.
"It's scary," she said. "It would basically paralyze the lives of Americans at heart. We're talking about people who came to the United States as young as 2 or 3 months old."
Jaime Rangel, 26, was brought to the U.S. when he was an infant. He agreed the uncertain future of DACA scared him, but he said he's also hopeful of a more permanent solution for the nearly 800,000 immigrants in the United States protected by DACA. About 23,000 DACA recipients are in Georgia.
"We've got to see this as somewhat of an opportunity to try to pass bipartisan immigration reform because, at the end of the day, I think every DACA recipient in this country knew that sooner or later DACA would cease to exist," he said.
The Trump administration has so far left the DACA program intact, and President Donald Trump has said he'd treat DACA "with heart."
Meanwhile, attorneys general in 10 states, led by Texas's attorney general, have sent a letter to the Trump administration saying they would sue the administration if it doesn't end DACA. Georgia isn't part of that letter.
In a statement, Georgia Attorney General Chris Carr said he'd prefer to give the administration time.
"As Attorney General, I take seriously my duty to defend the Constitution of the United States and the Constitution and laws of the state of Georgia. We have continuously and clearly taken the position in ongoing legal cases that DACA does not confer legal status," Carr said. "It is important to remember that it is properly the role of Congress to address immigration issues from a legislative perspective. I am aware that this is a complex and emotional issue, and I would prefer to give the new Administration — which has been vocal about this issue — appropriate time to consider any additional actions that should be taken."
Georgia was one of 26 states that sued the Obama administration over the expansion of DACA and DAPA – Deferred Action for Parents of Americans. The Supreme Court deadlocked on the issue, leaving a lower court decision to block the program from being implemented.
Polly Price, a professor of law at Emory University, said while the Supreme Court now has nine justices, it's hard to predict how they would rule.
"It's not clear yet how they would have ruled if they'd been presented with DACA itself," Price said.
Republican State Sen. Josh McKoon said he'd like to see Georgia join the letter led by Texas asking the administration to end DACA.
"I think state governments need to act," he said. "Texas and other states have said, 'We've been living with the program now for years, and now is an appropriate time to seek judicial relief, and I think that could trigger action by the administration.'"    *There is more. Read the rest here.