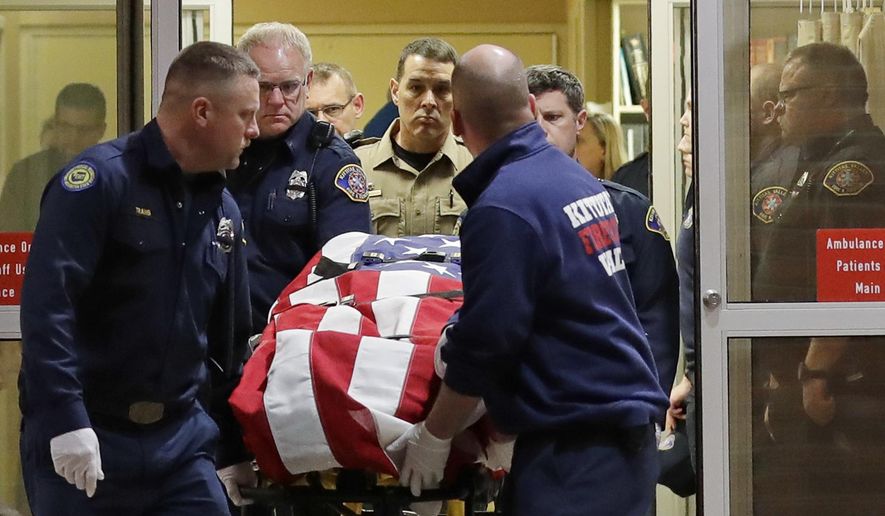 Another American law enforcement officer permanently separated from his family by an illegal alien who overstayed a visa
701,900 foreigners overstayed their temporary visas in fiscal year 2017
A Washington state Sheriff's Deputy was killed last week in a shootout with an illegal alien who entered the United States lawfully on a temporary agricultural worker visa and never left, according to ICE.
Kittitas County Sheriff's deputy Ryan Thompson was killed and Kittitas police officer Benito Chavez was shot in the leg in the gunfight last Tuesday night near Ellensburg. The alleged shooter, a Mexican citizen who was living in Ellensburg, was identified as 29-year-old Juan Manuel Flores Del Toro, according to the Washington Times.
Deputy Thompson is survived by his wife and their three children.
According to official reports, The deputy and Kittitas police officer attempted to stop a vehicle they had received a complaint about Tuesday night. The vehicle failed to stop, which resulted in a pursuit.
When the vehicle was finally stopped, the illegal alien suspect exchanged gunfire with the deputy and police officer. The deputy was fatally wounded and was later pronounced dead at Kittitas Valley Hospital, the sheriff's office said.
According to an August, 2018 DHS report, 701,900 foreigners overstayed their temporary visas in fiscal year 2017. Experts agree that about half of the illegal aliens currently looking for a better life in the U.S. are visa overstays and did not come over American borders illegally.
In a detailed "Backgrounder" report, the Washington DC- based Center for Immigration Studies has noted that "the Department of Homeland Security (DHS) overstay rate methodology, which uses admissions rather than individuals, produces a deceptively low overstay rate that does not reflect the true magnitude of the problem."
A Memorial Service for Kittitas County Sheriff's Deputy Ryan Thompson will be held at 2:00 p.m. on Thursday, March 28, 2019 at the Nicholson Pavilion, 715 E. Dean Nicholson Blvd., on the Central Washington University Campus in Ellensburg, Washington according to an official  press release. "Deputy Thompson was born in 1976, grew up in Walla Walla, and graduated from Central Washington University in 2003."
According to the Kittitas County webpage, Deputy Thompson provided 14 years of exceptional service to Kittitas County as a law enforcement professional.