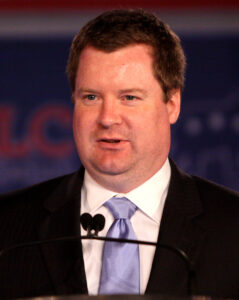 We have noticed that most of the people pushing "school choice" are careful not to acknowledge the ongoing invasion at the southern border.
We remember a different quote from EWE on the same topic.
Related: Here is what a pro-enforcement conservative voter wrote to his local newspaper in Georgia on that lunacy.
The below was transcribed by Rev.com from the Erick Erickson radio show on WSB radio in Atlanta on Nov 18, 2022.
____
Erick Erickson (host):
"Erick Erickson here. Uh, there is some news Republicans nationwide should pay attention to. School choice motivated midterm voters in school superintendent races around the country. Even USA Today is noticing this. Americans are divided on school choice, that was reflected in their votes last week. Seven states chose state school superintendents, schools with robust school choice programs like Arizona voted in candidates who support it. Uh, Oklahoma ushered in new leaders who believe they could give school voucher options for the first time. Oklahoma's incoming state school superintendent is Ryan Walters, a Republican.
He campaigned on giving parents the option of school vouchers to decide where their kids to go to school and to take public money along with them to a private school, religious school, or homeschool program if that's their choice. He was one of a small number of state superintendents elected last week who's an advocate of school choice and whose backing of powerful groups of politicians, uh, are calling it a school choice wave. Uh, unfortunately in Georgia it was the Democrat who's the school choice advocate. And she lost to the Republican, all the Republicans in Georgia won. Um, but there is a pattern shaping up that you really need to pay attention to.
Republicans around the country are starting to realize they can win longterm if they embrace school choice. And it is my hope that in my state of Georgia and others, Republicans will realize this is really a winning issue for you. Not only is it a winning issue, but over time, uh, you as a Republican, uh, will see your share of the vote grow. Look at what happened in, um, Florida. There was a conversion of African American and Hispanic voters towards the GOP. And a lot of that had to do with Black and Hispanic parents not wanting their children to have to go back into public schools after being given options for private schools. And you had Charlie Crist of the Democrats campaigning on shutting down school choice in Florida.
Once you give this entitlement to parents, they're not gonna vote Democrat if the Democrats try to reverse it. And even in Arizona where they went with a Democrat over Kari Lake, they went with Katie Hobbs, they elected a Republican school, uh, superintendent for the state to make sure school choice happens. Republicans, I'm telling you, you're crazy if you don't push school choice in your state. Georgia Republicans need to pay attention.
Now, before I get out of here, I need to tell you…
(end of "school choice" topic and show).