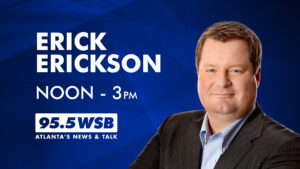 Erick Erickson podcast
Below transcript by Rev.com
"More and more layoffs are starting to happen."
Erick Erickson Dec 2, 2022, hour 3:
Begin topic:
"… so there's a weird problem happening in this country that no one can seem to figure out. Where are all the workers going? The data suggests a lot of early retirements. That people decided to retire and not come back in. And a lot of kids, younger people, are staying in school. We're in population decline to a degree as well. And so we don't have workers, qualified workers, in particular, to fill a lot of jobs, and that's going to have economic problems in this country. And, of course, the usual suspects are already out there saying, "Well, if we just open the borders, if we open the borders, everything will be fine. We'll, we'll be able to take care of this." And I don't necessarily think that's the answer.
Uh, I, look, I am a proponent of, of more immigration in this country, qualified and skilled workers. Uh, as long as they don't come from China these days, unless they're fleeing Chinese communist persecution. Too many of them I think are coming over here with the encouragement of the Chinese government and eventually go back, we shouldn't do that, but we're going to have to come up with some way to find more workers for this country.
It is one of the weird side effects of the inflation dynamic is that, uh, part of the reason we're seeing inflation is companies are having to pay much higher wages to incentivize people either coming back to work from retirement or getting new people to come into the office who otherwise aren't working. They're in college, and they're incentivizing people dropping out. Major companies in the country right now, including, I think I read, uh, Walmart, Delta, and, and several others, IBM are ditching college requirements for more jobs. Used to have to have a college degree to get into certain sectors of the economy and certain, uh, departments of major corporations. Not anymore.
These companies are saying they need all the workers they can get and they're taking life experience over college degree just to be able to fill positions. If we can't get a handle of the labor crisis, and we do have a labor force participation shortage in this country and it's becoming a crisis, we're gonna have more, and more problems and we're not gonna be able to get rid of inflation. Uh, bargain a major economic meltdown. The Fed is still going to raise interest rates, uh, in the coming month, probably not as much as they were. On top of that, pending home sales are starting to crash. They're down 37% year-over-year, the largest decline on record. The economy is starting to go wobbly and slow down.
More and more layoffs are starting to happen. Uh, we got problems out there in the country right now economically, and uh, we'll see how successful the Democrats could be at blaming Republicans. Typically …the President gets the blame. And what's happening is what was predicted. Even as Joe Biden tells people his economy is rebounding, which it isn't.
When we come back, we gotta talk about Sam Bateman Fried  and the media scam."