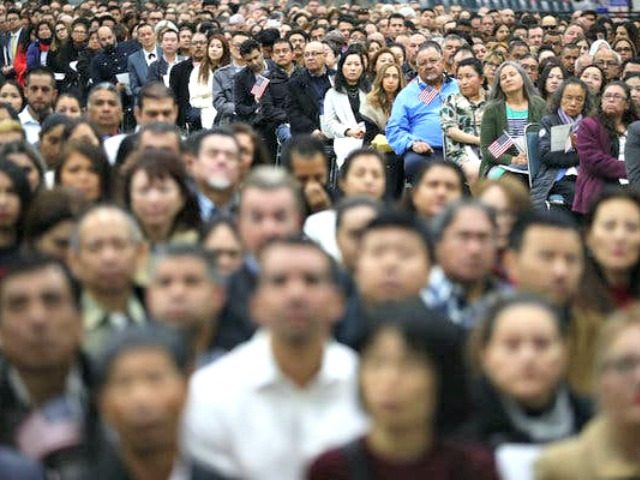 "In Michigan, for instance, Trump won the state in 2016 by 10,704 votes against Democrat Hillary Clinton. Between 2014 to 2018, nearly 64,700 new foreign-born voters have entered the electorate in Michigan — including more than 13,500 Iraqi immigrants."
Breitbart News
September 2, 2020
John Binder
The number of new foreign-born voters, naturalized since 2014, exceeds the 2016 margins of victory in a number of swing states, new data reveals.
Analysis from the National Partnership for New Americans finds that in swing states such as Florida, Michigan, New Hampshire, Pennsylvania, and Nevada, the total number of foreign-born voters who have entered the electorate since 2014 exceeds the margins of victory from the 2016 presidential election.
The margins are large in Florida, a key swing state, as well. In 2016, Trump beat Clinton by less than 113,000 votes. Between 2014 to 2018, nearly 415,500 new foreign-born voters have entered the electorate in Florida, almost triple Trump's margin of victory.
In other swing states like Arizona, Minnesota, and Wisconsin, the margins are increasingly close and could be surpassed come election day.
For instance, in Wisconsin, Trump won the state by less than 23,000 votes in 2016. Between 2014 to 2018, more than 19,000 new foreign-born voters have entered the state's electorate. By 2020, researchers estimate that number could be closer to almost 30,000.
Similarly, in Minnesota, more than 41,200 new foreign-born voters have entered the electorate — primarily from Somalia, Ethiopia, and Mexico. Clinton won the state by almost 44,600 votes. By 2020, the total could be more than 76,000.
The margins would likely be even larger on November 3 if not for a slowdown in naturalizations. Foreign nationals waiting to become naturalized American citizens is growing as the United States Citizenship and Immigration Services (USCIS) agency grapples with a backlog spurred by the Chinese coronavirus crisis.
The Washington Post interviewed a number of foreign nationals hoping to vote in the 2020 election — nearly all suggesting they will cast their ballot for Democrat presidential candidate Joe Biden:
"I decided to become a citizen for my voice to count and for the Latinos and all the minorities to be counted, and to be one more in this country," said Rutilia Ornelas, 65, who applied for naturalization 20 years after becoming a permanent resident in hopes of voting for the Democratic nominee this November. [Emphasis added]

…

But with his application stalled, Muhammad said he is finding other ways to make his voice heard. Inspired by the recent Black Lives Matter protests and the push to fight systemic racism, he has marched alongside protesters with a homemade sign carrying quotes by Martin Luther King, Jr. and donated to racial justice groups. He said he has begun to see grass-roots activism as a powerful way to speak out — perhaps even more powerful than electing any one politician into office. [Emphasis added].. More here from Breitbart.