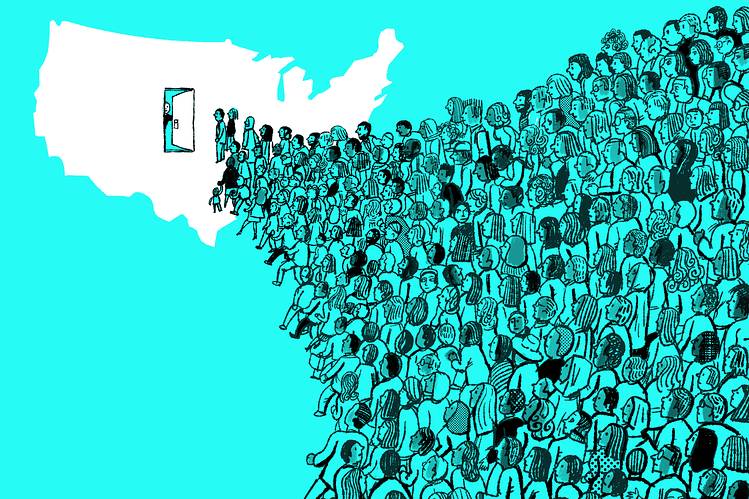 Via Breitbart News: Immigration makes all of America richer, but it can make some Americans poorer, the non-partisan Congressional Budget Office says in a report issued January 9.
"Immigration, whether legal or illegal, expands the labor force and changes its composition, leading to increases in total economic output," said the non-partisan report, titled "The Foreign-Born Population and Its Effects on the U.S. Economy and the Federal Budget—An Overview."
But this national expansion does "not necessarily [deliver] to increases in output per capita," or income per person, the report said:
For example, business leaders say the nation's enormous population of immigrants has expanded the nation's workforce, increased consumption, and driven up housing prices. But that inflow has also shrunk the wages of less-educated Americans, the report said:
Among people with less education, a large percentage are foreign born. Consequently, immigration has exerted downward pressure on the wages of relatively low-skilled workers who are already in the country, regardless of their birthplace.
The CBO report contradicts business claims that a bigger economy ensures bigger wages for everyone.
More ominously, the report also suggests that the American middle-class — including millions of young college graduates — may suffer a similar economic disaster if immigration policy is shifted to raise the inflow of foreign college graduates. The report says:
The effects of immigration on wages depend on the characteristics of the immigrants. To the extent that newly arrived workers have abilities similar to those of workers already in the country, immigration would have a negative effect on wages.
Many business advocates in Washington are calling for a dramatic increase in "high-skilled immigration" — meaning foreign college graduates who would compete for the same jobs as American college graduates. For example, Sen. Mike Lee (R-UT) is trying to pass his S.386 bill that offers the prize of renewable work-permits — and eventual citizenship — to an unlimited number of foreign graduates.
Each year, up to 120,000 foreign graduates — and their spouses and children — can get green cards via their employer's sponsorship, even as perhaps 800,000 Americans graduate from college with skilled degrees. More here.