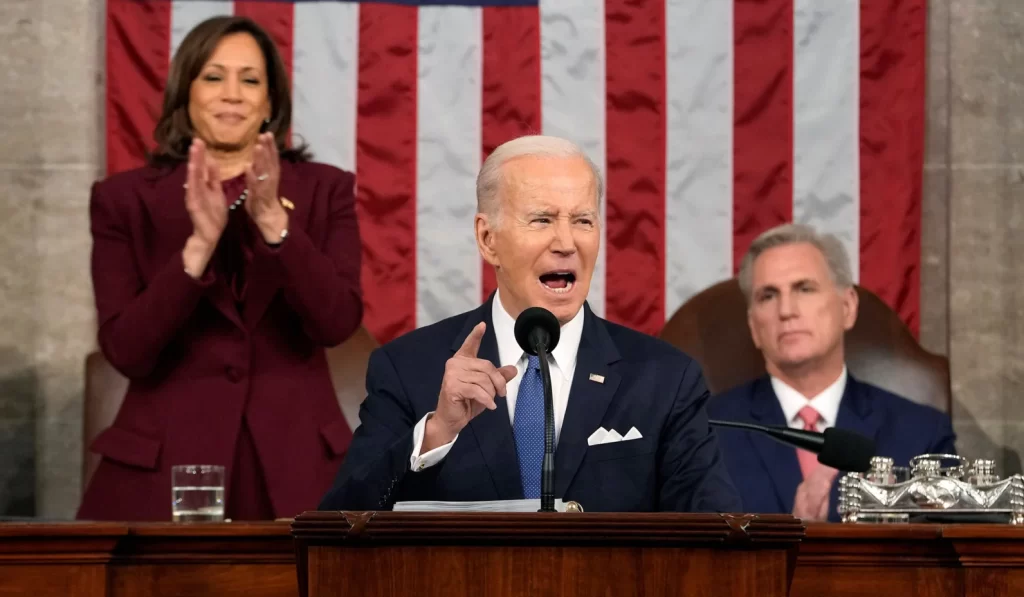 "Now, about Biden's new border plan: It is not reducing the number of illegal aliens detained at the border; it is concealing the number of illegal aliens released into the country  through a "parole" scam."
The president hasn't fixed the problem; he has covered it up through a legally baseless sleight of hand.
In his speech, Biden brayed, "Since we launched our new border plan last month, unlawful migration from Cuba, Haiti, Nicaragua, and Venezuela has come down 97 percent." I will come momentarily to the administration's new border plan, which, as I observed when Biden rolled it out, is both illegal and a political fraud. For now, though, let's stick with what the president said. Even at face value, it was exaggeration. As Arthur runs the numbers, there was a decrease in unlawful migration from the four countries in question between December 2022 and January 2023, but it was a decrease of just 76 percent — and even that statistic makes the Biden administration's immigration policies sound a lot more successful than they've actually been.
Because of Biden's policies, illegal immigration is at astronomical, previously unseen levels, so any decrease, no matter how noticeable, is going to be a fall from unprecedented heights. And when you widen the time frame, comparing January 2023 with January 2021 (when Biden took office, and thus before his policies took hold) and January 2020 (before Covid shut down even most illicit travel), the picture starts to look a lot different from the one Biden painted. As Arthur shows, apprehensions from the four countries Biden mentioned were up 400 percent in January 2023 compared to January 2021, and an astonishing1,275 percent compared with January 2020.
Now, let's look at the numbers for all countries, rather than just the four that Biden cherry-picked. In total, there were about 156,000 illegal aliens "encountered" by Customs and Border Patrol (CBP) personnel in January — 128,000 detained at the border, and 28,000 stopped at ports of entry. In the 15 years between May 2006 and May 2021, monthly apprehensions exceeded the January 2023 total of 128,000 only once — in May 2019, when slightly fewer than 133,000 encounters were recorded. That is, the January 2023 numbers Biden bragged about are historically horrible.
Now, about Biden's new border plan: It is not reducing the number of illegal aliens detained at the border; it is concealing the number of illegal aliens released into the country through a "parole" scam.
The scam works this way: Rather than trying to cross illegally at the border, aliens are now encouraged to arrange entry into the U.S. at CBP ports set up in northern Mexico. There, even if they do not have a valid asylum claim (which the vast majority do not, because a valid claim must meet a high evidentiary burden), they will be given "parole" so long as they can show a potential claim of credible fear of persecution in their home country (a very low standard).
As we shall see, the administration has no legal authority to grant such "parole." Nevertheless, compliant and uninformed media are reporting on the plan as if it were legitimate and the "paroled" aliens were entering our country lawfully. The "parole" purports to authorize illegal aliens to work in the U.S. and lasts for two years, plenty of time to establish other ties (marriage, children) that will make it practically impossible to expel them — assuming that they show up for legal proceedings, and that the overrun system even schedules those proceedings in the foreseeable future. That is, Biden has presumed the unilateral power to amend statutory immigration law, in effect granting asylum to illegal aliens who do not meet the qualifications Congress has prescribed — aliens who are merely economic migrants, who could have applied for asylum in countries they passed through before arriving at a U.S. port of entry, and who do not have a cognizable fear of persecution in their native countries.
Biden's parole program is lawless, which is why it is now being challenged in a Texas federal court by 20 states (including Florida, which has also brought a lawsuit in a Florida federal court). As I've explained a number of times, federal immigration law mandates that illegal aliens "shall be detained" from the time they are first encountered by federal authorities until their cases are disposed of (i.e., until they are either deported or granted asylum or some other statutorily authorized right to remain)…. read the rest here, at NRO.