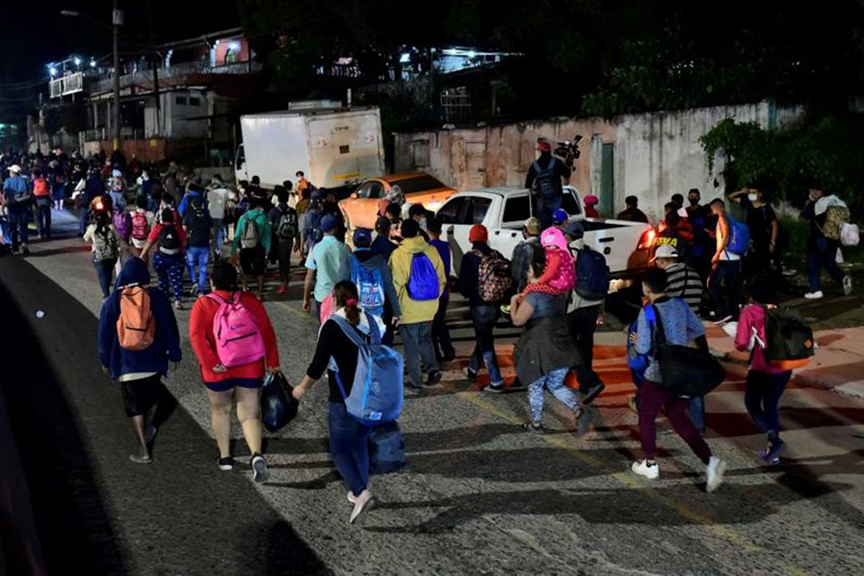 Center for Immigration Studies
The "Biden Effect
July Apprehension Numbers Have Entered Historic Crisis Level
In the physics of illegal immigration at the U.S. southern border, the long, sweltering days of June and July usually bring traffic to a cyclical ebb. But this June — and now July — the number of immigrants who have entered illegally has apparently defied all such physics.
For the sixth consecutive month since President Joe Biden took office and followed through on campaign promises to dismantle his predecessor's deterrence-based policies, the number of illegal immigrants encountered by U.S. Customs and Border Protection reached 210,000 in July, the Associated Press reported Monday. The outlet cited a court filing by David Shahoulian, assistant secretary for border and immigration policy at the Department of Homeland Security. Based on past trends, the vast majority of those encountered were likely illegal immigrants apprehended by the Border Patrol.
Each day of July, authorities encountered an average of 6,770 people, he said. Families and unaccompanied alien minors drove much of the influx, but so did single adult "runners", who have strained Border Patrol resources as agents struggle to push them back into Mexico again and again. Over and above the 210,000 aliens CBP encountered, an additional 37,000 illegal immigrants reportedly evaded Border Patrol entirely, likely a significant undercount.
The epicenter of the ongoing border crisis is the Rio Grande Valley region of South Texas. For perspective, agents stopped 51,149 illegal immigrants there in May, 59,380 in June — and 78,000 last month, Shahoulian explained.
July's 200,000-plus encounters exceeded the monthly total of 188,829 immigrants encountered in June, a number that until July was the largest in a single month in 21 years. That would bring the number of CBP encounters just thus far this fiscal year, which ends September 30, to an overpowering 1.3 million. U.S.-Mexico border apprehensions last reached the million mark in 2006.
The July numbers, once finalized and released in the next couple of weeks, will show that the border crisis is going from record high to record high in an upward climb into a red-zone crisis that will defy any control, short of a radical about-face by the Biden administration. Few signs point to any such policy reversal, although the White House has tentatively begun long-haul deportations to Central America aboard ICE jets.
Border Patrol and CBP facilities, meanwhile, are overrun in the crisis's Texas epicenter, as are hundreds of border communities that have rarely experienced anything like the steadily worsening chaos of wandering immigrants; high-speed car chases; crime; fear of Covid; and widespread insecurity.
All of this can be traced directly to the Democratic primary campaigns of late 2019 and early 2020 that led to Biden's nomination and election.
As I first reported from Tapachula, Mexico, in January 2020, the crisis started its run-up to July's record when aspiring immigrants in Central America and beyond, unable to advance through Trump's border restrictions, witnessed every Democratic candidate (including Biden) promise, during internationally televised primary debates, to welcome in all illegal entrants, stop interior removals, end Trump's deportation and asylum policies, grant amnesty to everyone illegally present, and even provide free health care.
Immigrants who began flooding into southern Mexico despite Trump's tough turn-back policies told me that they were coming to wait out what most American polls indicated were the final months of Trump.
Aspiring immigrants like these drove a sharp rise in border apprehensions even in that summer of 2020, after Biden became the nominee and most national polls were pointing to his probable victory. Border Patrol apprehensions, a good indicator of total traffic, had been averaging between 30,000 and 40,000 a month before then, but headed over 50,000 in August 2020 and then over 70,000 in the fall, as the election approached.
This "Biden Effect" was easy to predict based on the statements of the immigrants themselves, who were saying out loud that they could not resist the promise of the coming Democratic border policies. Even a Department of Homeland Security national threat assessment, released in October 2020, predicted the current mass illegal immigration crisis at the southern border…read the rest here.