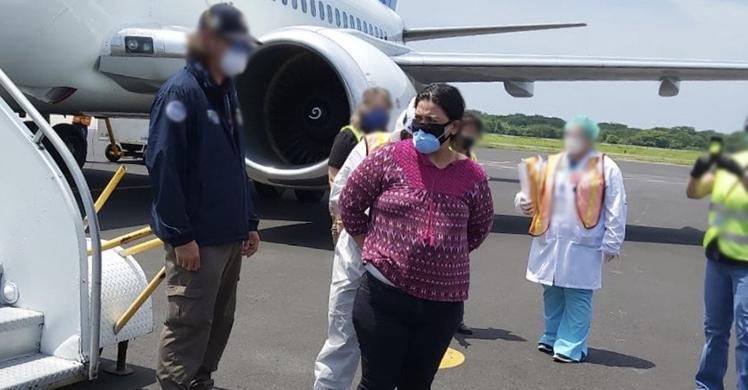 News Release
ENFORCEMENT AND REMOVAL
05/27/202HOUSTON — Officers with U.S. Immigration and Customs Enforcement's (ICE) Enforcement and Removal Operations (ERO) in Houston, Texas, removed a Salvadoran fugitive Tuesday wanted for aggravated homicide and terrorist organizations.
Digna Del Carmen Medina, 29, a citizen of El Salvador who was unlawfully present in the United States, was escorted from Houston, Texas, to the Monseñor Óscar Arnulfo Romero International Airport in San Salvador, El Salvador, where she was presented to Salvadoran law enforcement authorities.
Immigration officials first encountered Medina Sept. 15, 2016, after she illegally entered the United States near Hidalgo, Texas. She was released from ICE custody Sept. 28, 2016, while she awaited her immigration proceedings.
On Aug. 12, 2019, ERO Houston received notice that Medina was the subject of an Interpol Red Notice for aggravated homicide and terrorist organizations in El Salvador.
An immigration judge ordered Medina removed from the United States to El Salvador on Aug. 22, 2019, and she was taken into ICE custody. On April 24, the Board of Immigration Appeals (BIA) dismissed her appeal of that decision.
ICE is focused on removing public safety threats, such as convicted criminal aliens and gang members, as well as individuals who have violated our nation's immigration laws, including those who illegally reentered the country after being removed and immigration fugitives ordered removed by federal immigration judges. In FY 2019, ERO Houston removed more than 12,620 aliens with criminal convictions and another 1,699 with pending criminal charges.
Members of the public who have information about foreign fugitives are urged to contact ICE by calling the ICE Tip Line at 1 (866) 347-2423 or internationally at 001-1802-872-6199. They can also file a tip online by completing ICE's online tip form.