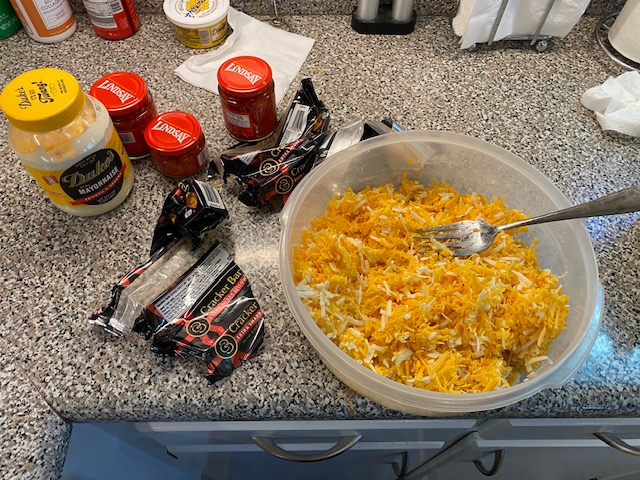 Posted here because I can
Don King's famous Georgia pimento cheese (run faster, jump higher!)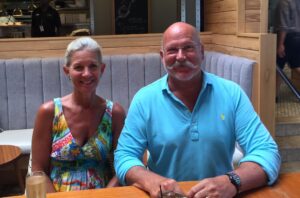 PIMENTO CHEESE 
1)  brick Kraft Cracker Barrel Aged Reserve Cheddar Cheese (White)
2)  bricks Kraft EXTRA SHARP yellow Cheddar Cheese
2)  7 oz. jars Lindsay DICED pimentos (sometimes I add part of a 3rd jar or a entire smaller jar of sliced pimentos…)
1 8 oz. jar, Duke's mayo (Hellman's if no access to Duke's)
Ground red pepper (cayenne)
Into a large (preferably flat-bottomed) container (I use a 1984 Tupperware cake holder) grate half the cheese on a course grater, the other half on medium. Mix together and shake some cayenne (you canned more later) and a little fresh-ground black pepper. Keep mixing.
NOTE Do NOT grate cheese too fine or you will get mush. We are making a semi lumpy spread, not a dip.
Drain pimentos and add to grated cheese, mixing well – then add some more shakes of cayenne and mix again. It's obviously personal taste but finished product should NOT be extremely spicy hot, just a nice gentle bite and flavor addition to the cheese.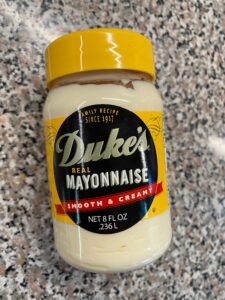 Add about 3/4 8 oz. jar of mayo and mix well – push mixture against side of bowl with a large fork with enough pressure to push some moisture out of pimentos and to insure there is zero un-mayo-ed cheese. Then add most of the remainder of mayo. Don't use too much – it will be too thin.
Like many foods, this seems to get better in the fridge overnight and we have used it well into the second week after prep. But it usually doesn't last that long.
Note # 2: While everyone has their own fave sharp cheddar, there are severe penalties for using mayo other than Duke's (or Hellman's if necessary) – or adding anything other than the above five-ish basic ingredients (well, except for de-seeded, diced jalapeños sometimes). Even more severe for adding garlic or onion. We are watching!
Enjoy! Try mixing it with the filling ½ & ½ in your deviled eggs or spread on fresh, split banana peppers as well as the obvious crackers and the famous pimento cheese sandwich.
Recipe adapted from one we saw in an 80's (?) edition of Gourmet magazine.
D.A. King
Georgia
Amended, Nov. 2021