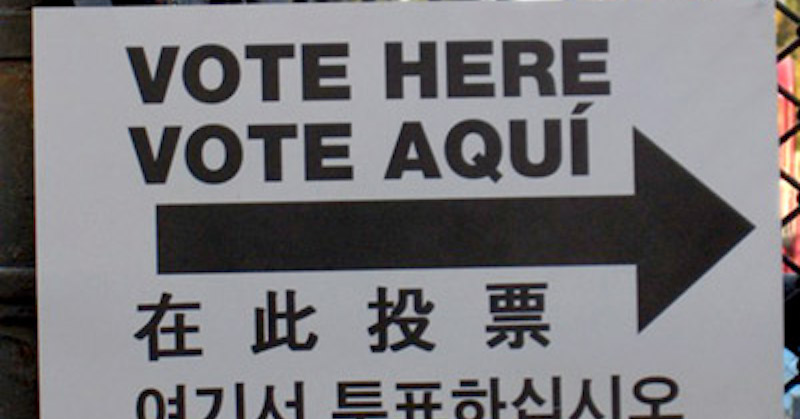 Image: Twitter
He fought in World War II. He died in 2014. And he just registered to vote in Va. Here.
* Aliens and Voter Fraud
"Every year there are elections that are decided by a handful of votes. This happens far more frequently than one might guess statistically. It may be unlikely that an individual's single vote will determine the outcome of elections, but it may still add marginally to the set of votes needed to gain a majority.
The above quote comes from a piece written by the Washington Post's Julia Maskivker arguing that we as Americans have a moral duty to vote. In the United States, only citizens can vote in federal and state elections. There are a handful of towns that allow noncitizens, including illegal aliens, to vote in local contests such as school board and municipal elections. According to 18 U.S.C. Section 611, it is illegal for anyone other than a U.S. citizen to vote."
____
"It's amazing the lengths to which the liberal media will go in order to deny the problem of non-citizens voting, just like they deny the illegal alien crime wave."
Non-citizens voting in our elections is a huge problem
Daniel Horowitz · January 29, 2019"Let's just imagine for a moment that there weren't millions of criminals among the illegal aliens invading our country. Let's assume that we are not dying from drugs, gangs, and diseases brought in and that there are no violent cartels bringing them in. By itself, the fact that illegal immigrants are likely voting in our elections is a national emergency in its own right that should demand immediate attention from our political leadership. The latest news from Texas' election officials should raise the prominence of this most odious manifestation of stolen sovereignty, but thus far, aside from a Trump tweet, it has not blown up into a national issue.
Over the weekend, the Texas Department of Public Safety released the details of a voter registration analysis showing that 95,000 registered voters are suspected of having registered to vote as non-citizens. They further found that 58,000 of those registered voters cast ballots at least once since 1996.
Attorney General Ken Paxton and Gov. Greg Abbott immediately highlighted the importance of this finding and how urgent it is that the state act upon it…"  here.
__
25 percent of ballots in Brooklyn June primaries invalid. August 4, 2020 Here.
____
 *11,000 NON-CITIZENS ON VOTING ROLLS IN PENNSYLVANIA. Here.
* More than 5,500 illegals registered to vote in Virginia in last decade; 1,852 actually cast ballots. Here. 
* GREEN CARD HOLDER, 70, AVOIDS JAIL TIME AFTER VOTING ILLEGALLY THREE TIMES IN NORTH CAROLINA Newsweek 
* Illegal Alien Who Voted In San Antonio Sentenced to 30 Months in Prison.  January 24, 2019 Here.